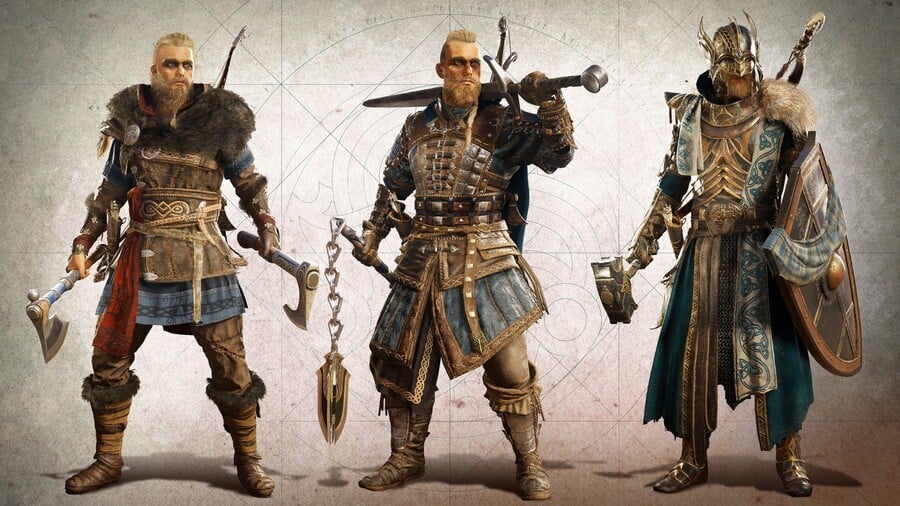 As we've come to expect of an upcoming Assassin's Creed game, gameplay details are slowly starting to emerge as we creep closer and closer to the next blowout. This latest eyebrow-raiser comes courtesy of the Official PlayStation Magazine, which features an in-depth look at Assassin's Creed Valhalla in its newest issue.
Based on the words of narrative director Darby McDevitt, it sounds like Valhalla won't be adopting the randomised loot system found in Assassin's Creed Origins and Assassin's Creed Odyssey. McDevitt tells the publication: "Every piece of gear is unique in the game and [can be] upgraded extensively so that when you find a piece of gear, you're excited and you celebrate it, and that can stay with you for quite a long time."
He adds: "It can be viable for quite a long time. So it's quite a different approach than the previous games took."
Indeed, we get the distinct impression that Ubisoft doesn't want Valhalla to be perceived as a grind-heavy open world RPG -- a criticism often aimed at Origins and Odyssey. The Official PlayStation Magazine brings some context to McDevitt's comments, writing: "The lootbox system that featured in Origins and Odyssey appears to be gone; instead new unique weapons and gear are earned and valued, and most can be used throughout the entire game."
While we don't know exactly how different this overhauled loot system is, it's clearly a departure from the two previous Assassin's Creed games. Does this change sound good to you? Don't forget to pick up some new equipment in the comments section below.
[source gamesradar.com]