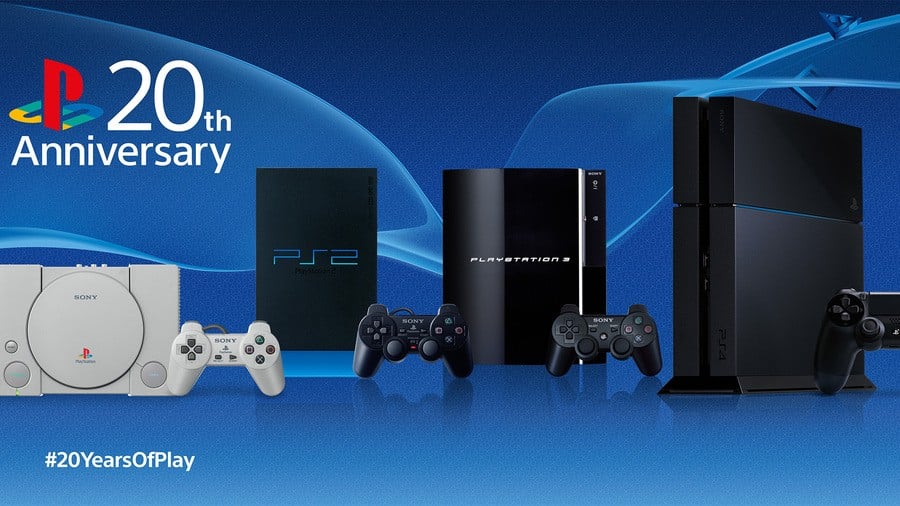 Here's an outlandish idea: what if the PlayStation 5 could play games from every PlayStation console ever made – including the handhelds? To be clear, that would include: PS5, PS4, PS3, PS2, PSone, PS Vita, and PSP – the manufacturer's entire 25 year history, in one device. Obviously, we wouldn't expect the next-gen console to include a UMD slot, but digital downloads from the PlayStation Store should work fine when it comes to the platform holder's portables. As for the PS4, PS3, PS2, and PSone – well, physical discs or digital downloads should get the job done, right?
But hang on a minute, let's back up, shall we? So far, the Japanese giant has only officially confirmed PS4 backwards compatibility, and it's beyond optimistic to expect anything else. In fact, the firm's said that it's "verifying whether it can secure full" PS4 functionality, suggesting there may be some stragglers that won't work on its next-gen device. Honestly, we wouldn't worry too much about that – there'll probably be a small list of titles that don't play nicely with the new hardware, but we imagine you'll be able to count them on your hand.
So why the sudden discussion about consoles prior to the company's current one? Well, there have been some vague comments about the PS5 being as much about the future as it is about the past, suggesting that Sony is eager to tap into its legacy in a meaningful way. It could do this in a number of different ways: maybe it has a marketing scheme lined up that leans on nostalgia? Perhaps it's planning more MediEvil-esque remakes – after all, Demon's Souls is widely rumoured to be Bluepoint's next project? Or perhaps it has bigger plans for backwards compatibility in mind?
We must admit, we've been looking at Microsoft's work on the Xbox with envy for a while now – it's managed to find a way to bring all of the meaningful titles in its back catalogue to the Xbox One, and many are significantly enhanced when running on its most powerful machine. The problem, and with the greatest of respect to the folks at Redmond, is that Xbox doesn't really have a history worth celebrating – certainly not to the levels that Sony and, even more impressively, Nintendo do. But the idea of all generations, unified in one place, is a compelling one.
So what are the problems, then? Well, we already know that the PS4 can run PS2 games, as testified by the small library of ports available from the PlayStation Store. Exactly why the Japanese giant ceased supporting this initiative is a mystery to us, as we really enjoyed earning Trophies in some of these classic games, but perhaps the porting process was too slow – there were rumblings that the requisite addition of virtual trinkets actually put some publishers off, despite the manufacturer submitting a patent a few years back which seemed to suggest a streamlined approach.
There's also, believe it or not, a PSP emulator built into the PS4; remastered titles like PaRappa the Rapper and LocoRoco run on this, and it's been hacked to support other software with mixed results. We can't imagine there'll be too much difficulty adding a PSone support to the PS5, so that just leaves the PS3 and PS Vita. In the latter's case, only back touch really should represent a headache, but this is a problem that the PlayStation TV also faced, and most of the library plays fine on the ill-fated streaming box.
Which just leaves the PS3 and its infamous CELL architecture – a perennial thorn in the platform holder's side. Is it possible? We're not engineers so we can't possibly say, but one would imagine that the brute power of the PS5 should bring us one step closer to compatibility – although whether it would be fit for purpose across a large enough spread of the system's software library is entirely up for debate. If, indeed, the organisation is targeting full backwards compatibility with its previous systems, then PS3 would have to be a priority; it'd be odd for it to be excluded.
So where's the incentive for Sony? As far as we're concerned, it's all about ecosystem. The PlayStation Store has become an almighty cash cow for the company, and if it could re-license classic titles for sale on its digital plaza, there's so much software it could potentially sell. With PS4 backwards compatibility alone, the organisation is going to make serious money flogging legacy software to PS5 owners; imagine if that extended to all of the older appliances in its library as well.
There's also the matter of PlayStation Now, which is becoming an increased area of importance for Sony; competitors like Google and Microsoft may be able to tout superior technology, but few can compete with PlayStation's gigantic back catalogue of content – only really Nintendo, in fact, and the Mario maker hasn't indicated that it wants to join the streaming race just yet. The manufacturer already has a compelling proposition with its current $9.99 subscription spanning PS4 and PS3 games – consider the 800 or so titles already available being bolstered by every PlayStation console ever made.
Is it a pipedream? Honestly, we don't think you should hold your breath for anything like this. But the convenience of being able to pop in any PlayStation disc and play it on the PS5 paired with the very real commercial advantage of selling software from five generations of formats is a mouth-watering one. Sony's flagship gaming brand will celebrate its 25th anniversary this year: we can't think of a better way to mark the occasion than an announcement largely in line with what we've envisioned in this article.
---
Is the dream of full PS5 backwards compatibility little more than a pipedream? Would you actually take advantage of such wide-ranging legacy support if it was an option? Imagine the possibilities in the comments section below.