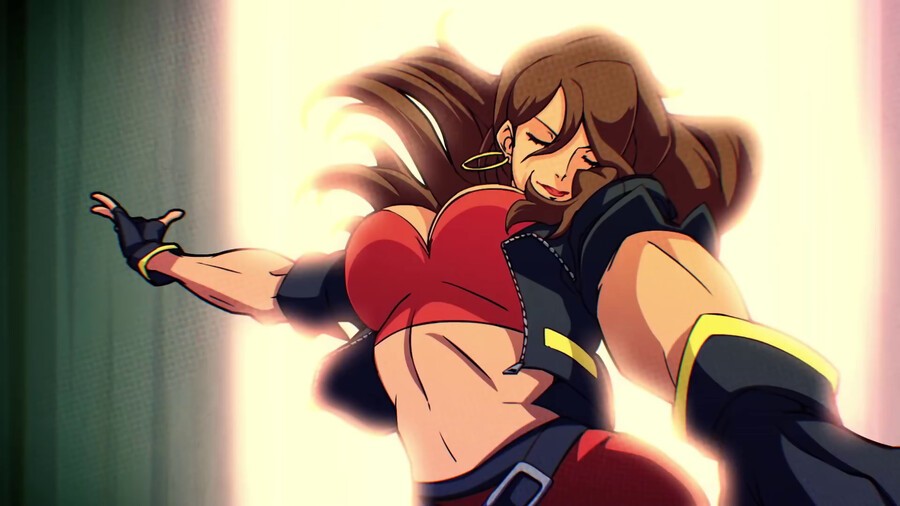 Discard the dizzying politics, and we're truly living in the greatest timeline. Let this sink in for a minute: Shenmue III, Windjammers 2, and Streets of Rage 4 – we, as a species, simply don't deserve such riches. But feast on them we shall – gluttony is one of the seven deadly sins, but we're hungry for these retro revivals, and we're ready to dine.
With a napkin on our lap, then, let's talk about DotEmu's latest: it sees the return of roast chickens. It would appear that returning heroes Axel and Blaze still have stomachs industrially reinforced by Gaviscon, as the duo can guzzle down thrown out poultry without so much as a twinge behind their sculpted abs. This time they're joined by guitar-wielding rockstar Cherry Hunter – and one more still to be revealed.
The gameplay is much as you'd expect: you lay the smack down on bad guys named Kevin in traditional side-scrolling stages. The publisher's trademark cartoon artstyle returns to bemuse pixel art purists, but just like the aforementioned Windjammers 2 it looks stunning on the screen; the strong shading and bold use of colours makes for a really sharp image that demands your attention.
Perhaps the biggest concern here is that beat-'em-ups aren't anywhere near as entertaining as they used to be; the gameplay formula has grown tired, and from what we've seen so far, this sequel is doing very little to evolve it. There are minor tweaks to the way health replenishment and power-ups work, as well as an emphasis on co-op which allows players to play pong with villains – but, y'know, you hammer the punch button a lot mainly.
Curiously, there were no headphones available at our gameplay session, so we didn't get to hear how it sounds; original series composers Yuzo Koshiro and Motohiro Kawashima will return, so expect a suitably filthy soundtrack. To be honest, we're not sure how the grimy audio will pair with the clean visuals, but we'll have to wait and see.
Streets of Rage 4, though – it's a sequel we never thought we'd see. The new character does spice things up a bit – her attacks look wildly different to those utilised by the original cast – and there's one more hero still to be revealed. It's faithful to the originals, however, so don't go expecting much more than a vibrant homage to the titles that had us spellbound as nippers all the way back in the 90s.
---
Are you excited for Streets of Rage 4, or do you think the beat-'em-up genre has grown tired in recent years? Throw a punch in the comments section below.