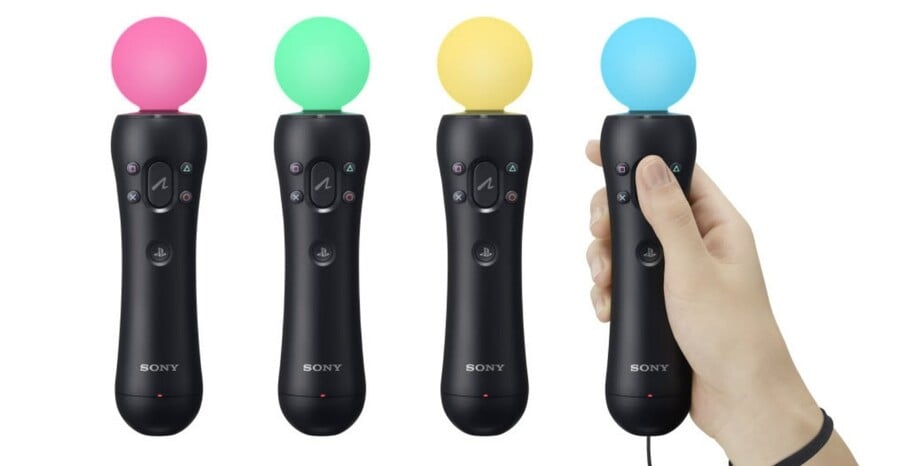 Sony's illuminating PlayStation Move motion controllers are a non-essential part of the PlayStation VR experience, but if you want to get the most out of the virtual reality headset, then you're going to need to pick up a pair. Some of the peripheral's best games, like Beat Saber and SUPERHOT VR, require you to dual-wield the wands, while others like Batman: Arkham VR and PSVR Worlds are best experienced with the glow sticks in hand.
But where can you buy a couple of PS Move controllers for your spangly new PSVR headset? Unless you've picked up a bundle including the controllers in the box, then your luck may be about to run dry. Despite repackaging and rebranding the old PlayStation 3 wands for the PlayStation 4, there's a serious shortage of these at retail right now. While stock issues were expected at launch, it's perplexing that this remains the case over two years after PSVR's introduction. In fact, so rare are the devices that most chancers are now charging triple figures for a pair.
Amazon will probably be your first port of a call, where a couple of used wands in the UK will set you back around £105 at the cheapest. Prices go up to £200 for a sealed pair – almost as much as the PSVR headset itself:
It's a similar story on eBay, where the going rate appears to be around £50 for a single motion controller or £100 for a couple. One particular listing is charging upwards of £600 for a twin pack, which is about the price you'd pay for a PS4 Pro, PSVR headset, and a handful of games. Take a look for yourself:
The story's very similar in North America, with used PS Move motion controllers available for around $100, and sealed twin packs fetching up to $170:
What's particularly problematic is that the majority of Sony's flagship PSVR bundles do not include the motion controllers in the box. Over in Europe, you can currently buy the Mega Pack, which includes five games, a headset, and camera – but no wands. Meanwhile, in the US, there is a bundle available featuring Beat Saber and Borderlands 2 VR which includes the motion controllers, but the one that's been getting all of the company's marketing budget is the Moss and Astro Bot Rescue Mission option, which ships without glow sticks.
It's a strange situation, because the motion controllers are clearly a core part of the PSVR experience, yet they're fetching extortionate fees. Why isn't Sony manufacturing new units? Could it be because it has a new motion controller in the pipeline? We wouldn't expect anything like that until the PlayStation 5, so this is presumably either a manufacturing or supply chain issue.
If you are looking to purchase a PSVR headset, though, this is something you may want to keep in mind until it's rectified. While you don't need the PS Move wands to experience virtual reality, you will eventually want them to get the most out of the headset. And with prices now bordering on extortion, it's something that the platform holder is going to have to rectify.
Have you managed to grab a pair of PS Move controllers for PSVR? (40 votes)
Yes, but I already owned them from the PS3 days
35%
Sure, I managed to nab them at near-retail price
33%
Yup, but I had to shop second-hand for them
8%
Nope, I'm still trying to score a couple
10%
I don't have a PSVR headset
15%
Please login to vote in this poll.