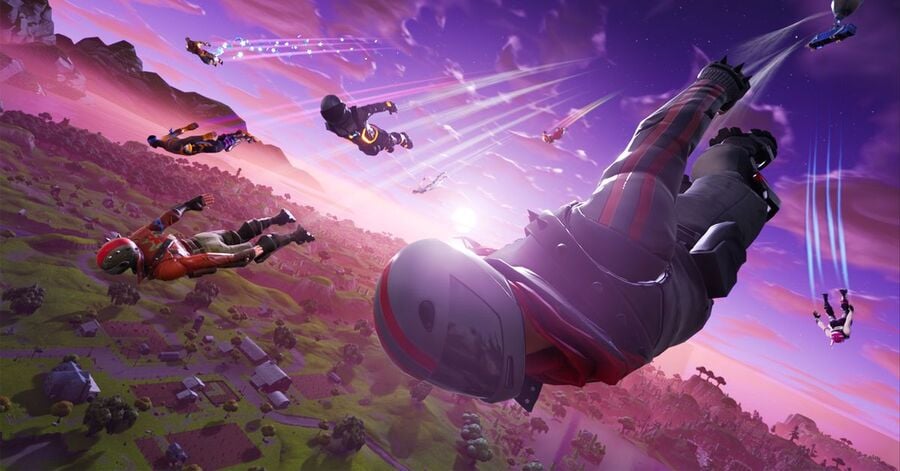 Skydiving through floating rings is one of the Week 10 challenges in Season Four of Fortnite.
Complete it and you'll get a bunch of XP that goes towards those tasty season four Battle Pass rewards.
In this guide, we'll detail exactly how to skydive through floating rings so you can complete this challenge with ease. 
Once you've completed this challenge, you can move on to the other difficult challenge from this week – finding the treasure detailed on the movie titles.
You can also learn more about how the Battle Pass, weekly challenges, and season four of Fortnite works in our definitive guide on the subject. Looking for other Fortnite guides? Here's our list of essential reads below:
How to skydive through floating rings
Epic has introduced a bunch of floating rings to Fortnite that hover in the sky. You'll spot them right away from the Battle Bus whenever you next play Fortnite – they're not easy to miss.
There are two different colours of floating ring: pink and blue. Pink rings are the higher of the two, while blue are lower. Bear this in mind when you pick your rings.
You can easily hit four rings on your way down from the Battle Bus if you pick a good spot. Try and find four rings close to each other in as close to a vertical line as possible and glide through them. Easy as pie.
In total, you have to skydive through 20 rings to complete this challenge, and that's not possible in one match of Fortnite. If you pick your dive carefully, you should be able to complete this challenge in as little as five matches.
Bear in mind that when you pass through a bunch of rings, you actually have to go on to complete that match of Fortnite. You can't just quit out or any rings you dive through won't count towards your total.