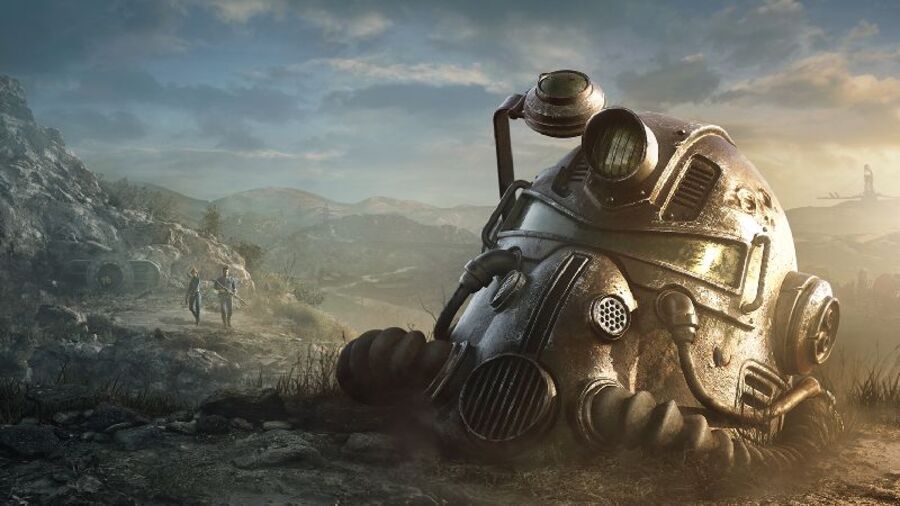 During its E3 2018 press conference, Bethesda blew the next entry in the Fallout franchise wide open. It's called Fallout 76, and it's an online survival game as opposed to an open world single-player RPG. Think a more casual Rust or Day-Z set in a post apocalyptic environment and you're on the right lines.
In this guide, we're going to detail everything we know about Fallout 76, including gameplay features, online capabilities, platforms, and a release date. We'll also update it as we learn more, so you can treat it as your hub page for everything there is to know about the game.
What is Fallout 76?
Fallout 76 is an online survival game like Day-Z, Rust, or Minecraft, but set in the Fallout universe. It takes place in the distant past of the other Fallout games, and only 20 years after the atomic bombs wiped out most of civilisation.
Vault 76 has been mentioned several times in the Fallout games as one of the first vaults to have opened following the Great War. That makes your playable character one of the first to step foot back into the world to attempt to rebuild society.
As a result, there's a lot more colour and, well, life than you may be used to from a Fallout game. There's an abundance of plant life, and you'll find a lot less buildings in total disarray than the other entries.
How does Fallout 76 differ from the mainline entries?
The biggest difference is that it takes place entirely online, with you playing alongside a bunch of other survivors from Vault 76. It won't be an MMORPG like The Elder Scrolls Online, though -- it's more of a shared world like Destiny 2, with far less players hanging around than in your typical MMORPG. That's kind of what happens during an apocalypse.
Similar to online survival games, other players you meet can be friend or foe – that's entirely up to them. Some might help you survive this bitter wasteland, while others might just kill you and take all of your stuff. It's currently unclear whether there will be a 'passive' setting that disables player-on-player combat.
Your goal is to build a base by gathering resources and turning them into buildings and defences, but once you've built a base, you don't have to keep it in one place. At any point, you can pack up and bring your intact base to any other location on the map.
Simultaneously, you might end up attacking enemy bases to gather more resources to build your own. This ties into another interesting new feature of Fallout 76, and that's using nukes. The war really wasn't that long ago, so there are a bunch of missile silos still lying around that contain live nuclear warheads.
If you can find the codes to unlock these silos, you can fire missiles aross the map, potentially nuking other players into oblivion, and then raid the area for resources. That is, if you can survive the radiation that's caused.
That's pretty much the core loop – gather resources, build a base, level up, maybe destroy other player's bases, and survive.
What are the biggest new features in Fallout 76?
Fallout 76 has seen a graphical overhaul over Fallout 4, with new lighting, rendering, and landscape technology. It also has a much further viewing distance than any previous Fallout game, which is very handy given that it's also by far the biggest.
According to Bethesda, the map in Fallout 76 will be four times larger than Fallout 4's – which in itself was two or three times bigger than Fallout 3's. That's a massive world, with six distinct regions to explore that features cultural nods to West Virginia, where it takes place.
When will Fallout 76 launch?
Fallout 76 will launch on November 14th, 2018.
Will Fallout 76 have a beta?
Yes! Bethesda hasn't announced when the beta will take place, but we do know that anyone who pre-orders the game will get access to the beta as soon as it goes up.
Will there be any special or collector's edition versions of Fallout 76?
Yes, there's a ridiculously over the top Fallout 76 Power Armor Edition that features a glow in the dark map and a wearable Power Armor helmet that features a headlight. Why anyone wants that sort of thing is beyond us.
That's not all though – you'll also get 24 plastic figures based on Fallout 76 designs, a steelbook cover for the game itself, and special in-game bonus items that are yet to be announced.
What platforms can I play Fallout 76 on?
Fallout 76 will launch on PS4, PC, and Xbox One.
---
Is Fallout 76 all you hoped and dreamed it would be? Are you just as excited to nuke your friend's base as we are? Let us know your thoughts in the comments section below.