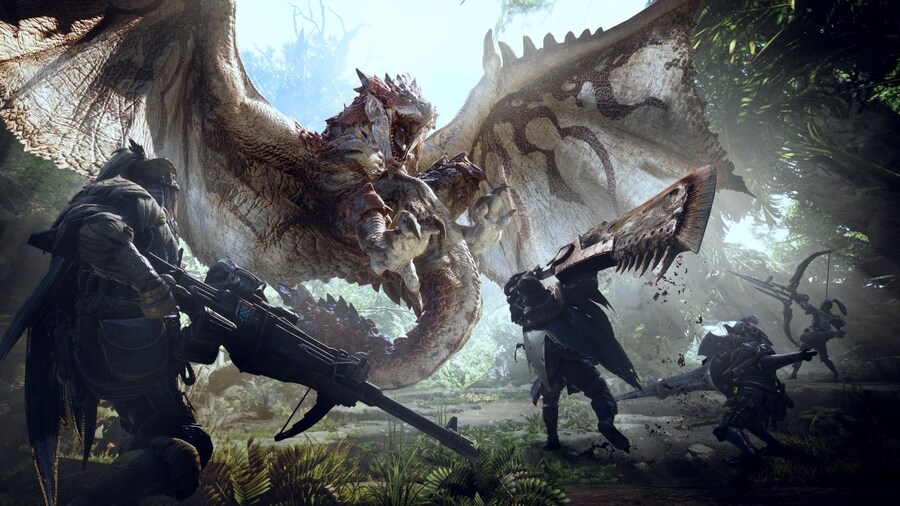 The sheer momentum of Monster Hunter: World has been fascinating to watch. Finally cracking the western market, the game has been a resounding success, and a new statement from Capcom declares it not only the publisher's fastest selling game, but also its best selling game ever.
Monster Hunter: World has reached the milestone of 7.5 million units shipped worldwide, which includes sales of digital versions. Capcom attributes this success to the global launch and a gigantic marketing push.
"Monster Hunter: World is the latest entry in the series, and the first new Monster Hunter title for home consoles in nine years. It is also the first title in the series to be given a global simultaneous launch, and was given an ambitious worldwide promotional campaign in order to further build upon its fan base both in Japan and in markets overseas. As a result, Monster Hunter: World has overcome both linguistic and cultural barriers to delight approximately 7 million players worldwide, and has shipped 7.5 million units, making it the best-selling title in company history."
It's also worth mentioning that Monster Hunter: World also saw big strides in accessibility. Historically a difficult series for newcomers to get into, the gameplay refinements made here will have helped draw new players in, too. We imagine that the eventual release of the PC version will also see a boost in numbers.
Are you still hammering away at Monster Hunter: World? Are you surprised to see it become the best selling game in Capcom's history? Join the hunt in the comments below.
[source gematsu.com, via capcom.co.jp]