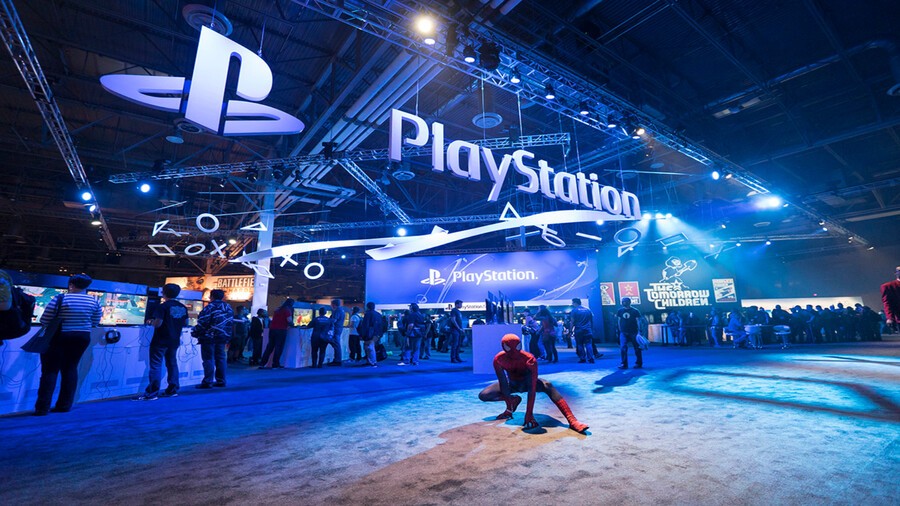 This year's PlayStation Experience is sounding like the biggest yet, with double the floor space and more games than ever before. But unless you're actually heading out to the Anaheim convention, you could be forgiven for thinking the opposite: Sony's confirmed that it won't be holding a traditional press conference, instead opting for a more casual presentation on the Friday evening which will include "updates on some key titles" and "special announcements".
In addition to that, there'll be a series of panels through Saturday, which will provide important updates on first-party exclusives like Dreams, Ghost of Tsushima, and The Last of Us: Part II. So while we're not expecting an action-packed weekend in terms of huge announcements, there should be plenty to look forward to. Which leaves us with the most important question of all: when and where can you enjoy PSX 2017?
PlayStation Presents at PSX 2017
When is the PSX 2017 press conference?
As mentioned above, there isn't a traditional press conference. Sony is instead hosting a presentation that it's titled PlayStation Presents, which will include interviews and special announcements. Our guess is that this will be similar to Microsoft's Gamescom 2017 presentation, where it rotated in developers, debuted new trailers, and made some small announcements. The key difference here is that it will all take place in front of a live audience, so we'd expect the energy levels to be high.
What time does PlayStation Presents at PSX 2017 start?
Friday, 8th December 2017 @ 8PM PST
North America: 8pm PST / 9pm MST / 10pm CST / 11pm EST
UK/Ire: 4am GMT
Europe: 5am CET / 6am EET
Asia/Oceania: 1pm JST / 12pm AWST / 3pm AEDT
Where can I watch PlayStation Presents at PSX 2017?
Sony's streaming to all of the major channels, but we'll have full coverage here at Push Square, including a live blog, live stream, and live chat right through PlayStation Presents at PSX 2017. Join us live for that.
What will be announced at PlayStation Presents at PSX 2017?
You've got to think small, because Sony's been very clear that this isn't going to be a traditional press conference. One of the features of the presentation is going to include a Shuhei Yoshida interview, so it's probably going to be similar to the kind of content you'd find during one of the platform holder's daily E3 2017 streams.
We reckon that the whole presentation will have a first-party focus, and we think that you're probably going to see some first gameplay footage of Ghost of Tsushima, as it sounds like the project's already quite far along. We'd also expect God of War to be officially dated, potentially alongside a new trailer. And our last bet is Dreams, which was re-revealed at The Game Awards 2017 this week.
PSX 2017 Panels
Sony will also be streaming a string of panels from PSX 2017 through Saturday, 9th December. These will include special guests, gameplay demonstrations, and interviews. We'll set up a live panels page throughout the day, so that you can jump in and watch everything unfold, complete with live chat, live blog, and, of course, an all-important livestream.
But just so you can get your schedule in order, here's everything that the manufacturer's got planned:
Accounting for Accounting+: Squanch Games and Crows Crows Crows
Join Rick and Morty co-creator Justin Roiland (Squanch Games) and The Stanley Parable designer William Pugh (Crows Crows Crows) as they examine the comedic opportunities of VR with Accounting +, on PS VR December 19, and trade notes on the exciting new medium of VR gaming.
Saturday, 9th December 2017 @ 11AM PST
North America: 11am PST / 12pm MST / 1pm CST / 2pm EST
UK/Ire: 7pm GMT
Europe: 8pm CET / 9pm EET
Asia/Oceania: 4am JST / 3am AWST / 6am AEDT
Media Molecule Presents Dreams
Join Media Molecule studio directors Siobhan Reddy, Mark Healey, and Alex Evans alongside a very special guest to take an in-depth look at the development of Dreams during their exclusive Saturday panel at 12:30pm.
Saturday, 9th December 2017 @ 12:30PM PST
North America: 12:30pm PST / 1:30pm MST / 2:30pm CST / 3:30pm EST
UK/Ire: 8:30pm GMT
Europe: 9:30pm CET / 10:30pm EET
Asia/Oceania: 5:30am JST / 4:30am AWST / 7:30am AEDT
IGN Ranks the Top 10 PlayStation Games of all Time
IGN's Podcast Beyond crew is here to figure out the 10 best PlayStation games ever, and they need your help! Uncharted 2 or The Last of Us? Metal Gear Solid, Final Fantasy VII, or Castlevania: Symphony of the Night? Journey or Shadow of the Colossus? Is it too soon for Horizon Zero Dawn to make the list? Help us build the best of the best that PlayStation has to offer. Help us celebrate 20+ years of PlayStation at PSX!
Saturday, 9th December 2017 @ 2:00PM PST
North America: 2pm PST / 3pm MST / 4pm CST / 5pm EST
UK/Ire: 10pm GMT
Europe: 11pm CET / 12am EET
Asia/Oceania: 7am JST / 6am AWST / 9am AEDT
Ghost of Tsushima: From Concept to Reveal
It's been a month since we announced our newest title, Ghost of Tsushima. Here at Sucker Punch, we've watched so many reaction videos and read many of your comments with smiles on our faces, so we thought PSX was a great opportunity to share a little more with you all.

Join us on Saturday at 3:30pm as Nate Fox (Creative Director), Jason Connell (Creative/Art Director), Billy Harper (Animation Director), Ryuhei Katami (Associate Producer, Sony Interactive Entertainment) and moderator Brian Altano (IGN) discuss how we approached making the debut trailer and what inspired us to make this game. We'll share epic concept art that's driving the tone and visuals for the game, and share a little about our reference trips to Japan and working with new team members that are helping make Ghost of Tsushima even better. Also be sure to stop by our signing session after the panel and come say hi. Stay tuned for more info on time and location.
Saturday, 9th December 2017 @ 3:30PM PST
North America: 3:30pm PST / 4:30pm MST / 5:30pm CST / 6:30pm EST
UK/Ire: 11:30pm GMT
Europe: 12:30am CET / 1:30am EET
Asia/Oceania: 8:30am JST / 7:30am AWST / 10:30am AEDT
Uncharted 10th Anniversary Celebration
Join us as we celebrate the Uncharted 10th Anniversary at PSX 2017 with an unprecedented gathering of the cast from throughout the series! Nolan North, Emily Rose, Richard McGonagle, Claudia Black, Laura Bailey, Troy Baker, Graham McTavish, and Robin-Atkin Downes reflect on the series and share their memories with guest moderator Greg Miller (Kinda Funny). We'll also be hosting a special signing session with the cast prior to the panel. Keep an eye on the PlayStation Experience app for time and location!
Saturday, 9th December 2017 @ 5:00PM PST
North America: 5pm PST / 6pm MST / 7pm CST / 8pm EST
UK/Ire: 1am GMT
Europe: 2am CET / 3am EET
Asia/Oceania: 10am JST / 9am AWST / 12pm AEDT
The Last of Us Part II: Meet the Cast
Join Naughty Dog and the cast of The Last of Us Part II as they discuss the making of the cutscene teaser trailer that was revealed just a few short weeks ago at Paris Games Week. Director and writer, Neil Druckmann, co-writer Halley Gross, and key members of the game's cast discuss the writing process, casting, performance capture, and more. For those attending the event, there will also be a signing session following the panel.
Saturday, 9th December 2017 @ 6:30PM PST
North America: 6:30pm PST / 7:30pm MST / 8:30pm CST / 9:30pm EST
UK/Ire: 2:30am GMT
Europe: 3:30am CET / 4:30am EET
Asia/Oceania: 11:30am JST / 10:30am AWST / 1:30pm AEDT