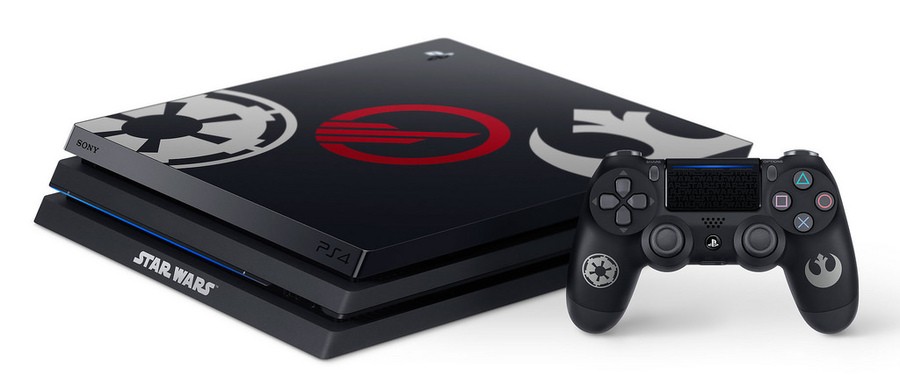 Ever feel like Sony is squandering these exclusive bundle deals it has with the biggest games? Like, there's nothing really wrong with this Limited Edition Star Wars Battlefront II PlayStation 4 Pro that it's announced for Europe and North America – but we wouldn't want to buy it, would you? It could be doing so much better with the source material in our opinion.
Nevertheless, this is what the platform holder's come up with. According to the PlayStation Blog, the console itself has a kind of "mirror finish" and is "decorated with the iconic Galactic Empire and Resistance emblems, as well as the emblem for the Inferno Squad, an elite Imperial task force featured in the single player campaign of the game". It comes with a matching DualShock 4 and a physical copy of the Star Wars Battlefront II Deluxe Edition.
In Europe, there'll also be a grey PS4 Slim option that we personally prefer. And both regions will have various non-limited bundles, like a 1TB PS4 Slim option in North America that comes with a standard copy of the game and a Jet Black DualShock 4. The Limited Edition PS4 Pro bundle will be available from 14th November in North America for $449.99, and the Standard Edition will follow it on 17th November for $299.99. Dates and prices vary in Europe, so you'll need to check with your local retailer.
[source blog.us.playstation.com, via blog.eu.playstation.com]