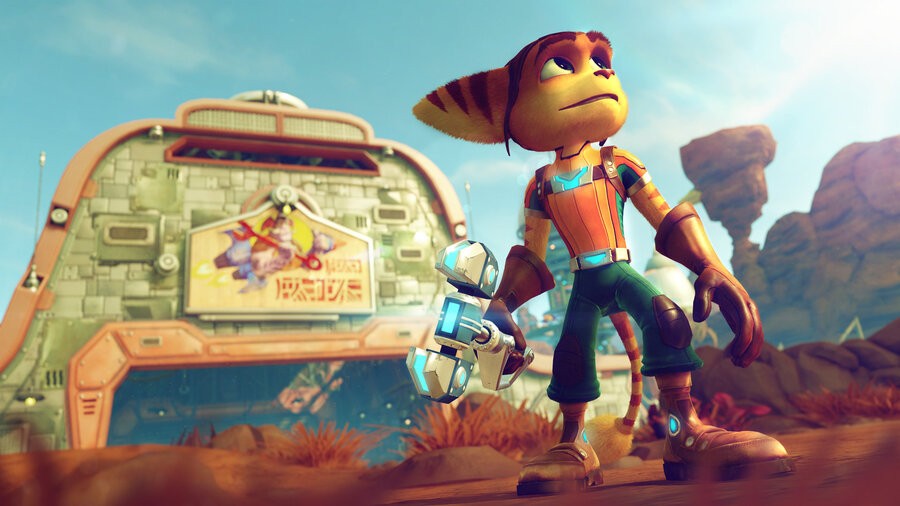 Ratchet & Clank has got off to an interstellar start in the UK sales charts, securing the series' first ever number one by outselling Ratchet & Clank: A Crack in Time by a factor of three. The colourful platformer has been hovering around the British best sellers list for almost 15 years, but Insomniac Games' critically acclaimed remake has ripped the roster a new one this time.
The game outsold Dark Souls III, which it pushed into second position. Star Wars Battlefront rebounded on the back of The Force Awakens in third, as Tom Clancy's The Division was nudged down into fourth. EA Sports UFC 2, Call of Duty: Black Ops III, FIFA 16, and DiRT Rally rounded out the remainder of the top ten – with a couple of Wii U and Xbox One exclusives making up the numbers.
Elsewhere, the officially licensed UEFA Euro 2016 edition of Pro Evolution Soccer entered in 23rd place, as Bloodborne held its spot in the Top 40 following its re-emergence last week. Are you happy to see Ratchet & Clank perform so strongly? Do you think that this marks the start of a comeback for the Lombax? Collect all of the Holocards in the comments section below.
UK Sales Charts: Week ending 23rd April, 2016
Ratchet & Clank
Dark Souls III
Star Wars Battlefront
Tom Clancy's The Division
EA Sports UFC 2
Star Fox Zero
Call of Duty: Black Ops III
FIFA 16
Quantum Break
DiRT Rally
[source chart-track.co.uk]