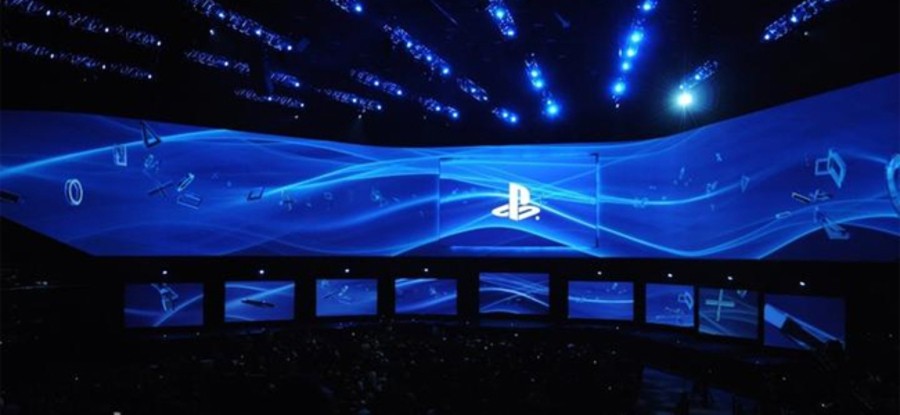 You're in for it now publishers, because Push Square's coming to pick apart your press conferences bit by bit. Always good fun, looking back at the big events of E3 after most of the hype has passed is a nice way to round off gaming's most hectic period. This year, five titans of the industry took to the stage to reveal their plans for PlayStation, and we're going to bring the glorious hammer of judgement down upon each of them. That's right: it's time to grade E3 2015's press conferences.
---
Bethesda
Bethesda started E3 2015's string of press conferences with a bang. The new kid on the block blew everyone away with big, bombastic gameplay-packed presentations of both DOOM and Fallout 4. The two titles sent wave after wave of hype through the audience, and in truth, no other E3 presser managed to find that same dominant rhythm.
The American publisher deserves credit for its presentation style, particularly because the show seemed so meaty, despite the fact that only three big PlayStation-relevant titles were on display. Main presenter Pete Hines introduced and rounded off each segment incredibly well, while Bethesda studio lead Todd Howard stole the show with bundles of enthusiastic charm. We said that the company's presser would take some beating, and (pip) boy, were we right.
Grade Awarded: A-
---
EA
Considering it had Mass Effect: Andromeda, Mirror's Edge Catalyst, and the license to print money otherwise known as Star Wars: Battlefront to flog, EA's big E3 2015 press conference was a damp squib. BioWare's sci-fi sequel should have stole the show, but instead it only upset the legions of N7 admirers who have been waiting patiently for more information on their favourite franchise for years.
Swedish studio DICE remains the apple of the publisher's eye, tasked not only with providing the technology required to power all of its games – but also two of its biggest releases. But while its adaptation of George Lucas' legendary film franchise looks to be very much on track, it was strange that the organisation opted to gloss over the game in favour of providing Pele of all people with a Michael Parkinson-like 'This Is Your Life' interview exchange. Need for Speed and Plants vs. Zombies: Garden Warfare 2 both looked fine, but the firm showed a lack of understanding for its audience when it babbled on about a Minions mobile game – ultimately leading to the conference running overtime.
Grade Awarded: D-
---
Ubisoft
Ubisoft won't be wearing the dunce hat for the remainder week, but it certainly won't be staring at a freshly polished gold star either. The French firm got its press conference off to a quality start, announcing a new South Park title alongside an intriguing melee-focused property named For Honor. Its edgy attitude – championed by the likeable but way too excitable Aisha Tyler – wore off over the course of the presser, especially when the content quality started to take a dip.
Despite falling for the primary press conference cardinal sin, the company recovered relatively well from Jason Derulo's unnecessary cameo, but a lengthy interview with an actress from Rainbow Six: Siege dragged on – especially seeing as the game's story is its least attractive quality. The biggest disappointment – The Division's transition from Game of the Show to Bore of the Show aside – was the publisher's reluctance to step outside of its own self-made open world rut; Ghost Recon: Wildlands – it's big 'one last thing' reveal – looked identical to almost every other game in its portfolio, and its getting tiresome now.
Grade Awarded: C-
---
Sony
Sony was a Gabe Newell cameo away from inflicting physical pain upon press conference attendees, as it rattled off reveals from a NeoGAF member's sordid wet dream. Improbable announcements like The Last Guardian, Final Fantasy VII Remake, and Shenmue III became probable in front of our eyes – the former opening the show as if it hadn't spent the past seven years locked in a grungy Japan Studio room labelled 'Development Hell'.
But while it's the abovementioned trifecta of ecstasy-inducing announcements that will take all of the plaudits, the Japanese giant's show still would have been a success in their absence. Horizon: Zero Dawn looks to leverage all of Guerrilla Games' evident artistic talent into a title that people actually want to play, while Uncharted 4: A Thief's End managed to make the preceding – and still impressive – Rise of the Tomb Raider look somewhat amateur. Sure, it failed to bulk out its exclusive offering for the end of the year, but the calendar is already filled to the brim with big names; partnering with Star Wars: Battlefront and Call of Duty: Black Ops III will see it through the holidays just fine, while its internally developed blockbusters find plenty of room to shine.
Grade Awarded: A+
---
Square Enix
Closing out E3 2015's publisher press conferences, Square Enix played things relatively safe with a serious, but content-packed presser. The Japanese company rolled its Eastern and Western projects into one big show, and the result was a steady event that was hard to truly fault. From World of Final Fantasy to Deus Ex: Mankind Divided, it felt like there was something for everyone, even if the firm never quite found that definitive wow factor.
Arguably the biggest reveal was a sequel to niche PlayStation 3 title, Nier. The release - which is in development at Platinum Games, no less - absolutely hit home with more invested fans of Japanese role-playing games, and went a long way in setting the tone for the rest of the show. Meanwhile, everything else on display was admirably solid. The aforementioned Deus Ex looked great, Just Cause 3 looked suitably explosive, Hitman seemed filled with deadly intrigue, and Kingdom Hearts III actually looked like a real game - a good one, too.
Grade Awarded: B-
---
Well, what do you think? Who ruled the roost at E3 this year? Who flopped? Who dropped the ball completely? Who unleashed the hype? Have your say in the comments section below.
Which of the following do you think won E3? (108 votes)
Please login to vote in this poll.