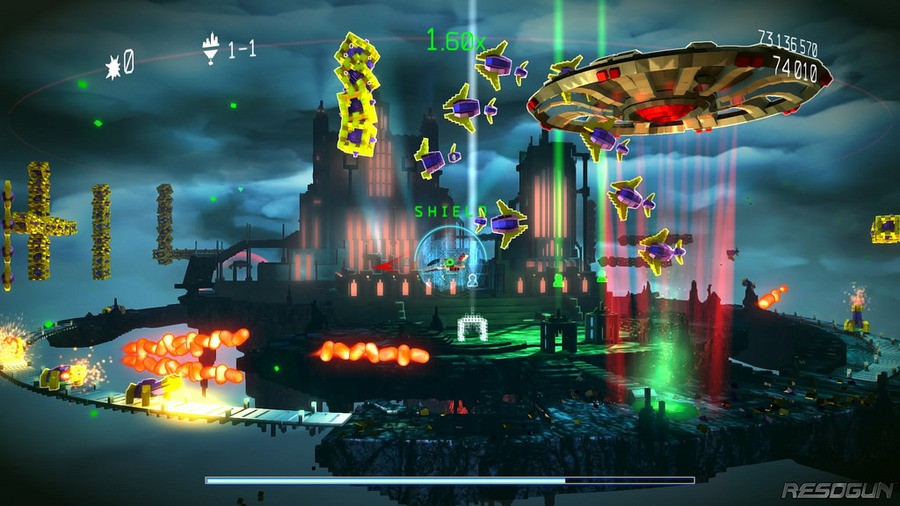 PlayStation Experience hasn't even started yet, and it already feels like Sony's dropping bombs all over the place. If confirmation of the PlayStation 3 and Vita versions of Resogun wasn't enough, Housemarque has now revealed Resogun: Defenders, the second PlayStation 4 expansion for its sublime arcade shooter. The add-on will release in early 2015, and will be free if you own the title's Season Pass.
It'll include two new modes: Commando and Protector. There's virtually no information on the latter just yet, though a screenshot suggests that you'll be defending a big UFO. Meanwhile, judging by the ridiculous live action trailer embedded below, it seems that the former will put a very human spin on the cylindrical shmup's twin-stick action. You'll also nab some new ships as part of the pack, while there'll be a ton of fresh stages featuring the title's "most detailed artwork to date". We're already drooling.
Don't worry if you can't afford the extra content, as a complimentary patch will chuck in some new goodies for everyone, too. Entitled the 'Challengers' update, this will include a bunch of new tasks for you to beat. It sounds like completing these feats will reward you with points, which will allow you to increase your Resogun pilot rank. Have you got what it takes to reach the very top tier? Let us know in the comments section below.
[source blog.us.playstation.com]