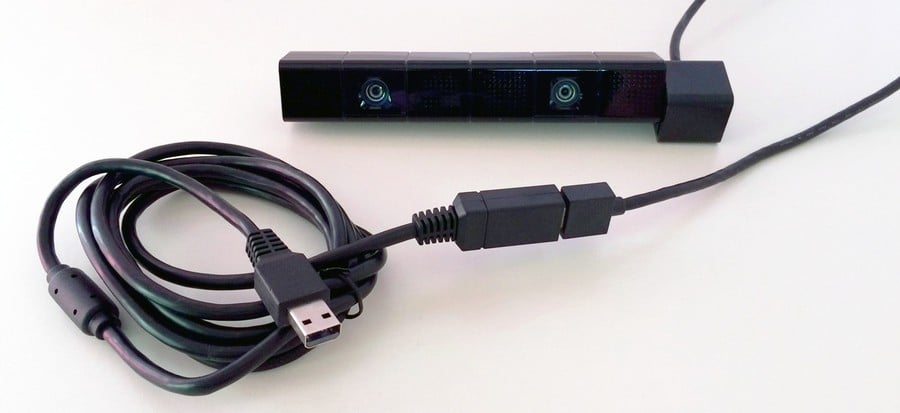 The PlayStation 4's camera sure is a nifty bit of kit: you can while away the hours in The Playroom or simply control your console with your voice. You can even play Just Dance 2014 with it if you're so inclined.
One of the only downsides to this nifty tech is Sony's insistence on using a proprietary cable plug. Sure, it looks like USB, but on closer inspection you'll find that it's in fact something new, which plugs into the dedicated port on the back of your PS4. For many gamers, the provided cable length of two meters will suffice – but what if you're one of those strange people with a wall mounted TV, or, worse yet, a projector? My friend, you're out of luck!
A simple Google search reveals no end of gamers have this problem, and have taken to drastic DIY measures, like cutting the cable of their optical accessory and attempting to slice in a section of Cat5 wire, often destroying their camera in the process of their desperation. Why hasn't Sony come up with a solution for this problem yet?
Fear not adventurous gamer, for help is at hand! On Amazon, you can now buy a PS4 Camera Extension Cable, lovingly crafted by Calibur, which will add an extra two meters to your cable length. Simply insert the male member into the female opening and you're in business. The packaging boldly boasts of this 'easy plug and play' solution, and that you will suffer no signal loss. We've tested it and it works – amazing scenes.
The PS4 Camera Extension Cable can be purchased from Amazon for the princely sum of £15.99.
Let us know your thoughts on the whole proprietary cable plug doodah. Following the use of proprietary memory for the PlayStation Vita, has the Japanese giant gone too far this time? Will you be buying this cable? As always, let us know your thoughts in the comments section below.