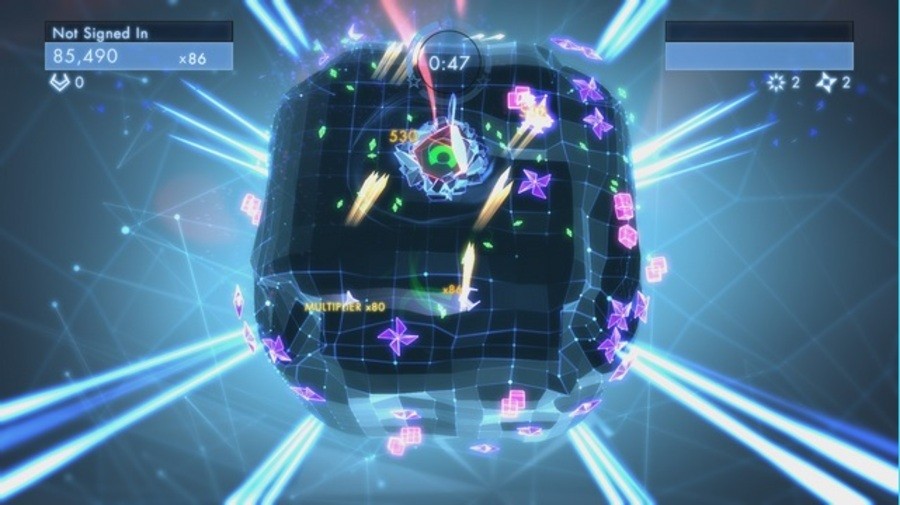 If you're a Sony loyalist, it's unlikely that you've played the neon-lit arcade series Geometry Wars, which has always made Microsoft's consoles its home. But now, that's all going to change, because for the first time ever, you'll finally be able to take part in the intergalactic mayhem in Geometry Wars3: Dimensions on the PlayStation 4 and PlayStation 3 at the end of the year.
The core of the action lies in its name, as all the new gameplay features revolve around dimensions. Rather than playing in a flat square blasting enemies as they attack, the battle grid can now warp, and even take the form of 3-D shapes, spicing up the combat by allowing enemies to creep up out of nowhere. It won't all be about sneak attacks, though, as boss battles have been added, forcing you to use strategy to succeed. Multiplayer has been gifted to the series for the first time, too, making player to player interactions more intriguing than simply smashing a friend's high score. If your'e eager to see all the new action for yourself, check out the embedded trailer that we've embedded.
Are you looking forward to even more arcade shooters? Do you think that this quick pick up would be perfect on the Vita? Leave your high score in the comments section below.
[source youtube.com]