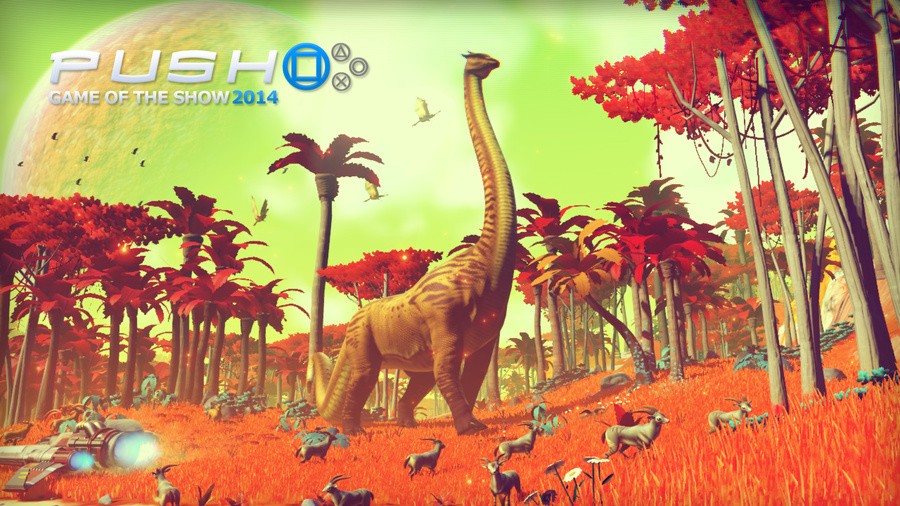 No Man's Sky is not a reality television contestant, but it would make a darn good one if it was. Anyone that's ever watched the X-Factor or America's Got Talent will know that media mogul Simon Cowell adores a good 'rags to riches' story from time to time, and Hello Games' ambitious sci-fi escapade is a shining example of the little adventure that could. Developed by a team of four delightfully grounded British developers, it wasn't many months ago that the ex-Joe Danger makers were forced to move out of their Guildford office, after the heavens quite literally rained upon the humble outfit's optimistic VGX unveiling – and prompted some soul crushing setbacks for the team.
---
Sammy Barker, Editor
To be honest, there are a ton of titles that I'm looking forward to heading out of E3 2014, but none that I'm head over heels in love with. The Order: 1886 still has my hype, because I love a good Victorian setting, and LittleBigPlanet 3 has rocketed straight to the head of my wishlist, as I adore Sackboy and friends. Bizarrely, I think I'm going to plump up for standalone expansion inFAMOUS: First Light, though, as I was a huge fan of Sucker Punch's superhero sequel, and am yearning for more of the same. I didn't even realise that the studio was working on new content, so to get confirmation of an August release date prompted the biggest press conference cheer from me. Plus, you have to admit that its logo is pretty slick.
Robert Ramsey, Associate Editor
Seeing as the next Mass Effect didn't even nab a proper trailer, I suppose I'll have to jump in and say that The Witcher 3: Wild Hunt stole the show for me. It may have been shown at Microsoft's presser, but that slice of open world gameplay intrigued me more than anything else on stage. It was both brutal and beautiful, but it was also exciting – a feeling that many showings fail to really inspire, especially when we're living in a world that apparently adores CG trailers and incredibly scripted gameplay sequences. It's no wonder that CD Projekt Red was confident enough to throw us straight into that demo.
Ben Potter, Video Editor
Personally, Tom Clancy's The Division continues to impress and intrigue me. For starters, it's absolutely gorgeous, featuring the most brilliantly bleak abandoned buildings and top-notch snowy loveliness. Plus, if the demos are to be believed, you and your friends will instantly communicate like real life actors, telling one another to "draw agro from the left" and to "scope out the area up ahead". Realistically, you'll probably all end up charging in guns blazing and jovially calling your buddies some very rude words, but it's nice to see how it should be played at least. Ultimately, there's no telling how much of the demos that we've seen are staged nonsense, but a post-apocalyptic sandbox title that allows you to run around with a group of friends sounds pretty exciting to me.
Jamie O'Neil, Retro Editor
Reflecting on the buzz and excitement, it's hard to select my top pick of E3 2014, because it involves deciding between unforeseen reveals, and more comprehensive gameplay trailers. LittleBigPlanet 3 was a delightful surprise, Bloodborne is grotesquely gothic and atmospheric as an exclusive, and No Man's Sky appears to be incomprehensibly ambitious. I loved Axiom Verge, which is a one-man indie developed Metroidvania sprite game. Uncharted 4: A Thief's End has the most potential in my eyes, as the eighth generation builds a foundation of noteworthy titles. With a beat-down older Nathan Drake, lacking his characteristic swagger, it might possibly be his final swan-song adventure. Ultimately, my favourite game was Batman: Arkham Knight. The footage was clear at demonstrating how the Batmobile expands traversal across the open world of Gotham City, plus it introduced tank battles. Therefore, I'm confident Rocksteady will add fun mechanics to well-established gameplay, not to mention moody first-rate visuals.
Kell Anderson, News Reporter
My vote for Game of the Show this year goes to Entwined, for a few different reasons. First, as I said in my hopes and fears before E3, I'm always keen to see new intellectual property, and that goes double when the game in question is as ambitious and beautiful as Pixelopus' stunning debut. What's more, the story behind the brand new studio fills me with even more confidence for Sony's support of independent game development. If you're out of the loop, the title was actually created by a small group of game design students that the Japanese giant snatched up to create a new internal team. But if I'm being really honest, the main reason that this artsy outing is getting my vote is because the platform holder pulled the old 'available now' trick on us. I've always been a sucker for that one.
---
Fast forward from flash floods, and the tenacious organisation's outer-space endeavour is still looking the part – especially without the obnoxious Joel McHale attempting to undermine its second major coming out party. We weren't sure how Sony intended to better its indie nine showcase from E3 2013, but we suspected that it may involve a big name – and while managing director Sean Murray's endearingly nervous stage cameo may have eluded that status, the breathtaking trailer that the studio debuted did nothing of the sort. Bold, beautiful, and ambitious beyond compare, the company's pledge of a procedurally generated galaxy outpaced everything else on the Japanese giant's stage – including the releases with multimillion dollar budgets.
With an infinite galaxy to explore, the company itself concedes that the title's beauty will lie in the secrets that it harbours. You'll be able to travel to different solar systems from your own unique starting point, and catalogue wildlife that no one else has seen before. And you won't be alone on your journey into the unknown, as you'll be searching the universe in parallel with other people, opting to either share the secrets that you uncover or keep them to yourself. You won't ever encounter another player in the great expanses of space, but you will be able to leave your mark on their world – and they'll in turn be able to do the same back to you.
---
Nicola Hayden, News Reporter
Regular readers will probably be surprised that Battlefield Hardline has even registered in my E3 2014 top five, let alone take the top spot. While I don't often venture into the first-person shooter genre, I do love a little competitive multiplayer – especially if it's strategic rather than a chaotic mess of bullets and respawns. While its predecessor is famous for lagging in the online department, early beta testing here leaves me hopeful that history won't repeat itself. And with a much needed coat of fresh paint, the unique 'cops and robbers' theme could just be what the franchise needs to get back on track.
Alex Stinton, Reviewer
Dating all the way back to Rainbow Six: Rogue Spear, I've been a huge fan of this tactical shooter series, and it's great to see it making a long overdue return with Rainbow Six: Siege. The multiplayer demo that was shown at E3 really demonstrated that Ubisoft has finally grasped what made these games a hit, showing a straight-up hostage rescue rather than a seizure inducing cinematic scramble, full of huge explosions and aircrafts falling from the sky. Instead, it let the destructible environments, staggering animations, amazing lighting, and tense gameplay do all of the talking. This showing raised my hopes that it's designed a game that demands a more methodical approach, straying from the usual headless chicken multiplayer that we're so used to. All I need now is confirmation that the terrorist hunt mode will return, and I'll be primed to breach and clear when the game eventually arrives.
Graham Banas, Reviewer
Naturally, there were a great many games shown off that had my attention at E3, as there always are. Games like No Man's Sky and Metal Gear Solid V: The Phantom Pain are just a few that stood out. And they all looked great, but if I had to pick a favourite, I'd pick two. The first is ABZU, as its trailer with Austin Wintory's haunting music had me hooked. The other would be Alien: Isolation. As a massive fan of the Alien franchise, I planned on not getting hyped for The Creative Assembly's survival horror, but I can't help but get excited at the incredible atmosphere that this title is bringing to the table.
Joey Thurmond, Reviewer
Before Sony's conference started, one of the games I had hoped to see was the leaked Project Beast by From Software – and that wish came true when PS4 exclusive Bloodborne was unveiled. From the get-go, I was immediately captivated by the gothic architecture and eerie environments in the beautiful CG trailer. What also caught my attention is that players will be able to use a firearm in this Demon's Souls spiritual successor, which points towards the more offensive yet still strategic style of gameplay that the developer is pushing for. I hope that the game will be able to hit 60 frames-per-second on Sony's powerhouse, but that's the only minor concern I have for the release. In everything else, it looks to be an innovative step forward in gameplay, story, and visuals.
Simon Fitzgerald, Reviewer
In my opinion, the best game of E3 2014 has got to be Batman: Arkham Knight. "Holy smokes, Batman!" was my reaction when I saw the gameplay footage at Sony's press conference, and I remain a little bit dazzled by it a few days on. It's the final game in a trilogy featuring my favourite superhero, and the fact that you can drive around in the Batmobile – which is equipped with a wide range of weapons – really sweetens the deal. The visuals are frankly impeccable, and the story is guaranteed to be thrilling, as it's coming from the same studio behind the brilliant Batman: Arkham City.
---
It's so outrageously ambitious that we're not sure how it's going to work, but the sheer scale of the diminutive developer's grandiose goals has stolen our hearts. And even if the company's computational cosmos fails to soar to the sky-high heights of the outfit's aims, it'll still have the most vibrant version of space to its name. The dogged British developer may have cut its teeth on a two-wheeled celebration of great games gone by, but this time it's looking to define a generation with its first foray into a galaxy far, far away. And while there's always a danger when shooting for the stars, we're confident that the company will at least smash through the stratosphere somewhere along the way.
---
What was your personal E3 2014 PlayStation Game of the Show? Do you agree with the intergalactic No Man's Sky, or were you taken with a different title? Pick a winner in the comments section below.