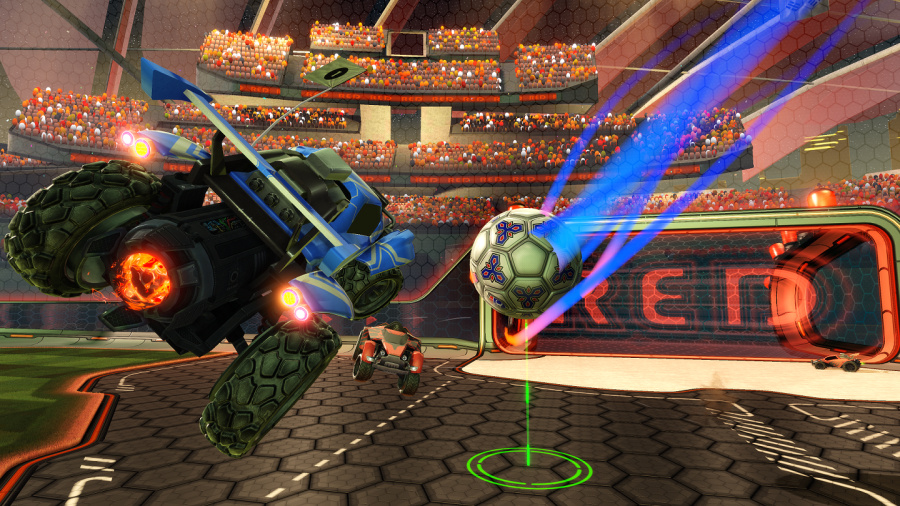 If you haven't played Supersonic Acrobatic Rocket-Powered Battle-Cars on the PlayStation 3, then it's time to dig that dust encrusted console out of the cardboard box where you stashed it and hook it back up. Psyonix's blend of Re-Volt inspired radio controlled cars and soccer proved to be one of the most entertaining multiplayer experiences on the system – and it still has a rabid fanbase today.
For those out of the loop, the game sees you controlling, er, rocket-powered battle-cars, which can use their boost to almost fly. This brings a really clever skill element to the core sport-inspired gameplay, which sees you attempting to use your vehicle to both score goals, or make acrobatic clearances. It's absolutely amazing, as evidenced by the montage embedded below.
And the best news is that its long overdue sequel is coming to the PlayStation 4. Renamed the much more memorable Rocket League, this title has been available in alpha on Steam for some time, and is now getting ready for its next-gen debut. However, the developer needs your help to make it the commercial smash that the underappreciated original arguably deserved to be.
"In the coming weeks, I will be making a pitch to Sony to support Rocket League as a title in a much bigger way than on the PS3," a studio spokesperson wrote on the game's official forum. "What I mean by that is really getting Sony behind the game with much more exposure on the storefronts and in marketing materials, and actually investing in its future as a top title on the platform. The good news is that they have already expressed interest in doing this. However, part of my job is proving our case that this game can be much more than a cult hit."
If you're a fan of the original, the developer wants you to send your stories, thoughts, or pleas to a specially prepared email address. "We may have a small community compared to the big mainstream titles, but we have a passionate one," the message continued. "I'd like to include statements from as many of you as possible about what the game means to you and why you'd like to see PlayStation really promote it on the PS4."
Personally, we reckon that this makes a great fit for Sony's latest system because it really plays into the share initiative that it's been promoting. Part of the appeal of the original game was pulling off amazing last ditch saves and impossible aerial volleys. It almost feels tailor made for the socially connected features of the PS4, then, and that's why we reckon that the platform holder should back it. Plus, it's bloody brilliant fun, too.
[via psyonix.com]