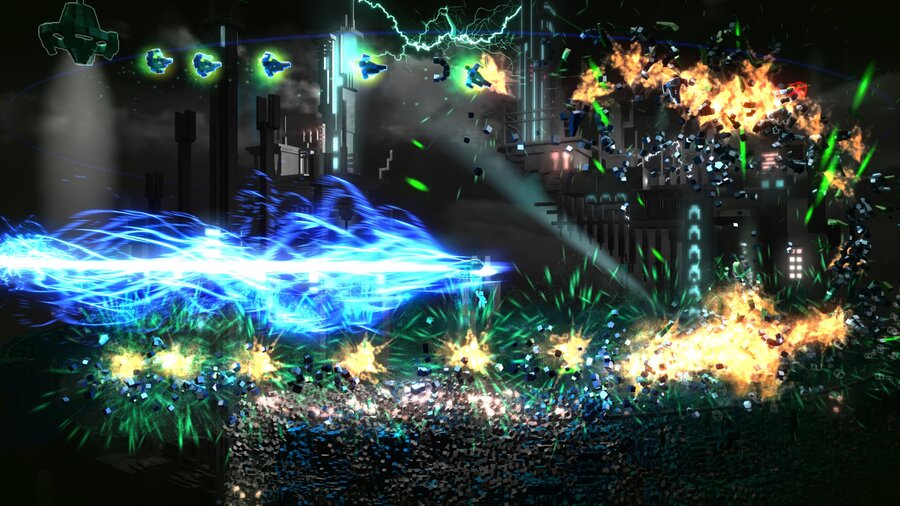 November was yet another busy month for Push Square's reviewers, as we critiqued a hefty 23 games in total. Last month also saw the release of a certain console that you may have heard about: the PlayStation 4. With Sony's new hardware flying off the shelves, the race to get our next-gen write-ups published was on, and so we brought you our thoughts on the majority of the machine's launch line-up.
Unsurprisingly, one of those releases went on to win our coveted Game of the Month award. Housemarque's eye-melting shooter absolutely annihilated the competition in our staff vote, and didn't do too badly in our review, either, scoring a fantastic 9/10. "Resogun offers an almost perfect fusion of challenging and rewarding action," concluded Nathan Michalik, also noting that the title's "insanely good lighting and physics engine serves as a true showcase for the PS4". A decent start for the Japanese console, then?
Resogun wasn't the only PS4 release Nathan got to pen his thoughts on, though, as our reviewer also enjoyed mowing down the Helghast with an array of futuristic weaponry in Killzone: Shadow Fall. "Despite being beyond brilliant at times, Killzone: Shadow Fall misfires in many of the same areas as previous entries," was our somewhat disappointed writer's summary. Guerrilla Games' first foray into the new generation scored a respectable 7/10.
Away from the concept of blowing things to bits with big guns, new reviewer Marcello Apostolico slapped a solid 7/10 onto Knack, noting that "the title may not be particularly ambitious, but it has a nostalgic quality that can make it difficult to put down", while Joey Thurmond was left in awe by Trine 2: Complete Story, concluding that "it's an exemplary indie game that has the makings of a blockbuster title". Developer Frozenbyte's magical adventure conjured a spectacular score of 9/10.
The PlayStation Vita, meanwhile, enjoyed its final big release of the year – and what a release it was. Media Molecule's Tearaway snipped its way into our lives and warmed our hearts, crafting a near-perfect 9/10 score. "Tearaway is a handheld masterpiece," this particular author joyfully announced, adding that the "papercraft adventure is easily one of the best that you'll unfold on Sony's portable system". Better watch your back, Sackboy.
Elsewhere, various releases nabbed 8/10s, with Assassin's Creed IV: Black Flag adding some open world bulk to the PS4's launch window, and WWE 2K14 keeping resident wrestler Ben Potter entertained. "WWE 2K14 provides dozens of hours of content that both wrestling veterans and newcomers alike will enjoy," he wrote. But not every release proved to live up to the event, as Call of Duty: Ghosts barely managed to sneak its way into the region of 6/10.
As always, we've taken all of our reviews for last month and compiled a handy list of them below. Take a look and then tell us what your favourite game of November 2013 was by casting your vote in our poll.
Final Exam (7/10)
Call of Duty: Ghosts (6/10)
CastleStorm (8/10)
Furmins (7/10)
Ratchet & Clank: Into the Nexus (7/10)
Battlefield 4 (PS3) (7/10)
Stick It to the Man (8/10)
Super Motherload (7/10)
Madden NFL 25 (7/10)
Contrast (5/10)
Adventure Time: Explore the Dungeon Because I DON'T KNOW! (3/10)
Killzone: Shadow Fall (7/10)
Tearaway (9/10)
Trine 2: Complete Story (9/10)
Knack (7/10)
Resogun (9/10)
Rocksmith 2014 Edition (7/10)
WWE 2K14 (8/10)
Valhalla Knights 3 (4/10)
Battlefield 4 (PS4) (8/10)
flower (10/10)
SoulCalibur II HD Online (7/10)
Assassin's Creed IV: Black Flag (8/10)
---
What was your favourite game in November? (30 votes)
Assassin's Creed IV: Black Flag

13

%
Killzone: Shadow Fall

13

%
Tearaway

30

%
Trine 2: Complete Story

0%

Resogun

43

%
Please login to vote in this poll.