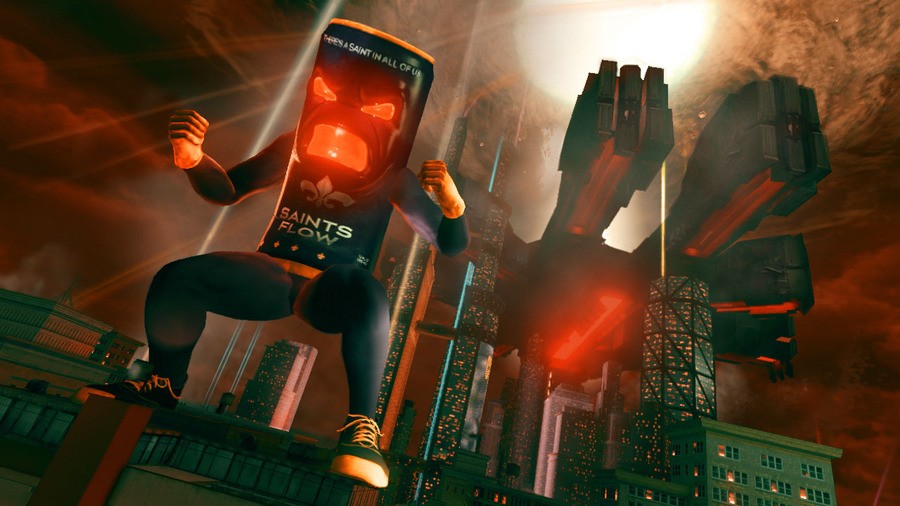 Saints Row IV's previously announced 'Enter the Dominatrix' expansion pack will deploy on digital store aisles prompter than you can chug a can of Saints Flow. In a press release hand delivered to Push Square towers by Johnny Gat himself, publisher Deep Silver has confirmed that the content will tickle your sides from 23rd October in Europe, where it will cost you a measly £5.99. Snazzy so-and-sos with a Season Pass will be able to download the DLC for free.
While much of the information that we were provided with was redacted – no, really – we can tell you that the content will depict an alternate Zin invasion storyline, where the dim-witted Saints find themselves trapped in an AI program known as the Dominatrix. It will feature new weapons, allies, enemies, and missions, in addition to a behind-the-scenes commentary. Developer Volition's set to livestream the DLC on Twitch alongside its launch through here.
For those of you with shorter memories than a phallic bat, the add-on was originally planned as a retail expansion to Saints Row: The Third. Then overlord THQ eventually decided to fund a full follow-up instead, but fell on hard times before the sequel saw the light of day. Deep Silver has since purchased the rights to the brand – and the rest, as they say, is history. Are you looking forward to a little more sandbox silliness, or has Grand Theft Auto V got you covered in that department? Let us know in the comments section below.