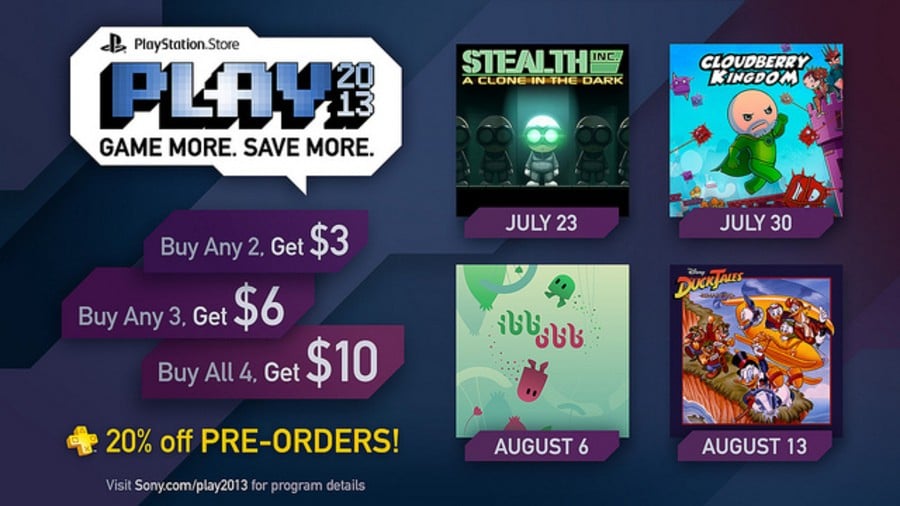 Sony's answer to the uber-popular Xbox Live Summer of Arcade initiative, PlayStation Store PLAY, is back for another term, this time bringing with it four farm-fresh PlayStation Network titles for you to harvest. The games featured in this year's lineup include Stealth Inc: A Clone in the Dark (23rd July), Cloudberry Kingdom (30th July), Ibb and Obb (6th August), and DuckTales Remastered (13th August).
If you purchase two or more of the releases you'll be eligible for a PSN credit rebate. Picking up all four titles will reward you with $10 cashback, three will net you $6, and two will score you $3. Sounds a lot better than a smack in the eye, doesn't it? Pre-orders will also be acknowledged with an exclusive XMB theme, in addition to a 20 per cent discount for PlayStation Plus subscribers.
The initiative's set to launch tomorrow in North America. You can learn a little more about the promotion and the lineup through here. Will you be purchasing any of this year's releases? Let us know in the comments section and poll below.
Which PlayStation Store PLAY 2013 title are you most looking forward to? (26 votes)
Stealth Inc: A Clone in the Dark
23%
Please login to vote in this poll.
[source blog.us.playstation.com]