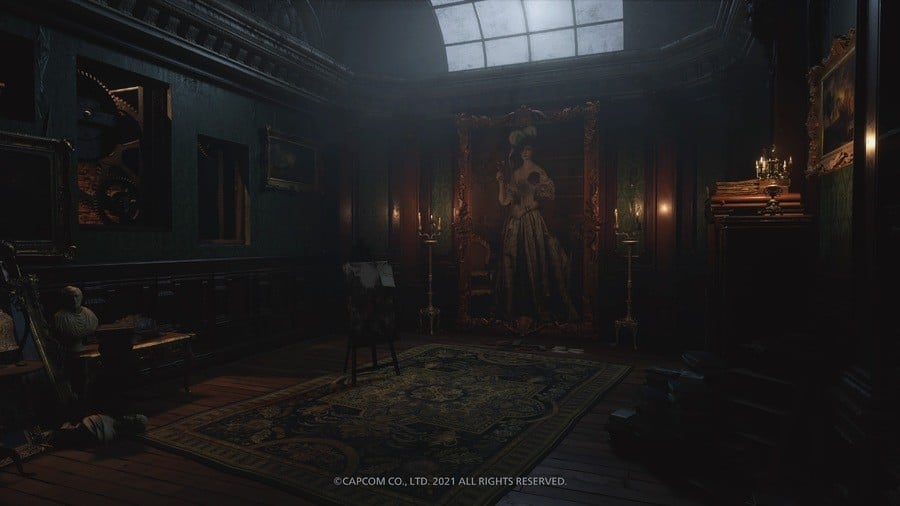 How do you solve the Dimitrescu's Portrait puzzle in Resident Evil Village? Where are the five bells to ring in the Atelier room? As you explore Castle Dimitrescu, this is one of the many puzzles you will come across while being hunted by the tall lady running the show. In this Resident Evil Village guide, we're going to reveal how to solve Dimitrescu's Portrait Bell puzzle. You may also be interested in: Resident Evil Village: Where to Find All Four Angel Masks and Solve the Hall of the Four Puzzle.
Resident Evil Village: How to Solve Dimitrescu's Portrait Bell Puzzle
The Dimitrescu's Portrait Bell puzzle takes place on the second floor of Castle Dimitrescu, inside the Atelier room. Upon entering, you are greeted by a huge painting of Lady Dimitrescu herself as well as an easel with a note attached. It reads: "Let the five bells of this chamber ring out." This clue gives us our objective — we must find the five bells hidden in the room and make them ring by shooting them.
Bell #1
The first one is very easy to find — you probably spotted it as soon as you first entered the room. It's in the back-left corner of the room near to the platform where the staircase ends.
Bell #2
From Bell #1, turn around and look at the top of the large cabinet, where the painting is. The next bell is on top of it, so shoot it to register the discovery. It's a lot smaller than the first one.
Bell #3
For Bell #3, it's best to climb the staircase in the back of the room. Once you've reached the top, look to your left and you'll see a lot of clockwork machinery in operation. The third bell is swinging inside, so you'll need to time your shot correctly in order to hit it.
Bell #4
Bell #4 is located in the chandelier, so stay on the platform to get the best view of it. You must first shoot the chandelier so that it swings back and forth, and then shoot the bell in the centre.
Bell #5
The final bell isn't actually inside the Atelier room at all — it's located outside. From the platform you're still stood on, look through the window on the far side of the room and you'll spot it hanging. Shoot it to complete the puzzle.
---
Which bell in the Dimitrescu's Portrait puzzle could you not find? Check out our Resident Evil Village guide for a lot more help and information.