PSVR2, also known as PS VR2 or PlayStation VR2, is Sony's next-generation virtual reality headset for the PlayStation 5, or PS5. The system succeeds the original PSVR, which launched on 13th October, 2016 for the PS4. While the original PSVR is also compatible with the PS5, the new PSVR2 promises a suite of improvements, including a more effective inside-out tracking solution, new controllers named PSVR2 Sense Controllers, and higher resolution visuals. For more on the original PSVR on PS5, refer to the following page: Does PSVR Work on PS5?
In this PSVR2 guide, we'll be sharing everything you need to know about Sony's new virtual reality headset, including PSVR2 price, PSVR2 release date, and PSVR 2 games. We'll be updating this page with new information as and when it's announced, so be sure to bookmark it and check back regularly for all the latest on PSVR2.
PSVR2 Guide: Features and Overview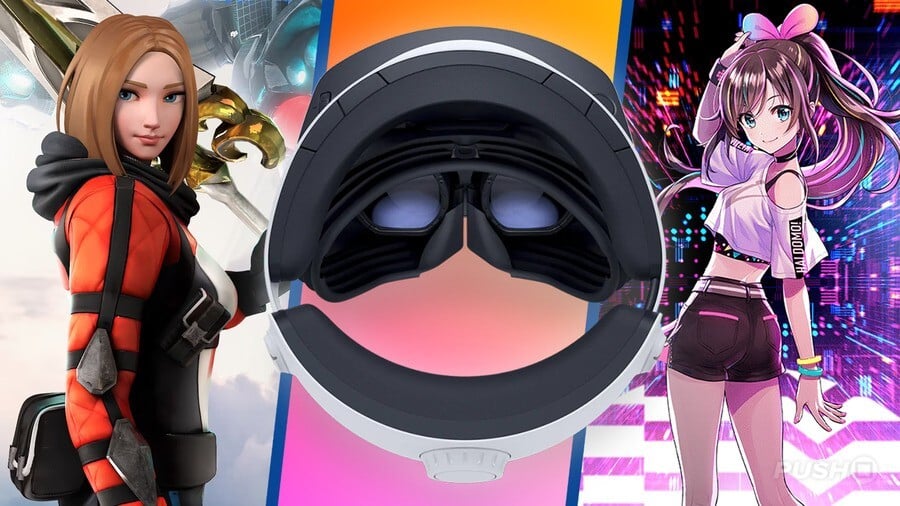 PSVR2 is Sony's new virtual reality headset, and works in tandem with the PS5 to create a next-gen experience. The headset will connect to the console using a single USB-C cord, making setup a lot more straightforward than its predecessor. In addition to a high-resolution 4K OLED HDR panel, it also includes eye-tracking functionality for foveated rendering, inside-out tracking of the PSVR2 Sense Controllers, and rumble motor for improved feedback and reduced motion sickness.
Below we've compiled a list of the headline features included with PSVR2, as announced by Sony at this stage in the product's marketing lifecycle:
4K OLED HDR: PSVR2 features a 4K OLED HDR panel, providing resolutions of up to 2000x2040 per eye, which is quadruple the visual fidelity of the original PSVR headset. It also features eye-tracking and foveated rendering, a technology that can reduce computational overheads by reducing the quality of assets in your peripheral vision.
Inside-Out Tracking: Rather than rely on a single tracking point like the original PSVR headset's PS Camera, PSVR2 instead features a four camera array within the headset itself which is used to track the position of the new PSVR2 Sense Controllers, meaning you can put the wands behind your back and still get perfect accuracy.
Rumble Motor: PSVR2 has a rumble motor built-in to the headset itself to provide additional feedback during gameplay. This means you'll be able to physically feel the impact of an object flying past your face. Research also suggests that including this type of force feedback can help with motion sickness, as it tricks the brain into believing your body is moving, therefore reducing the "lurching" sensation that can occur during intense gameplay.
In terms of specifications, PSVR2 surpasses the original PSVR headset in every measurable category. You can find a full PSVR2 vs Meta Quest 2 vs Valve Index vs PSVR: Full Specs Comparison through the link, but we've included a condensed overview below:
| Specs | PS VR 2 | PSVR |
| --- | --- | --- |
| Display | OLED | OLED |
| Resolution | 2000x2040 per eye | 960x1080 per eye |
| Refresh Rate | 120hz, 90hz | 120hz, 90hz |
| Field of View | ~110-degrees | ~100-degrees |
| Cameras | Four for inside-out tracking of PS VR2 Sense controllers | None |
| Connection | USB Type-C | HDMI, USB |
| Audio | Built-in microphone and stereo headphone jack | Built-in microphone and stereo headphone jack |
| Feedback | Rumble motor | None |
For more information on PSVR2 features and functions, refer to the following pages:
PSVR 2 Guide: PSVR2 Sense Controllers
PSVR2 Sense Controllers are the new motion controllers for use with the PSVR2 headset, replacing the PS Move wands used by the original PSVR. These utilise inside-out tracking to determine their position, meaning they're tracked by a camera array within the PSVR2 headset itself, meaning they won't ever lose position, even when held behind your back. In addition to improved tracking, they also feature a number of technologies taken from the DualSense controller, as detailed below:
New Controls: Unlike the PS Move wands, the new PSVR2 Sense Controllers have an analogue stick for each thumb, and match the inputs of a traditional DualSense controller, with the Square and Triangle buttons on the left pad and Circle and Cross buttons on the right pad.
Finger Sensing: The PSVR2 Sense Controllers have a touch sensor which can detect when you're gripping the pad. This will allow you to make more natural gestures with your hands in-game, allowing you to close your fist or hold out a palm depending upon the context of your situation.
Haptic Feedback: Like the DualSense controller, the PSVR2 Sense Controllers include haptic feedback, allowing you to experience more defined rumble "textures" with each interaction.
Adaptive Triggers: Again, much like the DualSense controller, the PSVR2 Sense Controllers include adaptive triggers. This means that, depending upon the game and scenario, you'll feel resistance in the triggers when you're conducting a strenuous activity, like, for example, firing a weapon.
PSVR2 Guide: Games and Experiences
At this stage in PSVR2's lifecycle, very few games or experiences have been announced. Horizon Call of the Mountain, a bespoke new experience set within the same world as PS5 and PS4 RPG Horizon Forbidden West, has been revealed by first-party developers Guerrilla Games and Firesprite Games. We're keeping tabs on all the software on our dedicated PSVR2: All Confirmed Games page.
Of course, we'll be updating this regularly, and you can follow the Push Square homepage for any other software announcements regarding PSVR2.
---
That concludes our PSVR2 guide for now, but this is an evolving page that we'll be updating with new information as and when it's revealed. As such, consider bookmarking our guide and checking back regularly for all of the latest information on Sony's new virtual reality headset.