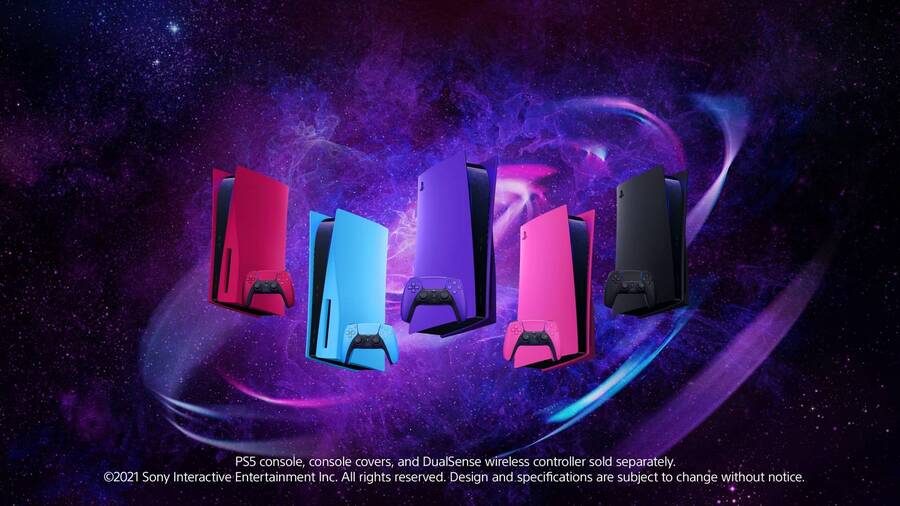 What are all the PS5 console cover colours? After offering the default white colour scheme for over a year with all systems, Sony is expanding its PS5 console customisation options with new covers you can purchase in a variety of colours. The first batch will be available in January 2022, and more colours are expected to be released throughout the generation. That could also include PS5 console covers based on specific titles, similar to limited edition systems.
Below, we're going to share every PS5 console cover colour either announced or released to date. Scroll down to find your favourite. We will be updating and adding to this guide over time, so be sure to check back with us to find out the very latest PS5 console covers.
All PS5 Console Cover Colours
Here is every PS5 console cover colour either announced or released so far.
Original White
The standard PS5 console cover colours are white, shipped with every console Sony sells. You can easily remove them and slap on a pair of the cover colours listed below. Alternatively, you can simply keep the original white console covers if you don't fancy a different colourway.
Midnight Black
Once you go black, you never go back. The colourway everyone seems to want will soon be available, allowing you to make your PS5 console looks a lot darker. Combined with the black centrepiece that the two covers attach themselves to, the only other colour you'll get out of this system is from the lights in the middle.
Nova Pink
If you really want someone to notice your PS5 console in your entertainment setup, look no further than the Nova Pink colourway. Bright and bold in every possible way, it's a fantastic choice for the dazzlers.
Starlight Blue
A colourway as bright and vibrant as the ocean waves meeting the shores of some exotic country, Starlight Blue just looks quite nice. Paired with the PS5 Dualsense controller of the same colour, you'll always be seeing blue but not feeling it.
Cosmic Red
The Cosmic Red PS5 DualSense controller must have proved a hit because Sony is back with a set of covers dedicated to the colour for the console itself. It'll prove a popular choice, we're sure.
Galactic Purple
Continuing Sony's PS5 space theming is the Galactic Purple colourway, which is probably the most unique design so far. Sporting a deep, rich purple, it's certainly a looker.
---
Which pair of PS5 console cover colours are your favourite so far? Are you sticking with the standard white colourway provided with every system or changing things up with a new design? Share your decision in the comments below.