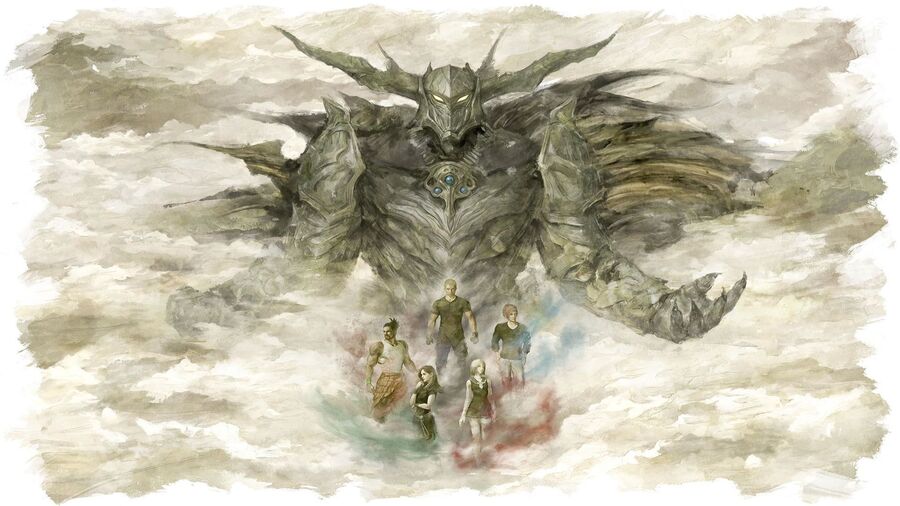 Stranger of Paradise: Final Fantasy Origin remains something of an enigma. We've known about the action RPG for ages, but between it being an alternate timeline origin story for the first Final Fantasy, the modern main characters, and all of the inescapable "Chaos!" memes, we've been dying to get some insight into what is one of Square Enix's strangest projects yet (if you'll pardon the pun).
Fortunately, we recently got to ask key members of the development team some of our most important questions.
---
Push Square: To start with, can you tell us how the idea for Stranger of Paradise came about? What
was your main goal when developing this game?
Jin Fujiwara (Producer, Square Enix): The initial spark for making this game came in the form of a few ideas that Mr. Tetsuya Nomura [veteran director, designer, and character artist at Square Enix] had been thinking of for a while. One of these ideas was the concept of an action game where you took on different dungeons. Another of his ideas was to make a game with Garland, who appeared in Final Fantasy, as the protagonist.
The story of this game would create a new narrative that explores how and why Garland becomes Chaos – through Mr. Nomura's own interpretation. The game has several unique characteristics – namely, it has a villain as the protagonist instead of a hero, it's an action game instead of an RPG, and it has an especially dark world setting to the game when compared to other games in the Final Fantasy series. Our main goal when creating the game was to make it a game that fans would acknowledge as a Final Fantasy game, even with all of these aforementioned traits.
Can you tell us anything about games, movies, or other media that helped inspire Stranger of Paradise?
Fujiwara: This game uses the first Final Fantasy as a motif, so that was what we considered most. We weren't influenced by any particular pieces of media.
Daisuke Inoue (Director, Square Enix): Hmm, there probably wasn't much that we looked to for inspiration.
In terms of making it easier for the development team to share in the same vision, we often used games developed by Koei Tecmo Games in the past or RPGs made by Square Enix as examples.
Fumihiko Yasuda (Producer, Head of Team Ninja at Koei Tecmo Games): To talk about games specifically, games we've made at Team Ninja, such as Nioh and Ninja Gaiden, had a significant influence.
On top of that, there were titles which had an indirect influence, like Dark Souls, Onimusha, and Devil May Cry, as they had an impact on the games made by Team Ninja. However, without a doubt the Final Fantasy series had the most impact on the game, and there were more games in the series than just the first which served as a great source of inspiration.
We put the most effort into trying to figure out how you would interpret and define certain aspects in the context of an action game – for example, key features of well-known and popular boss battles from the series, or the job system from Final Fantasy V.
The job system seems to be a huge part of the game. Is it difficult to balance these jobs in terms of gameplay, and can we ask about how you each like to play the game? Which jobs are your favourites?
Inoue: If I was to sum up whether the balancing was easy or difficult, I'd have to say it was difficult. However, honestly, of all the games I've worked on in the past, none of them have been easy to balance, so I think this is probably what producing games is like in general.
Fujiwara: I'm not very skilled at action games, so I'm going to set the difficulty to 'story' in order to practise the basic commands and combos, and then work on gradually increasing the difficulty as I play through the game multiple times.
The Mage jobs were especially useful when I was testing the game during development, so I'm particularly attached to them.
Inoue: I think it's best if people try out lots of different jobs and weapons. Jobs which use great swords and axes get to swing them around, which is quite fun.
Yasuda: Personally, I like the combination of having a samurai along with a monk or ninja. With a total of 27 jobs, there is a great deal of variety to enjoy, and tonnes of combinations to try out in both single player and multiplayer. I hope that everyone will discover their own unique combination of jobs that they enjoy playing!
Are there any additional jobs that haven't been revealed yet?
Inoue: It's not really something to hide, but all I can say is: yes.
Stranger of Paradise is set in the same world as the original Final Fantasy. How difficult was it to remake a 2D world like that in 3D, with so much more detail?
Inoue: Due to our experience with the same thought process when working on Dissidia Final Fantasy, I'd say we're relatively familiar with the concept. But still, making a game like this is by no means easy.
Saying that, there were countless titbits which we could use as a starting point, such as past art or our experiences playing the game, so we used those to stimulate our imagination before getting started.
The most recent beta had a scene where Jack plays some original music on his phone. Can we expect more original music like this throughout the game?
Fujiwara: In this game there are lots of dungeons which use previous games in the Final Fantasy series as their motif, and the music in these dungeons may likewise use motifs from the music of the Final Fantasy series. However, there are also lots of original songs made for this game, first and foremost the battle theme, so please listen out for the music as well!
Stranger of Paradise has difficulty settings — something that we don't often see in hardcore action RPGs. Why did you decide to add easy and hard modes to the game?
Inoue: We have put in a 'story' mode so that fans of Final Fantasy who may not enjoy action games can also have fun with this game. For those who usually play action games, but who perhaps haven't played at a high difficulty level before, we have the 'action' mode. For those who want even more of a challenge, there's 'hard' mode, as well as an even higher difficulty mode.
We came up with these options as a result of our desire to make it so that lots of users can experience the fun that the action, customisation, and story have to bring.
Can you tell us if Stranger of Paradise will have a New Game+ mode?
Inoue: You can play from the first stage of the game with your powerful characters.
In the Stranger of Paradise reveal trailer, Jack said the word "chaos" so many times that it became a very popular internet meme. What was your reaction to that? Did you ever imagine something like that happening?
Fujiwara: The area that was revealed was the Chaos Shrine, and his purpose of going there was to defeat Chaos. As a result, he ended up saying "Chaos" a lot, but I didn't imagine that it'd be picked up on as much as it has been!
I have a few thoughts on it, but there's no use on dwelling on things in the past. Since it's caught everyone's attention, why not try and count how many times the word "Chaos" appears in the whole game?
Finally, do you have anything to say to fans of Final Fantasy? Or perhaps new players that haven't experienced Final Fantasy before?
Fujiwara: As a game, I think it's pretty fun, and you can choose from lots of different difficulty levels, so don't count yourself out just because you're not a fan of action games! As the protagonist is a villain, the atmosphere of this game may seem a bit different, but when you play it, it'll definitely feel like a Final Fantasy game. I'm sure it'll strike a chord with both fans of Final Fantasy and those who have yet to delve into the Final Fantasy world. I hope you'll all be looking forward to the release!
Inoue: We've also included some elements in the game which those who have played Final Fantasy will enjoy, and will make them think to themselves, "Wait, is that…?!"
However, one of our aims when creating this game was for the action gameplay to be an entry point for players who might not be familiar with Final Fantasy. I hope that lots of people will play and enjoy this new world of Stranger of Paradise: Final Fantasy Origin.
Yasuda: For Team Ninja, being able to explore our own take on creating the first Final Fantasy action RPG was a great honour. Although it is a challenging and responsive action RPG, thanks to the wide range of difficulty settings and the multiplayer feature, I think that all kinds of people will be able to enjoy playing it. I'd love for both Final Fantasy fans and those new to the series to give the game a go. Please look forward to its release in March!
---
Huge thanks to Fujiwara-san, Inoue-san, and Yasuda-san for taking the time to answer our questions. Special thanks to Ash Harvey and the team at Square Enix for making this interview possible.
Are you looking forward to Stranger of Paradise: Final Fantasy Origin? Crush some crystals while screaming "Chaos!" in the comments section below.