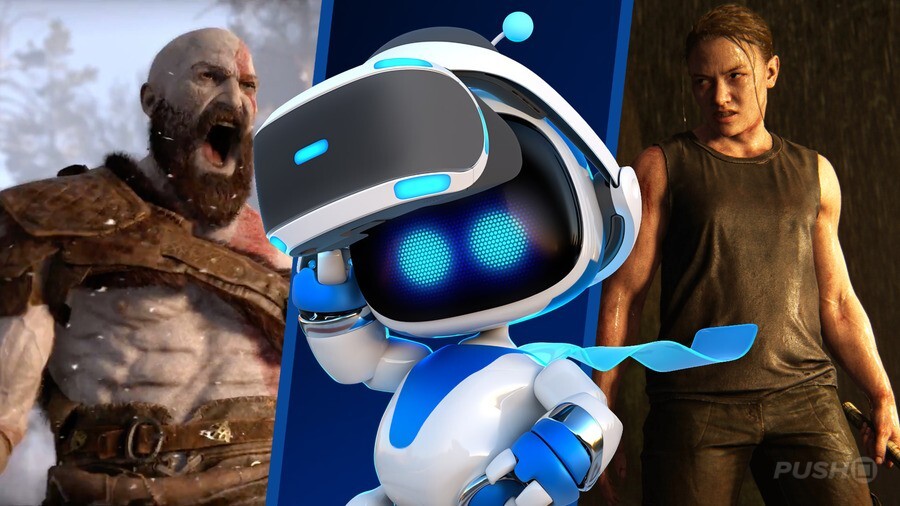 No one truly knows what 2022 will bring, but there's no harm in making a few predictions anyway, right? Once again, we're looking to the future of PlayStation, hazarding a few guesses on what's to come in the next 12 months. Each member of the Push Square editorial team has three predictions to share. Only time will tell if our office crystal ball has led us to the truth. Let's get on with it!
Sammy Barker, Editor
The Last of Us Factions Launches on PS5, PS4, and PC. I think this is going to be a hugely ambitious effort from Naughty Dog, and Sony's going to push it extremely hard with full crossplay across PS5, PS4, and PC, and it'll be included as part of PS Plus or whatever major subscription service is available at the time. I expect it to have all of the underpinnings of a traditional service game, so an in-game item store selling cosmetics and seasonal updates. Crucially, however, in addition to the usual selection of deathmatch modes, I think this may have a RUST-esque persistent online element, where you work with friends to build camps and scavenge for resources in a competitive multiplayer environment.
Returnal will get a massive refresh. I don't think Housemarque is done with its most ambitious project yet, and I'm expecting a full expansion from the first-party Finnish studio in 2022. This will launch alongside a repackaged retail release, similar to what we've seen with Ghost of Tsushima: Director's Cut. I'm predicting new biomes, bosses, and gameplay modes – and for a long-shot prediction, some form of additional online co-op option. Oh, and it'll all be available on PC for the first time as well.
Twisted Metal's television tie-in is a Battle Royale for PS5, PS4, and PC. Perhaps the theme of my predictions this year is a heavy emphasis on multiplayer, and I do believe that under the stewardship of Hermen Hulst, the company wants to entice more people to play on the PlayStation Network with larger-scale online experiences. Rumour has it that a new Twisted Metal is in development alongside its television adaptation, but I think the twist is that this will be a Battle Royale game, bringing a completely unique twist to the formula popularised by Fortnite and Call of Duty: Warzone. Action will take place entirely in cars, but you'll be able to attach different weapon loadouts and armour to define your personal playstyle. And, of course, there'll be a never-ending selection of cosmetics to pimp your ride with.
Robert Ramsey, Deputy Editor
A new Final Fantasy game will be announced that no one will see coming. Look, it's pointless trying to predict the actions of Square Enix. It often feels like the Japanese publisher gets its ideas from a combination of blindfolds and dartboards, and this is exemplified in the company's handling of Final Fantasy as a franchise. Stranger of Paradise: Final Fantasy Origin will release as planned, and then at some point after that, we'll get an announcement for something new out of nowhere, all while we continue to wait patiently for anything on Final Fantasy XVI.
A major anime-based fighting game from Arc System Works will be released. It's been over four years since Dragon Ball FighterZ changed the perception of anime-based fighting games, and I predict that Arc System Works is ready to do it all again. Whether it's a full-on sequel to FighterZ or a new title based on a different property, like One Piece or maybe even Bleach — given the latter's recent revival — it's going to take the scene by storm.
We'll see Kratos ride a giant wolf in God of War Ragnarok gameplay. Yes, I'm bringing this prediction back for a second year. Kratos will ride a giant wolf in 2022 and I will get the all-important point that I deserve. And here's the most prophetic part: the wolf in question will be one of the wolves that we've already seen — the ones that are pulling Kratos' sleigh in the 2021 gameplay trailer — but it'll grow massive in size since it has something to do with the god-beasts that chase the sun and moon in Norse mythology. My redemption is at hand!
Stephen Tailby, Associate Editor
PSVR 2 launches in the latter half of the year, complete with a complimentary Astro Bot experience. Sony has already made a fair amount of noise about its PSVR successor, showing us the controllers and promising a huge upgrade in many areas. A 2022 release has not been stated officially, but I reckon it'll show up in the second half of the year, ahead of the holiday period. What's more, Team Asobi will launch a new Astro Bot game or demo that shows off the tech, and it'll be available for free. I feel like, after the incredible reception of Astro's Playroom (and given the little robot's history with PSVR), Sony will want to keep the good vibes going.
WipEout makes its return on PS5, and it's going GaaS. Mobile game WipEout Rush has already been confirmed for 2022, but I feel like it's an offshoot of a larger return for Sony's anti-gravity franchise. A "proper" new game will be announced, and it'll be a Game as a Service. In other words, it'll launch relatively light on content, and then be expanded upon with regular post-launch support, adding new teams, vehicles, tracks, events, seasonal cosmetics, modes... Heck, the mobile game might even tie into the console game in some way, why not.
Kratos gets drunk in God of War Ragnarok. There's no real reasoning behind this, I can just see it happening. I can so vividly picture this scene; perhaps Kratos and Atreus have had a falling out. Perhaps the Ghost of Sparta sits down with Brok for a pint in Asgard, sick of it all, and the two soak their troubles into the night. Perhaps this is followed by a drunken brawl, with the aged god defending the inebriated dwarf from a pack of baddies. With any inhibitions swimming in mead, Kratos' raw power is brought to the fore, and we enjoy a hilarious, wild power trip. I now want this scene to be real more than I want the game itself.
Liam Croft, Assistant Editor
Sony's next-gen PSVR headset doesn't release in 2022. If the world was a normal place, I absolutely think you would all be donning a brand spanking new PSVR device by the end of the year. However, it's anything but. I struggle to see why Sony would want to introduce an optional peripheral to its lineup of accessories that costs hundreds of pounds when it can't even guarantee PS5 systems will be on store shelves at any point soon. You'll certainly see the headset this year; maybe Sony will even date the headset for the end of 2022 in a State of Play or something. I don't think it'll actually happen, however. Look forward to this one in 2023.
Gran Turismo 7 will have the highest Metacritic rating of any PS5, PS4 exclusive released in 2022. I can feel it in my bones: Gran Turismo is back, baby. After more than eight years, we are finally getting a traditional Gran Turismo title out of Polyphony Digital, and I reckon it'll be the best-rated PS5, PS4 exclusive Sony puts out in 2022. That means it scores higher than God of War Ragnarok and Horizon Forbidden West overall. Why? Because Gran Turismo 7 will be a very welcome return to form and the other two aforementioned titles are going to be dragged down slightly by building off of their predecessors. It's going to be tight, but I have faith Gran Turismo 7 will be top of the podium come the end of the year.
Firesprite Games shows what it's all about. It's going to be tough to judge this one at the end of the year, but I think Firesprite Games is being seriously underrated as one of Sony's newest developer pick-ups. 2022 is the year it shows what it's all about. The team will release a brand new IP to widespread praise and then announce another title for 2023. Think of what Insomniac Games has done for the PS5 this past year and change; Firesprite Games is the next studio to do that. It has the team size to do it, and I think it'll realise it. Don't underrate Firesprite Games anymore. Big things are on the way.
Aaron Potter, Video Editor
Rivet will get her own short but sweet standalone adventure. As well as being one of the most highly rated and regarded PS5 exclusives of 2021, Ratchet & Clank: Rift Apart surprised everyone with its introduction of female Lombax, Rivet. Her no-nonsense attitude, coupled with Jennifer Hale's charming performance, allowed this new character to have quite the impact — I think even Insomniac was slightly taken aback by her popularity. It'd be a shame for us to have to wait too long before getting to catch up with her, hence why I think she and Kit will get their own Lost Legacy/Miles Morales style spin-off adventure. It would allow both characters to develop their friendship before potentially re-appearing in a full Ratchet & Clank sequel.
The PlayStation Now + PlayStation Plus combo launches in a messy state. It was just a few weeks ago now we got word from a recent Bloomberg article that PlayStation will soon merge the benefits of PS Now and PS Plus together. Currently codenamed "Spartacus", it's definitely the kind of shot in the arm either service needs to try and take on Xbox Game Pass, but I think its initial launch will be surrounded by confusion. Why? The Bloomberg report posits that Spartacus will come in three tiers, and I think (for one reason or another) this will tick players off, potentially inspiring PlayStation to streamline the offer into a single fee.
LEGO Star Wars: The Skywalker Saga actually releases, makes everyone love Star Wars again. In between the KOTOR remake, the as yet unannounced (but blatantly obvious) Jedi: Fallen Order 2, and more arriving on PlayStation soon, there's an avalanche of Star Wars about to hit the platform. However, one of the most elusive titles is TT Games' LEGO Star Wars: The Skywalker Saga, which I think will reignite everybody's love for the saga due to its broad appeal and seriously expanded version of the LEGO formula. This is all of your favourite Star Wars movies recreated in block form in one exciting package, and I think it'll rank pretty highly in people's personal GOTY lists as a result.
---
That's it for our musings on what 2022 may bring. What about you? What do you think will happen in the new year? Make your own predictions in the comments section below.