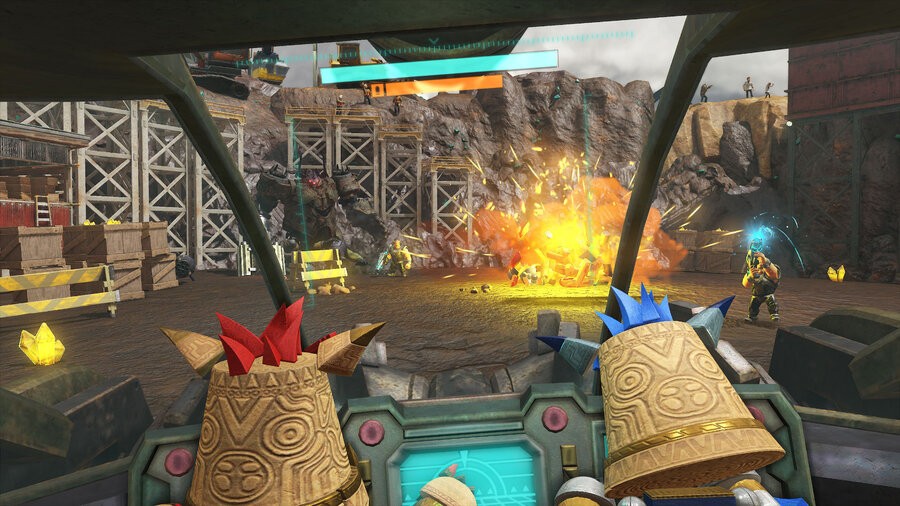 Shortly before the release of Sony's Knack 2 we got the chance to sit down with the game's composer, Anthony Willis, and discuss with him some elements of his process for crafting the score for the latest in Sony's platforming series. Anthony has previously worked on many film projects such as How to Train Your Dragon 2, Rio 2, the most recent Pirates of the Caribbean, and a number of other projects. So without further ado, let's jump in...
Push Square: Take us through your developing the sound for this game. Did everything click immediately, or did you go through a few iterations before arriving at the sound you wanted for the game?
Anthony Willis: Knack as a character was very inspiring to write for, and so finding the tone for Knack 2 was in many ways very intuitive, but the challenge lay in balancing the darkness of the story and the fun of the gameplay. The first piece of music that I wrote for the game was the 'Relic Theme', inspired by the mystery of Knack's Relics. This seemed like a really interesting way in to the sound of the game, and an effective way to support the mythology of Knack's world. This became something of the main theme for the game, and can be heard in numerous guises on the soundtrack, but a couple of favorites are: 'The Adventure Begins', 'Targun Ruins Exploration', and 'Relic Energy'. Knack as a character is at times muscular and heroic, and at other times playful and fun, so it was important to write music that could modulate between those intensities.
By that same token, did you approach crafting the sound for Knack 2 as an active decision to give it a different feel form the first title, or did that choice develop more organically as you went along?
Overall the game developers were looking to reinvigorate Knack's sound in this sequel, but didn't want to completely lose the identity and tone of the original game. While I composed a set of new themes for this sequel, there are certain stylistic aspects and orchestration devices that were inspired by the original game, such as the use of low brass swells and ostinatos [short, continually repeated musical phrases or rhythms] in certain intense combat situations. 
How challenging was the transition from film scoring over to game scoring with Knack 2? Did anything in particular give you trouble during the transition?
I think that there's possibly something wrong if you don't encounter any challenges over the course of writing a score, and this was no exception! Ideally by the end of a project, no stone has been left unturned in searching for the right approach to support the experience. One advantage of a film is that, in most cases, you are able to take a look at the entire assembly of the film and ascertain where your most important dramatic points are, what thematics are needed, and how to balance them for the maximum impact. In games, the score is created in tandem, and sometimes even in advance of the gameplay levels and cinematics, so it can be something of a moving target. This can make it more challenging to forecast where custom music should be written, and where to focus the thematic set pieces. 
Did anything prove to be surprisingly easy?
I really loved scoring the 'cinematic' sequences of the game, which are handled much the same way as animated movies. I was very fortunate that the game developers almost always reacted positively to my approach. I really enjoy looking for the best way to structure the music in the scene, which themes to employ, and how best to harmonize and arrange them to support the scene at any given moment. The game developers were very supportive of this process, and so I'm very glad that it went smoothly.
Did you run into any pieces that proved particularly problematic for you to get where you wanted them? And likewise, are there any standouts that you're especially proud of?
An important new feature of Knack 2's story is an 'order of ancient monks' who were founded in order to promote peace in the world. I really wanted to bring a sense of history and authority to their message, and am proud of how that turned out. Their music is formed from a mixture of Celtic, Eastern, and Spanish influences. The track on the soundtrack, 'Marius's Legacy' describes the founding of the order of the monks under their leader Marius and is one of my favorite pieces of music from the game.
One thing we're always curious about is the approach you took with dynamic area loops? In addition to being an interesting component, it's not really a thing in film or television, so it must have been a new experience?
Yes, it was a new experience for me, and one of my favorite takeaways from scoring Knack 2! 
Sony PlayStation has a really fantastic team which handles the implementation of the music into the gameplay. I was expertly guided in the process of creating the 'in-game' music by my producers Peter Scaturro and Keith Leary.  This music is much more percussive and modular in its design, and presented a really cool opportunity to create different palettes for each level. There are some beautifully crafted environments in the game, from mysterious temples, arid deserts, and dramatic mountains to more urban locations, and so these really informed the style for the score.  
Knack is part of the reinvigorated old school 3D Platformer genre. Did you look to any of those older games or their music for inspiration when crafting the music for Knack 2? Was there anywhere else that inspired you while crafting this, be it in film, individual composers, or elsewhere?
Yes, I think it was crucial! In fact, the experience I've had in animation and adventure films was actually a big reason I was brought on to score Knack 2. The developers were looking to reboot the Knack franchise with something of that classic orchestral animation feel.  John Powell's iconic How to Train your Dragon scores, for example, have a very high bar for orchestral writing and arranging, and the way that musical colours bring that world to life. I've been very fortunate to be a part of that process, and experiences like that are so inspiring that they can't help but stay with you in your approach to future projects.
And finally, it's really interesting to me that you've actually previously collaborated with Henry Jackman on Birth of a Nation, who was also new to video game composition when he scored Uncharted 4 and the more recently released Uncharted: The Lost Legacy. How did you find your way into scoring games?
Interestingly, and by total coincidence, it was shortly after my work with Henry writing on The Birth of a Nation that I was brought on to score Knack 2, so there must be something in the water over there! Video Games are constantly breaking new ground, and desires for cinematic sounding scores have brought a lot of film composers into this space. And it's a wonderful place to be. Games offer such exciting and inspiring environments to compose for, and game developers are fantastic in ensuring that there are good budgets allocated to produce the scores with live orchestras. It's also so cool that the gaming community takes such a passionate interest in video game music. And so on that note, thank you so much for your questions and taking an interest in my work on the Knack 2 score.
---
We'd like to thank Anthony for taking the time to do this, and you can find some samples of the work he did on Knack 2 at his Soundcloud page through here.