How long does it take to make an Everybody's Golf game for the PlayStation 4? A bloody long time, apparently – it's been three years since Clap Hanz's new-gen debut was announced, and we've still got to wait until the end of August to play it properly. Fortunately, there's an online beta ongoing at the moment, and we've been checking it out.
The server stress test centres on the multiplayer component as you'd expect, but there will be single player tournaments in the final product, so worry not. This is a title that's clearly designed to be connected, though: cosmetic items will rotate on a regular basis, and practically everything in the release has a leaderboard attached.
It's the most ambitious Everybody's Golf ever, then? Definitely. The developer has toyed around with interactive online lobbies in the past, but here courses are basically like mini-MMO instances. When you choose a level (only one is available for the beta), you'll be pulled into an open space where other players are milling around or teeing off.
You're free to do whatever you want in that space. There are hidden items to seek out and collect, you can practice on any of the holes, and in the full game you'll be able to race buggies, go fishing, and much more. You can chat to other players a la PlayStation Home, challenge them to a round of golf, or just avoid everyone like the introvert you are.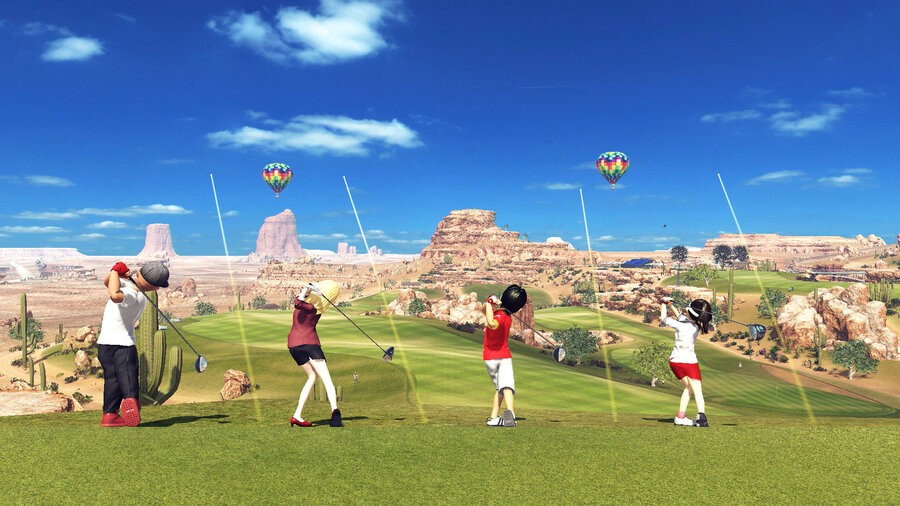 Starting at hole one allows you to line up a nine hole round – there will, of course, also be an 18 hole option for each of the five courses in the full game – whereby you're automatically transported to each tee off point in succession. Completing a full round will put you in the running for a daily tournament, where the best players will receive cosmetic prizes and coins.
The golf itself is much the same as it's always been, focusing on the classic click-click-click action of yore. For the first time ever this extends to the putting, too, adding a little extra challenge to those all-important concluding shots. Spin can still be applied to your drives, and there are alternate balls available from the in-game shop to help you get a little more control.
Perhaps the biggest change this time is that you can level up each of your clubs by playing the game. Hitting a long shot will earn XP for the club you used, and as you level up that particular attribute you'll gain more distance. The same is true of control, spin, and so on – it'll be interesting to see how this is balanced in multiplayer because it seems a veteran player may have a big statistical advantage over a newcomer.
Speaking of which, there's a new eight player multiplayer mode named Turf War, which splits players into two coloured teams and tasks them with sprinting around the course, trying to earn as many points as possible. You need to essentially, as a team, dominate as many holes as you can, which actually really cleverly leverages the new open world format.
Perhaps the biggest disappointment so far is the presentation. It's twee and as jovial as it's always been, but the visuals are seriously underwhelming, and we still can't decide whether we like the character creator or not. There are certainly enough options to come up with acceptable avatars, but the beauty of previous Hot Shots titles has always been the great pre-designed character models.
The game seems promising, though – a clear "live" title that will benefit greatly from frequent content updates and a dedicated community. With all of the other gameplay features still to be added in the full game and a couple of months leftover for some spit and polish, there's no reason not to call your caddy and prepare to get back into the swing of things.
---
Will you be teeing off with Everybody's Golf this year, or do you remain unconvinced? Pretend you can better Sammy's best Eagle in the comments section below.