(PS Vita / PlayStation Vita)
Tales of Innocence gets re-imagined for PS Vita with new characters, extra content and a new combat system.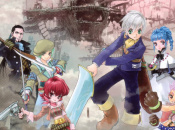 Mystery "Tales of" title revealed
Namco Bandai teased us earlier this month with the promise of a PS Vita Tales of game, and is making good on the gesture by officially unveiling Tales of Innocence R for PS Vita. The "R" in the title may as well stand for "re-imagining," as the game will be a complete revamp of the original DS...
Hold on there, you need to login to post a comment...