Description will appear here shortly...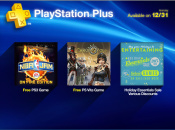 Hot shot
If you're nursing a nasty bout of man flu this New Year's Eve – the Push Square office is a bubbling pot of coughs, sneezes, and snot this evening – then at least you'll be able to console your misery with a gallon of Lemsip and a complimentary copy of NBA Jam: On Fire Edition. Sony has announced the next batch of PlayStation Plus...
Hold on there, you need to login to post a comment...