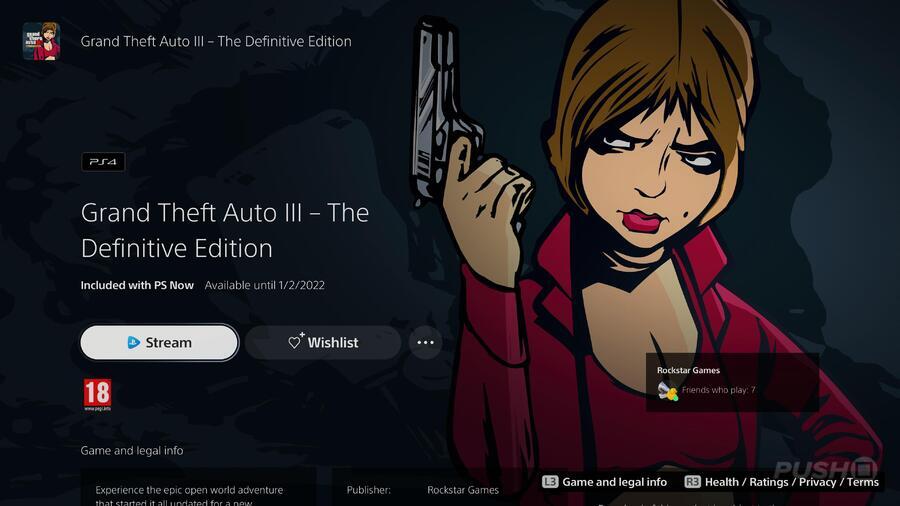 Update #2: Sony has corrected an issue with GTA 3 on PS Now which meant users couldn't download the game. It's now available to both stream and download worldwide. This isn't the first time this error has occurred, and has led to confusion and unnecessary frustration for subscribers.
---
Update #1: GTA 3 is now available as part of PS Now in the US, where it can be downloaded and streamed. There have been no changes in Europe as of yet, where it's still only available to stream. Presumably, then, this is just an error that will be resolved imminently.
We have contacted Sony for clarification, and will update when we get word back.
---
Original Story: After the disappointment regarding Mortal Shell's missing free PS4 to PS5 upgrade on PS Plus, there's more bad news for Sony subscribers: GTA 3, available now on PS Now, can only be streamed. This issue first emerged on Reddit but we've been able to corroborate it – there's no option to download the game, as is ordinarily the case. It's also worth noting that this is the PS4 version of the remaster that you can stream, and not the PS5 one.
There is precedent for the Japanese giant pushing the wrong buttons when it rolls out PS Now updates, so it's possible the download option may magically appear in the coming days. After all, there's no mention on the PS Blog of this game being available for streaming only. We have, of course, checked with Sony to find out whether this is an error or not, and will update accordingly once we get clarification from the company.
Either way, it's not been a good week for the firm's major memberships, especially when you consider the situation surrounding Godfall as well. If this really is a mistake, then let's hope the platform holder is prompt fixing it: GTA 3 is only available on PS Now until 1st February, 2022. You're on the clock, readers.
[source reddit.com]