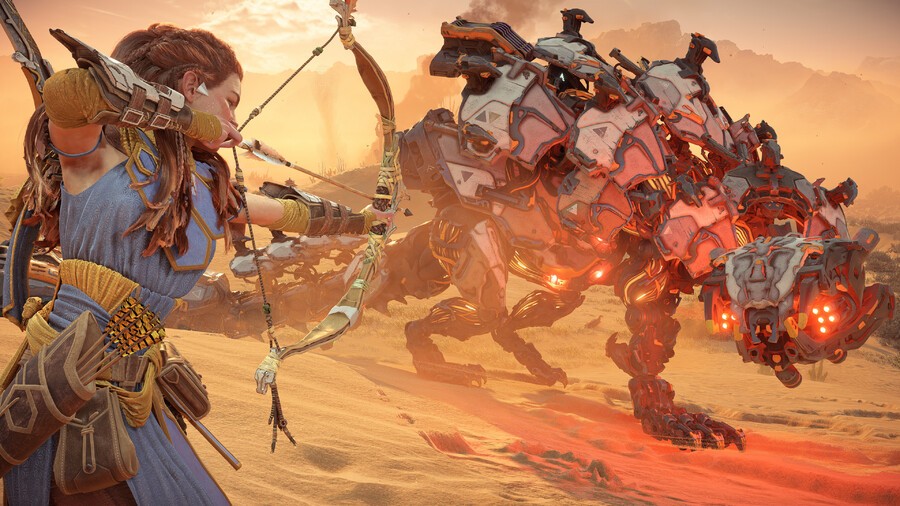 Horizon Forbidden West is shaping up to be a stonker in more ways than one! Early data scrubbed from Sony's servers and shared on Twitter by PlayStation Game Sizes suggests that the Guerrilla sequel may have a file size of more than 96GB prior to any patches on the PlayStation 5. While this information is historically reliable, the account does caveat that the numbers can change prior to release, and it's obviously worth remembering that the action RPG is still a couple of months away.
Nevertheless, with an initial footprint this big, it does suggest that the game may ship on two Blu-ray discs, which Sony has yet to communicate if that's the case. Titles like The Last of Us 2 and Final Fantasy VII Remake required multiple discs so this isn't unprecedented, and we'll try to check in with the platform holder to confirm if that's the case here. What's interesting is that this information is specifically referring to the PS5 version, and seeing as new-gen file sizes have generally trended lower, we dread to think what the PS4 size will be.
Of course, it's still possible this could be a development build showing up on internal databases, and not necessarily the final consumer product. Nevertheless, with the sheer amount of content the Dutch developer looks to have packed into this title, would anyone be surprised if it did end up with a file size this large?
[source twitter.com]