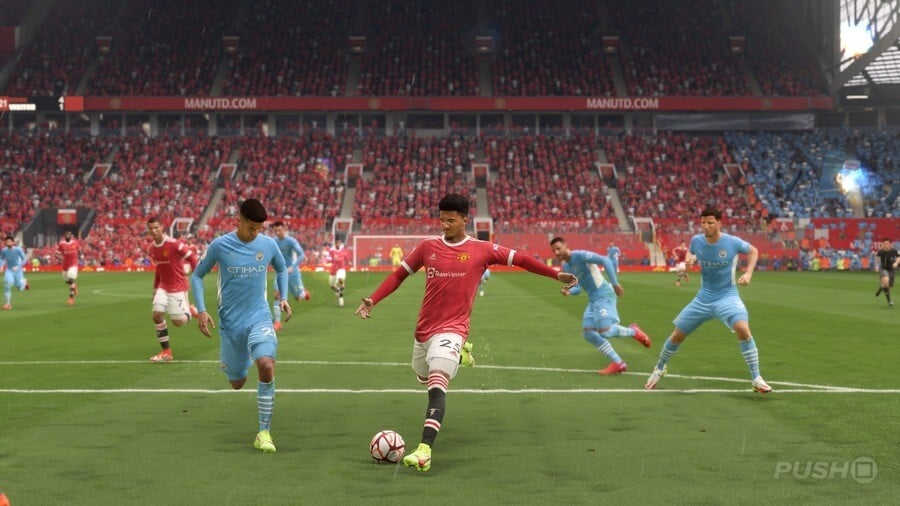 As far as this author is concerned, FIFA has never felt quite right. For a franchise sold as a soccer simulator, there's a case for EA Sports getting done under the trade descriptions act – it's never really resembled real football, more an analogue of the sport like the distinctly arcade Rocket League. But based on over six hours with FIFA 22 so far, this is a football game – the YouTube community is going to despise it.
The biggest and most obvious change is how the ball moves through the air. FIFA 21 was very much a game designed to be played on the ground: the ball physics simply couldn't cope with lofted passes into the box or whipped crosses from out wide. That, on PlayStation 5 at least, has all changed. Playing one of those Paul Scholes-esque cross-field balls to switch the play feels truly exceptional, and running to the by-line to smash a ball into the box is now a viable strategy.
This is still a video game and it's not perfect, so you're going to see your fair share of warping animations and strange collision bugs over the course of a session, but there's no question that FIFA 22 reflects real-world football better than it ever has. Close control and skill moves are still effective with ballers like Neymar Jr, but you are also rewarded for knocking the ball about and making space for yourself – there does seem to be less of the "dribble your opponent to death" tactics of old.
The goalkeeper rewrite makes a big difference, too. No longer can you just blast past the likes of Gianluigi Donnarumma at his near post: he's going to make that save fairly easily, or at least push it out for a corner. That's still a mini-win for the attacking team, of course: the new aerial physics mean that corners can be deadly, and if you've got a towering striker like Erling Haaland upfront, there's a good chance he's going to strain his neck sinews and power home.
Finesse shots outside of the box also feel spectacular. While timing shots have been deemphasised in the past few years of the game, get it right here and you can curl one right into the top corner like Andrea Pirlo in his prime. The combination of the ball trajectory and the new net physics make for unbelievably satisfying, highlight reel worthy plays: watching the goalkeeper launch himself hopelessly to the side as the ball cuts through the air and inside the post is worthy of a chef's kiss.
The highly publicised Hypermotion Technology does make a difference, too, as there are thousands of new contextual animations that help make the game feel fresher. It's not the seismic alteration it's been advertised as, but the way players adjust their stride in order to strike the ball, for example, makes the presentation much more convincing overall. We're also rather fond of all the little off-the-ball animations that serve to heighten the immersion.
Of course, we're still very much in the honeymoon period: this is based on little more than a few hours of play. There's plenty of time for exploits to be uncovered, balance issues to be exposed, and for the competitive community to wrangle EA Sports into updates. So far so good, though: this definitely feels much more like real football right now. Imagine: crossing the ball is currently a better tactic than fake shot pirouetting your way past the entire back four. Bonkers!
---
How are you finding FIFA 22 so far? Have you had a chance to play yet, and what are your first impressions? Slalom your way to the comments section below.