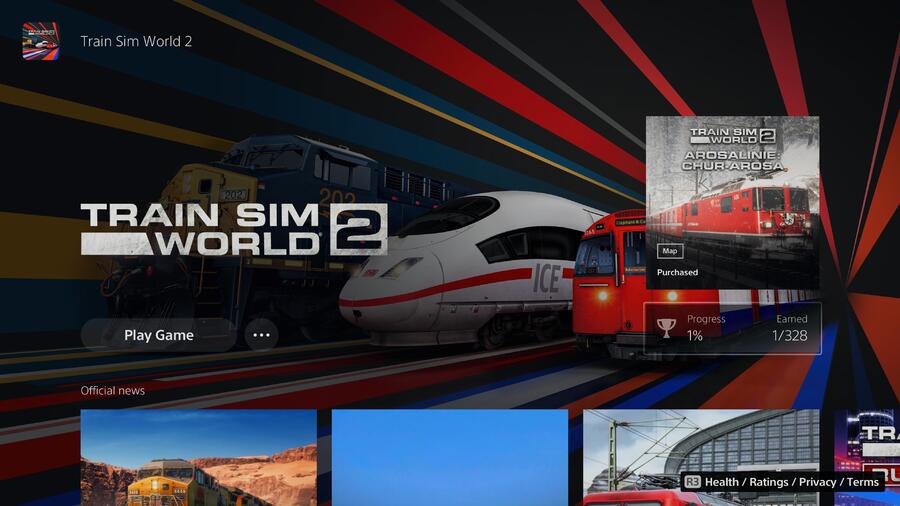 Train Sim World 2 launched on the PlayStation 5 today as a free PS4 to PS5 upgrade alongside its new Rush Hour expansion. We'll be putting the Boston Sprinter through its paces this weekend, but have had an early play around on the next-gen console and feel pretty good about the interface improvements and lightning-fast loading times. Performance, sadly, is a bit mixed.
One thing that caught our eye, though, is the sheer number of Trophies available at launch: 328. This is nothing new for the franchise, of course, as it's been adding major DLC expansions semi-regularly since it first released last year. However, on the PS4 developer Dovetail was forced to create multiple different sets, but this restriction appears to have been removed on the next-gen console.
No other title comes close to Train Sim World 2 in terms of Trophy numbers: The Elder Scrolls Online has 142, but this is a frankly flabbergasting number. Not that we're opposed to it, of course: we recently penned a Soapbox explaining how strange we think it is that major, service-based games like Fortnite don't add trinkets to coincide with major updates.
It'd take you thousands of hours – and, honestly, hundreds of dollars – to unlock all of the Trophies in Train Sim World 2. But seeing as there's so much content in the game to enjoy, that's not a bad thing. If you happen to be a fan of the franchise, you could dedicate the next 18 months to it and you'd still have things left to do.