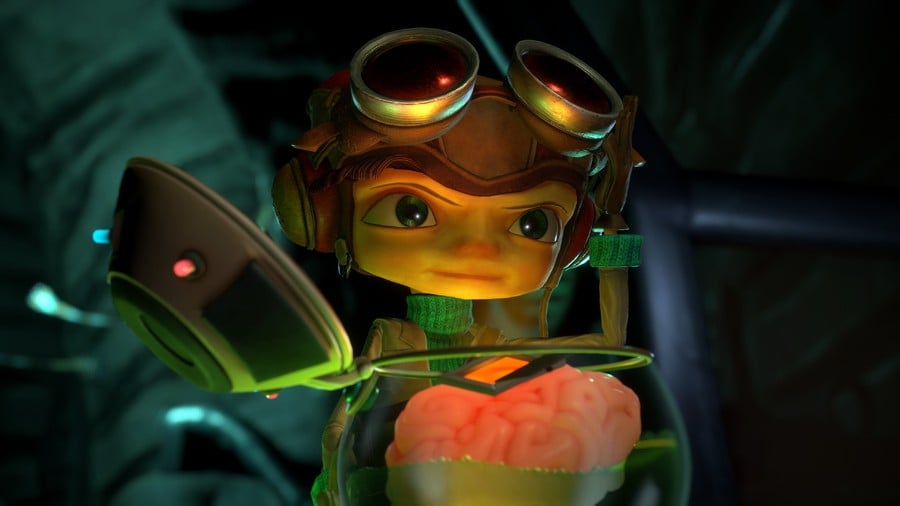 The PlayStation 4 version of Psychonauts 2 is stuck between a rock and a hard place. Despite being perfectly playable on Sony's last-gen system, it's almost as if the world doesn't know this particular version exists as marketing is pumped into the Xbox Series X|S and PC versions of the game. That's completely understandable given Microsoft now owns Double Fine, and it's hardly a surprise time wasn't set aside to produce a native PS5 version either. We all know the game looks and plays better elsewhere, but if what's available on PS4 is your only option, I implore you to take it.
We've still got a member of the team penning a full Push Square review, but in the meantime, I wanted to share my own first impressions. I took the original Psychonauts game for a spin a few months back and fell off quite quickly. While I enjoyed the story and characters, the gameplay was just too archaic for my tastes. 16 years later, however, and this sequel already provides some of the most fun I've had with a videogame all year. That's after just three hours of play.
What has really struck me so far is the sheer amount of creativity on show. From innovative approaches to 2D platforming sections through to how the powers are handled in the early game, I'm in a constant sense of awe and wonder as Psychonauts 2 introduces new mechanics and features to me. It really does deliver on its promises, constantly keeping you guessing about what's around the corner. The core gameplay is super solid too, with precise platforming a joy to partake in and serviceable combat that is spruced up by the abilities of the mind.
However, it's the characters that are the real stars of the show. Raz already feels like my best friend, bumbling his way through The Motherlobe in an attempt to rid himself of his new position as an intern. The scene where he's robbed of his clothes is a real highlight, and so too are the ones where Lili just loves giving the protagonist a quick punch. It's all so delightful and charismatic; I can already tell I'm going to have a wonderful time with these new faces.
You don't even really need to have played the first game to understand what's going on. Yes, it is a direct sequel and playing PSVR game Psychonauts in the Rhombus of Ruin would help with the second game's setup too, but I feel like I have a fairly decent grasp of what's going on. A handy cutscene plays at the very start to get you caught up, and it helped me a ton.
So, I get it. Psychonauts 2 may not look or run at its best on PS4, but I really don't think you should let that stop you from checking the game out if it caught your interest pre-release. The game has absolutely lived up to the praise from other critics so far, and I can't wait to play much more this weekend. Think of this as a PSA: the PS4 version may not be the best, but you really are missing out on a wonderful title if you choose to skip Psychonauts 2 because of that reason alone. Double Fine has something special on its hands here and you owe it to yourself to experience it.
---
Have you been playing the PS4 version of Psychonauts 2? What are your first impressions? Share them in the comments below.