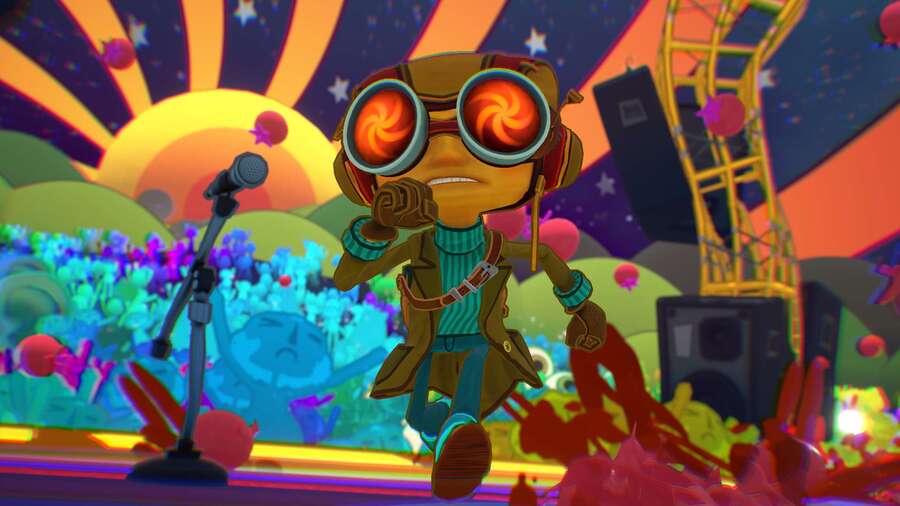 A whole 16 years after the original, Psychonauts 2 has finally arrived. Raz is back with another wild adventure that takes place directly after the events of the first game, and it seems like the long, long wait has been worth it. Reviews are now pouring in from various outlets across the internet and almost all of them have something good to say.
It's worth noting all the verdicts below cover the Xbox Series X|S and PC versions of the game. Right now, there is not a single PS4 review. That explains why we've had no luck whatsoever tracking down a review code. Our thoughts won't be posted on the site for some time, if ever. Let's see what everyone else thought of Psychonauts 2, however.
It's honestly astounding how incredible Psychonauts 2 is. After 16 years, the expectations for the sequel were so high it felt as though they were impossible to meet. We don't know how they did it, but the wizards at Double Fine not only met them but smashed through them with ease. Psychonauts 2 is an extraordinary achievement in both its gameplay and storytelling, balancing heavy themes of mental health with its whimsical world. In lesser hands, it could have been a disaster, but the team has taken every aspect of the original game, built upon it and respected the fanbase in the process. Psychonauts 2 is the best game of 2021 so far and one of the greatest sequels ever made.
Psychonauts 2 is, once again, a universe of damaged teachers and teaching environments, a space for thinking through dark thoughts with varying degrees of earnestness and absurdity. Its worlds are works of matchless invention, its characters a joy to exist alongside. I might have missed it first time round, but I'm glad that games like this are still being made.
I adored almost every second of Psychonauts 2. It achieves something I don't often see in games – a continual sense of awe as each of its worlds unfold. It took 16 years to reach release, but Double Fine has delivered an incredible sequel. I hope we get a third installment that doesn't take nearly as long to create.
On the surface, Psychonauts 2 is an engaging, ambitious, honed-in take on colorful 3D platformers. However, the most rewarding aspect hasn't just been mastering its platforms or combat, but peeling back the layers to see what's beneath it; to take a closer look at its characters, the depth of their struggles, fears, and regrets, all of which serve as the game's foundation. It's an emotional, hilarious, and, at times, devastating story, but a story about forgiveness and second chances. It's an astonishing achievement in nearly every regard and the quintessential display of Double Fine's mastery in story, gameplay, and distinct direction, making it the studio's best game to date.
Even in those moments of collectible cursing, I had an absolute blast playing Psychonauts 2. It's rare that a long-awaited sequel does most things right, but this is one of those times and I'm confident in saying that Psychonauts 2 is Double Fine's best game to date and an early contender for game of the year. Just don't keep us waiting a decade for the next one.
IGN - 8/10
Psychonauts 2's weird and wonderfully written story is full of interesting, nuanced characters that I instantly fell in love with. Most of its fresh ideas go a long way toward elevating the Psychonauts formula into the modern era, though its enticing new equippable pin system can be a little too stingy. Double Fine has also done a great job of expanding this universe toward both grander and more intimate threats without losing the joyous childhood adventure vibes of the original. It may bring a bit of that mid-2000s action-platformer clunkiness along with it, but Psychonauts 2 is still just about everything I could have hoped for from a sequel to one of my favorite games.
It's always a risk creating a sequel to a cult classic so long after the original, but in Psychonauts 2, Double Fine haven't only made a game that respects the original and takes it's characters to new heights, they've set themselves, and new owners Microsoft, up with a platforming franchise that can thrive for years to come.
---
Are these reviews enough to convince you to buy Double Fine's latest adventure? Let us know in the comments below.