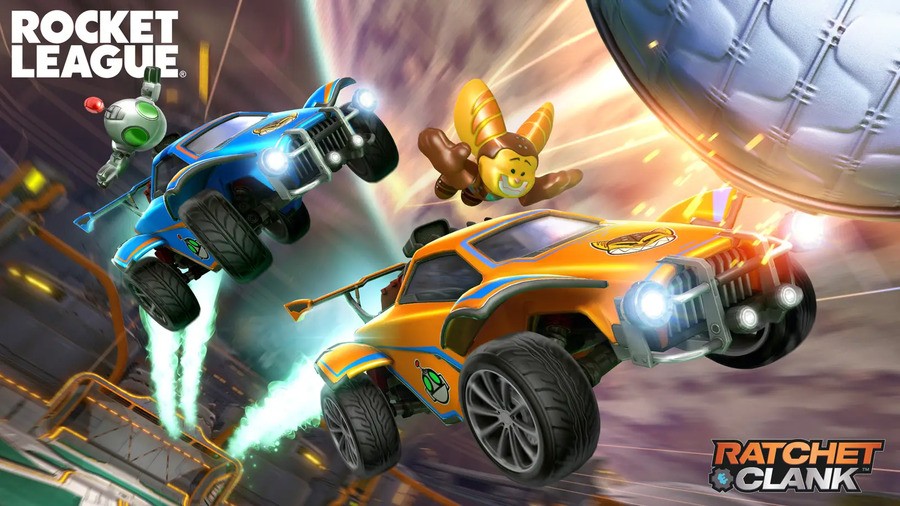 Free-to-play powerhouse Rocket League is being treated to a substantial update tomorrow that adds brand new quality and performance modes for PlayStation 5 owners to make use of as well as skins and decals inspired by the dynamic duo Ratchet & Clank. To claim them, all you need to do is log into the game before 3rd January 2022, at which point you'll gain access to the Ratchet & Clank Punk Decal for Octane, Negatron Collider Boost, Clank Balloon Topper, and the Ratchet Balloon Topper. They will remain exclusive to the PlayStation version of Rocket League.
Speaking on the PlayStation Blog, Psyonix's product & content strategy director Jeremy Dunham said: "We're big fans of Ratchet & Clank here at Psyonix and it's one of PlayStation's most iconic franchises. That's why teaming up with Insomniac to make cool content for the PlayStation community was both a thrill and a privilege to work on!"
Also available from tomorrow is a PS5-specific update that allows Rocket League to take advantage of all the bells and whistles these current-gen consoles are capable of. Quality mode utilises a 4K resolution at 60 frames-per-second with HDR. Performance mode then runs at 120 frames-per-second with a 2688x1512 resolution (70 per cent of 4K) alongside HDR. Of course, you will need your PS5 system to be hooked up to the correct TV to take full advantage of performance mode. Check out our Best 4K TVs for PS5 guide for more information on that.
Elsewhere, a new free PS Plus pack will be available, containing the Goop GE Animated Decal, Hard Hat GE Topper, Magmus GE Boost, and the Reaper GE Wheels from 24th August 2021. There will also be new starter and standard packs available for purchase from the PS Store.
Again, literally all you need to do to claim the Ratchet & Clank themed items is boot up the game. Then you'll be able to take them for a spin. Will you be doing so? Get racing in the comments below.
[source blog.playstation.com]