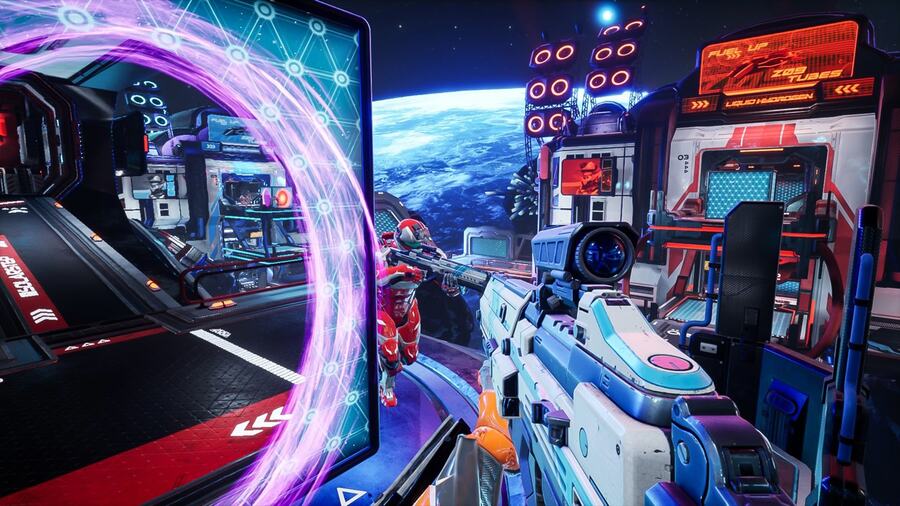 Splitgate is a game that seems to have come out of nowhere, but it's become incredibly popular during its open beta phase on PlayStation 4. Since 13th July, the beta has been available for download, essentially giving you access to the full game ahead of its proper launch. However, because the game has been extremely popular, it's been difficult to get into it at all; error messages would prompt players to try again later as the servers reached capacity and stayed there.
If you're unaware, this is a free-to-play multiplayer FPS that folds portals into typical modes like Team Deathmatch. Playing like a relatively old-school sci-fi shooter, simply adding the ability to fire portals on certain surfaces instantly affords you new strategic possibilities, and it seems to be resonating strongly with players. The game has been among the most downloaded PS4 games for the last week or so, and that's with it being in beta and with practically zero advertising. At the time of writing, it sits between two PS Plus games in the best sellers list on PS Store.
Today, developer 1047 Games has announced that, due to such an overwhelming number of people trying to play, the team will be delaying the 1.0 launch of Splitgate until "mid to late August". Originally, the final game was to be released tomorrow on the 27th, but instead, the beta will continue as the studio works to increase server capacity. Additionally, the team has raised more than $10 million from investors over the last couple of days, meaning the game will only go from strength to strength with this new funding.
It's a pretty incredible story of a game that seems to have gone from zero to hero in no time flat. We've managed to play it a little, and it's certainly a fun shooter with a unique spin on things. An update tomorrow will bring servers back online along with new maps and bug fixes, so it may be that you can see what all the fuss is about very soon. The "proper" launch will happen in August, but the beta is set to continue — hopefully we can get a few more matches in.
Have you been playing Splitgate? What do you make of it so far? Fire a portal into the comments section below.