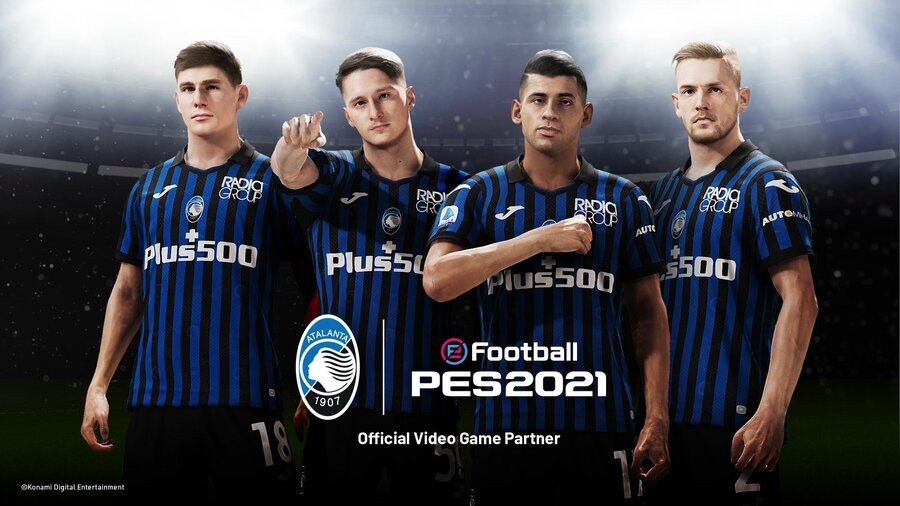 After lighting up the Champions League these past few seasons, Konami has secured the exclusive license to Serie A side Atalanta for future Pro Evolution Soccer games. This means the football club will now only be officially licensed for the soccer titles in question, forcing EA Sports into yet another name change for FIFA 22. Atalanta follows in the footsteps of Juventus, AS Roma, Lazio, and Napoli, who have all lent their likenesses to PES.
In FIFA 21, the aforementioned sides are referred to as Crotone, La Spezia, Piemonte Calcio, and Roma FC. While player likenesses and names remain, they're kitted out with generic badges and colours. Konami has the rights to all of that, and now Atalanta joins the growing list. In a press release, Naoki Morita, president at Konami Digital Entertainment B.V., said: "As we prepare to unveil the future of the eFootball PES series, I am delighted to announce this exclusive partnership with Atalanta B.C., a truly formidable club with an exciting future at the highest levels of European football. Working side by side with our Partner Clubs is an important element of our strategy to deliver industry-leading video games to football fans all over the world."
Atalanta B.C. CEO Luca Percassi added: "We are extremely delighted to announce the partnership with KONAMI. KONAMI is an international brand that needs no introduction. It represents another important moment of growth for Atalanta." Do these sorts of deals sway your decision to pick up PES 2022 over the next FIFA iteration? Let us know in the comments below.