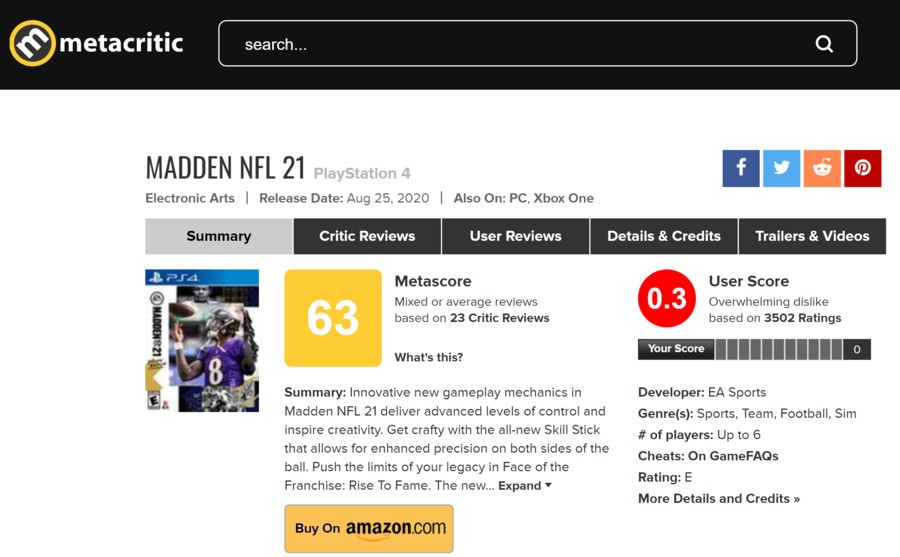 Review bombing is nothing new, and it affects even the best games like The Last of Us: Part II. However, it takes a special kind of example to secure the accolade of Worst User Score in Metacritic History – but that's exactly what Madden NFL 21 has managed. The title is currently rated a 0.3 on the PlayStation 4, having attracted almost 3,500 negative reviews.
Some of these reviews boil down to low-effort rants, but there are some well thought out criticisms scattered throughout. The biggest complaint boils down to the bugs, and it's true that the title lacks the polish of a major AAA release; we're not sure whether coronavirus disrupted EA Sports' plans, but this is the first title to ever cause our console to hard crash.
Players are also frustrated with the lack of improvements to the Franchise mode, and while the developer has been eager to reassure consumers that it'll be introducing some major updates soon, it seems it's nowhere near enough to quell the torrents of dissatisfaction. Some football fans are so angry with the game that they've launched the #NFLDropEA hashtag.
As we reported earlier in the week, a big patch is scheduled to coincide with the start of the new NFL season, and this will hopefully make the title a bit more stable. Having awarded the game a 6/10, we obviously don't agree with the 0.3 User Score, but this is pent up frustration from a fanbase that feels it's been shafted for years now. Hopefully the publisher responds appropriately.
[source metacritic.com]