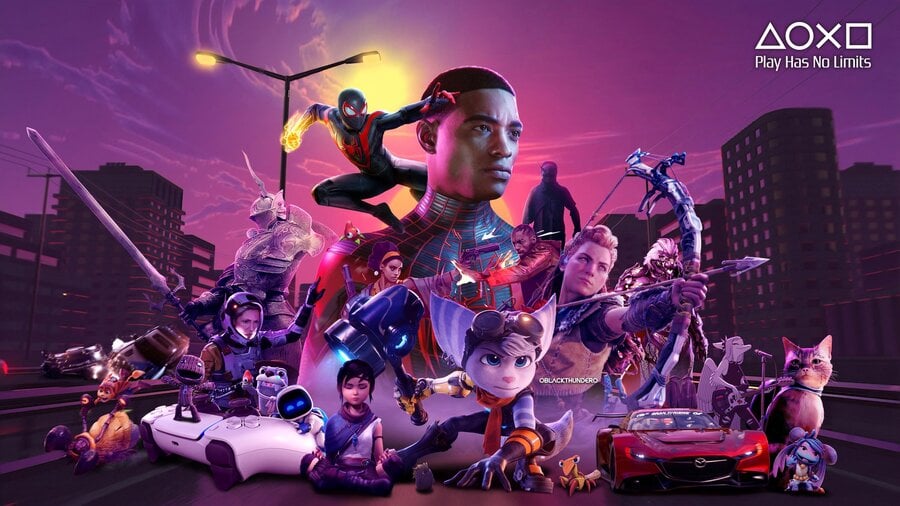 Sony showed a lot of its initial hand for the PlayStation 5 back in June with its Future of Gaming event, highlighting a large selection of titles that will only appear on the next-gen console. It was a digital showcase for the ages, and one PlayStation fan clearly loved it enough to create a piece of art dedicated to the games revealed during the hour-long event. Twitter user @BT_BlackThunder is the person behind the incredible mural, commemorating the big hitters alongside the smaller, fascinating indie experiences.
Marvel's Spider-Man: Miles Morales understandably takes centre stage at the forefront of the image, but the web-slinger is backed by Aloy of Horizon Forbidden West, the female Lombax from Ratchet & Clank: Rift Apart, and Demon's Souls. The two console-exclusives from Bethesda, Deathloop and Ghostwire: Tokyo, also put in an appearance while Gran Turismo 7 speeds into view in the bottom right. Then there's Godfall, Returnal, Sackboy: A Big Adventure, and Destruction Allstars rounding out the most noteworthy titles.
There's still more than enough room for the promising independent hits such as Bugsnax, Kena: Bridge of Spirits, and Goodbye Volcano High though. Don't forget about Stray either, we can't wait to play as a cat. This mural serves as an excellent reminder of what Sony has already announced for the PS5, and the best part is that there's even more to come. What else does the Japanese giant have up its sleeve? Let's hope those reveals are just around the corner.
[source twitter.com]