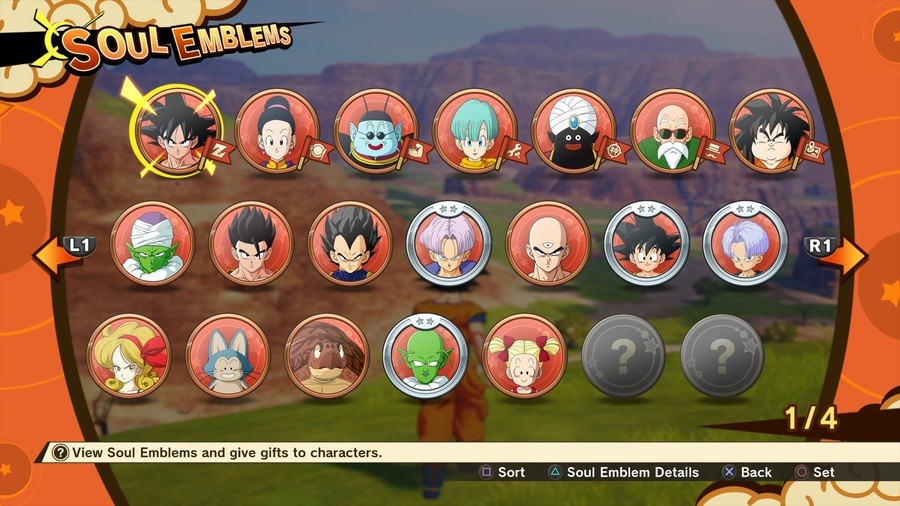 How do you get Soul Emblems in Dragon Ball Z: Kakarot? Soul Emblems are an important part of the game, granting you access to stat bonuses and other extras as you collect them. You get many of them by simply progressing through the story, but there are some Soul Emblems that you can miss out on if you're not careful. In this guide, we'll be listing all of the Soul Emblems that we've found (and we'll be updating it regularly).
Dragon Ball Z: Kakarot Soul Emblems - Where to find all Soul Emblems
Important: All of the side quests mentioned here appear on the map. If the side quest that you're looking for isn't on the map, then you need to progress the story in order for it to appear.
Some Soul Emblems can only be obtained through use of the Dragon Balls. The Dragon Balls start appearing throughout the world once you've completed the Frieza Saga. You'll find those Soul Emblems at the bottom of this guide.
The rest of these lists are in chronological order. If you follow this guide from top to bottom (excluding Dragon Ball-only Soul Emblems), you should be able to find all of the Soul Emblems in Dragon Ball Z: Kakarot.
Saiyan Saga Soul Emblems
Goku: Gained through the story (Z Warrior Leader)
Gohan: Gained through the story
Chi Chi: Gained through the story (Cooking Leader)
Master Roshi: Gained through the story (Adult Leader)
Nam: Complete Nam's side quest as you search for Gohan
Android 8: Complete Android 8's side quest as you search for Gohan
King Yemma: Gained through the story
Kami: Gained through the story
Yajirobe: Gained through the story (Adventure Leader)
Tien: Gained through the story
Chiaotzu: Complete Chiaotzu's side quest that appears after fighting Tien
Krillin: Gained through the story
Yamcha: Gained through the story
Piccolo: Gained through the story
King Kai: Gained through the story (Training Leader)
Puar: Gained through the story
Mr. Popo: Gained through the story (Gods Leader)
Saiyan Saga Intermission Soul Emblems
Pilaf: Complete Pilaf's side quest that appears in West Area
Shu: Complete Pilaf's side quest that appears in West Area
Mai: Complete Pilaf's side quest that appears in West Area
Launch: Gained through the story
Saibaman: Complete Bulma's side quest that appears in West City, then re-enter the Capsule Corp building and complete her second side quest
Mercenary Tao: Complete Tao Pai Pai's side quest outside Goku's house
Master Shen: Complete Tao Pai Pai's side quest outside Goku's house
Frieza Saga Soul Emblems
Turtle: Complete Turtle's side quest that appears at Kame House. The farmer with the Royal Tomato can be found North of Goku's house. He'll ask for 10 Great Energetic Fish. These are not fish that you catch through the fishing minigame -- you need to find bodies of water with birds hovering above them, and dive underwater to collect the fish. Go back to the farmer with the fish, then back to Turtle with all the required ingredients
Bulma: Gained through the story (Development Leader)
Vegeta: Gained through the story
Guru: Gained through the story
Nail: Gained through the story
Frieza Saga Intermission Soul Emblems
Oolong: Complete Oolong's side mission at Kame House
Cell Saga Soul Emblems
Trunks: Gained through the story
Doctor Briefs: Complete Doctor Briefs' side quest inside the Capsule Corp building
Bubbles: Complete Bubbles' side quest on King Kai's Planet. You can travel there by opening the world map and then pressing triangle to access off-Earth areas
Korin: Gained through the story
Baba: Complete Baba's side quest in Papaya Town
Android 16: Gained through the story
Dende: Gained through the story
Cell Saga Intermission Soul Emblems
Shenron: Gained through the story
Ox King: Complete Ox King's side quest outside of Goku's House
Buu Saga Soul Emblems
Marron: Complete Marron's side quest in the Southeast Islands Area
Android 18: Complete Android 18's side quest at Kame House
Videl: Gained through the story
World Tournament Announcer: Complete the World Tournament Announcer's side quest at the World Tournament arena
Supreme Kai: Complete Supreme Kai's side quest in Great West Desert Area
Kibito: Complete Supreme Kai's side quest in Great West Desert Area
Goten: Gained through the story
Trunks (Kid): Gained through the story
Post-Buu Saga Soul Emblems
Mr. Satan: Complete Mr. Satan's side quest in Satan City
Captain Ginyu: Accept Bulma's side quest in Southeast Islands Area, then find the Dragon Balls and revive Ginyu
Bora: Complete Bora and Upa's side quest in West Forest Area
Upa: Complete Bora and Upa's side quest in West Forest Area
Suno: Complete Suno's side quest in North Mountains Area
Puppy: Complete Mr. Satan's second side quest in Satan City
Majin Buu: Complete Mr. Satan's second side quest in Satan City
Bonyu: Visit Female Researcher during the endgame in Bulma's lab, and complete the first 'Special Training' session
Elder Kai: Complete Elder Kai's side quest in Land of the Kais
Arale: Complete Arale's side quest in West City
Gatchan: Complete Arale's side quest in West City
Senbei: Complete Arale's side quest in West City
Android 17: Complete Bulma's side quest inside the Capsule Corp building
Porunga: Complete Moori's side quest on New Namek
Frieza: Complete Moori's side quest on New Namek and then defeat Frieza near West City
Cell: Complete Moori's side quest on New Namek and then defeat Cell in Continent Central Area
Dabura: Complete Moori's side quest on New Namek and then defeat Dabura in East Ravine Area
Soul Emblems only from Dragon Balls
Raditz: Revive Raditz with the Dragon Balls and then complete his side quest in East Ravine Area
Nappa: Revive Nappa with the Dragon Balls and then complete his side quest
Dodoria: Revive Dodoria with the Dragon Balls and then complete his side quest
Zarbon: Revive Zarbon with the Dragon Balls and then complete his side quest
Recoome: Revive the Ginyu Force and then complete their side quest in Southeast Mountains Area
Burter: Revive the Ginyu Force and then complete their side quest in Southeast Mountains Area
Jeice: Revive the Ginyu Force and then complete their side quest in Southeast Mountains Area
Guldo: Revive the Ginyu Force and then complete their side quest in Southeast Mountains Area
Appule: Revive Appule and then complete his side quest in Central Plains Area
Cui: Revive Cui and then complete his side quest in Central Plains Area
Cell Jr: Revive Cell Jr. and then complete their side quest in Continent Center Area
King Cold: Revive King Cold and then complete his side quest in the Continent Center Area
Babidi: Revive Babidi and his allies and then complete their quest in the Far Southern Islands Area
Yamu: Revive Babidi and his allies and then complete their quest in the Far Southern Islands Area
Spopovich: Revive Babidi and his allies and then complete their quest in the Far Southern Islands Area
Pui Pui: Revive Babidi and his allies and then complete their quest in the Southern Island Area, then complete their second quest in the Great West Desert Area
Yakon: Revive Babidi and his allies and then complete their quest in the Southern Island Area, then complete their second quest in the Great West Desert Area
Android 20: Revive Android 20 and then complete his side quest in the North Mountains Area
Android 19: Revive Android 20 and then complete his side quest in the North Mountains Area