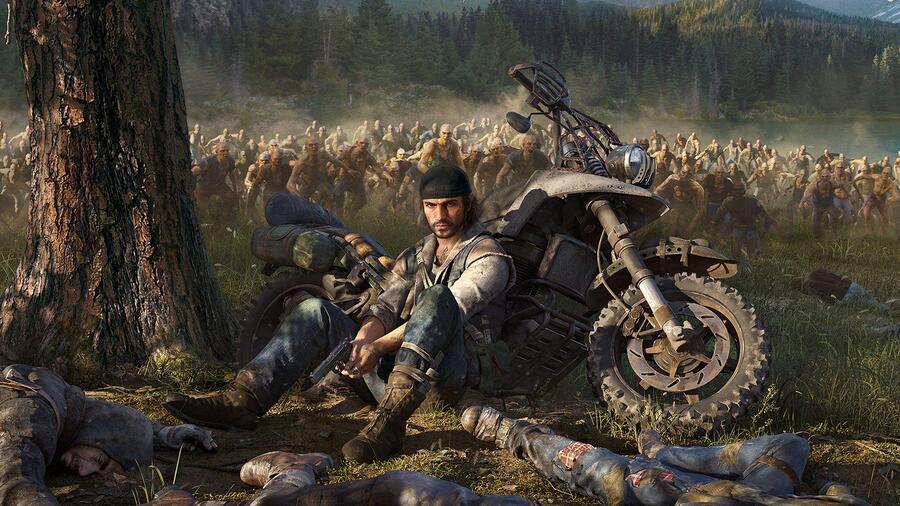 Push Square's Game of the Year coverage is done and dusted. Well, almost. Our team of writers have had their say on the best games of 2019, but now, before we get stuck into 2020 proper, it's time to check out the community's favourite PlayStation 4 titles of the last 12 months.
As is tradition, we presented the Push Square community with a Game of the Year poll around a week ago, at the time of writing. Readers were asked to select three games from the same list of nominees that we staff members voted on, and now we're reporting in with the results.
This was our biggest ever Game of the Year poll by some distance. A whopping 7,776 votes were cast, but only one PS4 title can be crowned Game of the Year. Here's the top 10 in descending order.
10. Judgment - 226 votes (3%)
9. Call of Duty: Modern Warfare - 250 votes (3%)
8. The Outer Worlds - 274 votes (4%)
7. Sekiro: Shadows Die Twice - 374 votes (5%)
6. Devil May Cry 5 - 398 votes (5%)
5. Death Stranding - 487 votes (6%)
Death Stranding received a very rare 10/10 review score here on Push Square, but that obviously wasn't enough for it to secure Game of the Year status. Hideo Kojima's latest came a close second in our staff Game of the Year vote, and you lot have voted it in at number 5. Honestly, though, it's not a bad result for a title that has proven to be quite divisive within the ranks of the PlayStation community. It's certainly not a game that's for everyone, but it's safe to say that the story of Sam Porter Bridges has left its mark on those who enjoyed playing through it.
4. Resident Evil 2 - 605 votes (8%)
Our own Game of the Year winner enters in fourth place here on the community's top 10 list, which is pretty impressive for a title that's technically more than two decades old. But hey, Resident Evil 2 has got to be one of the best remakes to ever grace a PlayStation console. This reimagining of the beloved PSone survival horror is nothing short of inspired, with Capcom pulling out all the stops in recreating Raccoon City's iconic police station for a new generation. Plus, Mr. X has got to be one of the best baddies on PS4, right?
3. Star Wars Jedi: Fallen Order - 878 votes (11%)
Yes, we really did get a very good single-player Star Wars game in 2019 -- and guess what? It was a hit! Star Wars Jedi: Fallen Order was always going to do well in this poll based on popularity alone, but we certainly don't begrudge its top 3 placing. Indeed, this planet-hopping, lightsaber-swinging, Uncharted-esque adventure smashed a lot of expectations, delivering likeable characters, slick storytelling, and some great action. A hugely enjoyable package all-round, and proof that with a lot of love and care, single-player Star Wars games can still thrive.
2. Control - 941 votes (12%)
Control didn't even make it into our staff-voted top 10, but you lot have managed to haul it all the way to second place. Remedy Entertainment's mind-bending third-person escapade clearly captured the imagination of many a Push Square reader, and we're happy to see it resonate. With intricately designed levels that are impressively destructible and some stunning lighting effects, Control's a feast for the eyes, and the gameplay really packs a punch once you're attuned to protagonist Jesse's psychic abilities.
1. Days Gone - 1,509 votes (19%)
Honestly, we're not even that surprised. Days Gone is your PS4 Game of the Year, leading the community vote by a country mile. The PlayStation exclusive launched back in April, but evidently, it managed to remain a favourite throughout 2019.
Days Gone is quite an interesting case when you step back and take a look at the bigger picture. The game doesn't do a whole lot to set itself apart from most other open world titles -- you could even argue that it's pretty uninspired. But despite the 7/10 review scores from critics, Days Gone was an instant hit with so many regular gamers. It struck an undeniable chord with the PlayStation Nation (yes, it's 2020 and we're still writing that), and quickly solidified itself as one of the most popular games of 2019.
It may not have the highest Metacritic score, and ten years down the line it might not be remembered as one of the best games of its generation, but Days Gone is clearly a champion of the people.
---
Sadly that's it for another Game of the Year bonanza, but do you agree with the Push Square community? You can't vote again, but you can let your voice be heard in the comments section below.