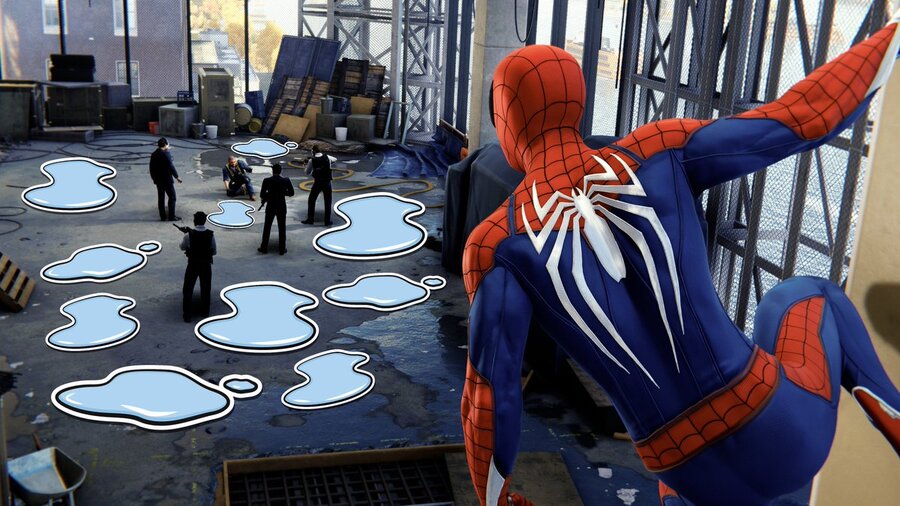 I've been thinking a lot about the lack of gameplay at E3 2019, and I'm starting to wonder if we're to blame. Do you remember 'Puddlegate' at all? It was a ridiculous controversy that marred the launch of Marvel's Spider-Man, driving thousands of views to our website – even though we described it as an "absolute embarrassment" at the time.
Insomniac Games confronted that particular saga head-on with its own unique brand of humour, adding a puddle sticker to the superhero smash's photo mode – but it's not the first example of gamers crying foul at "downgraded" products. I must admit, I can't help but ponder whether developers have decided to eschew this issue at E3 by, well, not showing anything at all.
I mean, how many times has a no-name YouTube channel taken a vertical slice and shown it side-by-side with the final product? Watch Dogs immediately springs to mind: its original E3 demo a captivating showcase of what could be possible in the PlayStation 4 generation, only for the final product to fall short.
But there are countless other examples I can think of off the top of my head: The Last of Us, ANTHEM, and The Division. It demonstrates a distinct lack of understanding in the game development process, as studios typically show uber-polished vertical slices at trade shows – they're effectively target renders of what the final product aims to be.
Of course, I'm not obtuse, and I can see the other side of the conversation. E3, once you scratch beneath the surface, is a giant advertorial – it's designed to drive pre-orders and sell systems. By showing off gameplay footage that doesn't necessarily reflect the final product, then it is undoubtedly misleading – and that's not right.
But take a game like Marvel's Avengers, for example: its behind-the-scenes demo is reportedly a little janky and rough – it's the real thing. Why wasn't it shown during Square Enix's press conference, then? Perhaps it's because the Japanese company has no confidence in it – or maybe it's more a case of it recognising that consumers will scoff at a project clearly still very much in-production.
I think this is a complicated topic, because the publishers are just as much to blame as the consumers who complain about every little alteration. The problem is that this looks like it's going to end up a negative for all of us: developers are only going to be more secretive, and that means we're going to see less and less of games before they actually release.
---
Do you think that outrage culture and claims of downgrades has resulted in publishers being more clandestine? Is there a solution to this problem, or is this just the world we live in now? Avoid a downgrade in the comments section below.