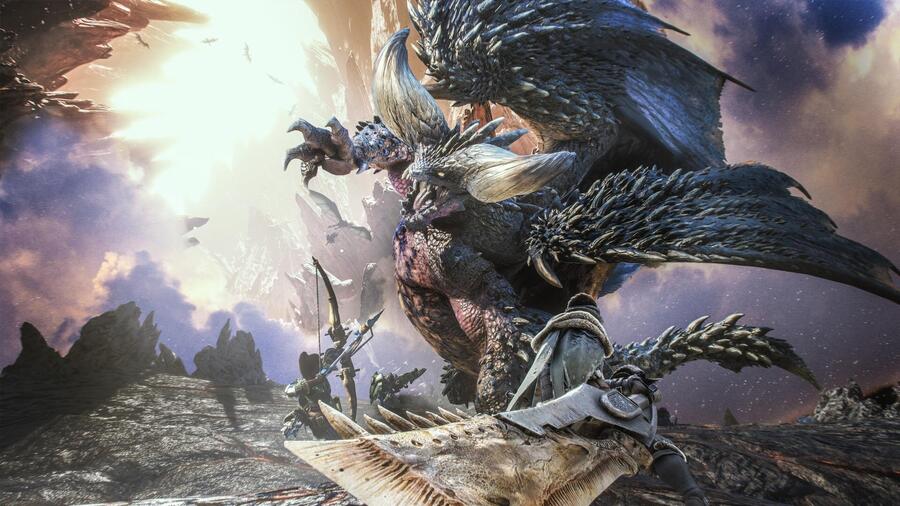 The PlayStation 4 couldn't slow the momentum of the Nintendo Switch in January 2018's NPD report, as the Mario maker's latest piece of hardware topped unit sales in what was an amazing month for the United States games industry overall. However, Sony will be secretly pleased, as its system generated the most revenue, proving that it's held its value impressively heading into its fifth year in stores.
It was, unquestionably, an incredible January for all consoles, however. Revenue was up a whopping 59 per cent year-over-year, totalling a mind-melting $1.096 billion. Hardware sales saw the biggest boost, perhaps owing to the success of the Switch alongside the continued momentum of the PS4 and Xbox One. However, software revenue also increased by a very agreeable 51 per cent.
Monster Hunter: World played a big part in that, registering "an all-time launch month high" for the franchise. Where are the doubters now, eh? It topped the software charts, just edging out Dragon Ball FighterZ, which recorded the best launch sales for the anime series since 2002's Dragon Ball Z: Budokai.
An absolutely storming month all around, then, and signs that the games industry is in really good health right now. This pattern is likely to continue right throughout the year, with the relatively new Nintendo Switch edging out the ageing PS4 and Xbox One. If the sales stay as close as this month is reported to be, though, all three manufacturers can look forward to a very good year in the US.
NPD Software Top 20: January 2018
Monster Hunter: World
Dragon Ball: FighterZ
Call of Duty: WWII
PlayerUnknown's Battlegrounds*
Grand Theft Auto V
NBA 2K18
Super Mario Odyssey**
The Legend of Zelda: Breath of the Wild**
Mario Kart 8**
Madden NFL 18
Star Wars: Battlefront II*
Assassin's Creed: Origins
UFC 3
Tom Clancy's Rainbow Six: Siege
FIFA 18*
Dragon Ball: Xenoverse
The Sims 4*
Splatoon 2**
Dissidia: Final Fantasy NT
Need for Speed: Payback*
NPD PS4 Software Top 10: January 2018
Monster Hunter: World
Dragon Ball FighterZ
Call of Duty: WWII
Grand Theft Auto V
NBA 2K18
Madden NFL 18
Dissidia: Final Fantasy NT
Star Wars: Battlefront II
UFC 3
FIFA 18
* No PC digital sales
** No digital sales
[source venturebeat.com]