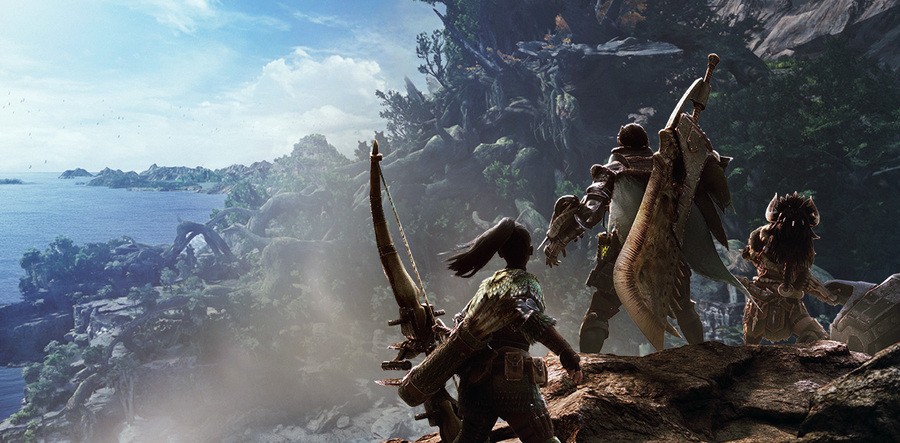 Wish you could play Guitar Hero instead of Monster Hunter: World? Why not both? It's not really the same thing, but the Hunting Horn plays a lot like a rhythm action game.
It's a weapon designed for multiplayer, and rather than focus on attacking the monsters, you'll remain at the back playing songs to buff and heal the party.
That's not to say you can't attack though. Each time you play a note, you can simultaneously damage a monster. It's risky, but still an option. 
Check out all of the Hunting Horn weapons in Monster Hunter: World below, including how to craft them, and all upgrade trees.
Hunting Horn
Ore Tree
Weapons
Materials Required
Base Attack
Jewel Slots
Metal Bagpipe I
Iron Ore
336
0
Metal Bagpipe II
Iron Ore x 2
378
0
Metal Bagpipe III
Earth Crystal x 2 / Machalite Ore x 2 / Iron Ore x 5
420
0
Great Bagpipe I
Dragonite Ore x 2 / Machalite Ore x 5 / Monster Bone M x 2
462
0
Great Bagpipe II
Monster Bone+ x 2 / Dragonite Ore x 5 / Coral Crystal x 2 / Machalite Ore x 10
546
0
Great Bagpipe III
Carbalite Ore x 8 / Dragonite Ore x 5 / Dragonvein Crystal x 2
588
3

Fortissimo I
Fucium Ore x 8 / Carbalite Ore x 5 / Dragonite Ore x 10 / Dragonvein Crystal x 3
672
1
Fortissimo II
Elder Dragon Blood x 2 / Firecell Stone / Carbalite Ore x 20 / Fucium Ore x 13
756
2
Nergigante Tree
| Weapons | Materials Required | Base Attack | Jewel Slots |
| --- | --- | --- | --- |
| Nergal Groove | Nergigante Carapace x 2 / Nergigante Regrowth Plate x 4 / Nergigante Tail x 2 / Nergigante Talon x 3 | 840 | 1 |
| Desolation's Overture | Nergigante Gem / Nergigante Horn+ x 5 / Nergigante Talon x 5 / Xeno'jiiva Horn x 2 | 882 | 1 |
Thunder Element Tree
| Weapons | Materials Required | Base Attack | Jewel Slots |
| --- | --- | --- | --- |
| Thunder Gaida I | Dragonite Ore x 5 / Tobi-Kadachi Electrode / Tobi-Kadachi Claw x 2 / Electro Sac | 504 | 0 |
| Thunder Gaida II | Monster Bone+ x 2 / Tobi-Kadachi Electrode x 2 / Tobi-Kadachi Membrane x 2 / Coral Crystal x 3 | 546 | 0 |
| Lightning Drum I | Carbalite Ore x 5 / Tobi-Kadachi Pelt+ x 3 / Tobi-Kadachi Scale+ x 4 / Vespoid Innerwing x 3 | 630 | 1 |
| Lightning Drum II | Fucium Ore x 5 / Thunder Sac x 3 / Tobi-Kadachi Membrane x 4 / Tobi-Kadachi Electrode+ x 2 | 714 | 1 |
| Lightning Drum III | Elder Dragon Blood x 3 / Tobi-Kadachi Claw+ x 6 / Tobi-Kadachi Electrode+ x 4 / Wyvern Gem | 756 | 1 |
Kulu Ya-Ku Tree
| Weapons | Materials Required | Base Attack | Jewel Slots |
| --- | --- | --- | --- |
| Kulu Duda I | Kulu-Ya-Ku Beak / Kulu-Ya-Ku Hide x 2 / Kulu-Ya-Ku Scale x 3 | 420 | 0 |
| Kulu Duda II | Radobaan Scale x 3 / Kulu-Ya-Ku Beak x 2 / Kulu-Ya-Ku Plume x 2 / Boulder Bone x 3 | 504 | 0 |
| Kulu Duda III | Odogaron Claw x 2 / Kulu-Ya-Ku Beak x 2 / Kulu-Ya-Ku Plume x 4 / Warped Bone x 3 | 588 | 0 |
| Dancing Duval I | Kulu-Ya-Ku Beak+ x 3 / Kulu-Ya-Ku Hide+ x 4 / Kulu-Ya-Ku Scale+ x 6 | 630 | 0 |
| Dancing Duval II | Brutal Bone x 3 / Kulu-Ya-Ku Beak+ x 4 / Kulu-Ya-Ku Plume+ x 3 / Odogaron Claw+ x 2 | 672 | 0 |
| Dancing Duval III | Bird Wyvern Gem / Kulu-Ya-Ku Beak+ x 5 / Kulu-Ya-Ku Plume+ x 4 / Nergigante Talon x 2 | 714 | 0 |
Rathian Tree
| Weapons | Materials Required | Base Attack | Jewel Slots |
| --- | --- | --- | --- |
| Valkyrie Chordmaker | Rathian Spike x 3 / Rathian Scale x 5 / Rathian Shell x 4 | 462 | 0 |
| Queen Chordmaker | Rathian Plate / Rathian Scale+ x 5 / Rathian Carapace x 4 / Rathian Spike+ x 3 | 630 | 1 |
| Coral Chordmaker | Pink Rathian Carapace x 4 / Pink Rathian Scale+ x 5 / Rathian Spike+ x 4 / Wyvern Gem | 714 | 1 |
| Royal Chordmaker | Elder Dragon Blood x 3 / Pink Rathian Scale+ x 6 / Rathian Ruby / Rathian Spike+ x 5 | 798 | 1 |
Water Element Tree
Weapons
Materials Required
Base Attack
Jewel Slots
Aqua Bagpipe I
Earth Crystal x 3 / Jyuratodus Shell / Jyuratodus Scale x 3 / Aqua Sac
420
0

Aqua Bagpipe II
Dragonite Ore x 5 / Jyuratodus Fin x 3 / Jyuratodus Fang x 2 / Gajau Skin x 3
504
0
Aqua Bagpipe III
Monster Bone+ x 2 / Jyuratodus Fang x 4 / Coral Crystal x 3 / Gajau Whisker x 3
546
0
Water Tamtam I
Carbalite Ore x 5 / Gajau Scale x 5 / Jyuratodus Carapace x 2 / Jyuratodus Scale+ x 3
588
1
Water Tamtam II
Fucium Ore x 5 / Grand Gajau Whisker x 3 / Jyuratodus Fin+ x 4 / Torrent Sac x 3
672
1
Water Tamtam III
Elder Dragon Blood x 3 / Jyuratodus Fang+ x 5 / Jyuratodus Fin+ x 6 / Wyvern Gem
756
1
Legiana Tree
Weapons
Materials Required
Base Attack
Jewel Slots
Glacial Bagpipe I
Legiana Claw x 3 / Legiana Scale x 4 / Frost Sac x 2
546
0

Glacial Bagpipe II
Legiana Plate / Legiana Claw x 4 / Legiana Tail Webbing x 3 / Paolumu Wing x 4
588
0
Sectored
Freezer Sac x 2 / Legiana Claw+ x 3 / Legiana Scale+ x 5 / Legiana Wing x 3
630
0
Legia Sectored
Daora Claw+ x 2 / Legiana Claw+ x 5 / Legiana Gem / Legiana Hide+ x 3
672
0
Bone Tree
Weapons
Materials Required
Base Attack
Jewel Slots
Bone Horn I
Monster Bone S
420
0
Bone Horn II
Monster Bone S x 2
462
0
Bone Horn III
Monster Bone M x 2 / Ancient Bone
504
0
Hard Bone Horn I
Monster Bone L / Monster Bone M x 5 / Boulder Bone x 2
588
0
Hard Bone Horn II
Monster Bone+ x 2 / Monster Bone L / Sturdy Bone x 4
630
0

Hard Bone Horn III
Monster Keenbone x 2 / Monster Bone+ x 2 / Quality Bone x 2
672
3
Gama Horn I
Dodogama Hide+ x 4 / Dodogama Scale+ x 6 / Dodogama Talon x 4
756
1
Gama Horn II
Dodogama Jaw x 4 / Dodogama Tail x 3 / Fire Dragon Scale+ x 4 / Wyvern Gem
798
1
??? Tree
| Weapons | Materials Required | Base Attack | Jewel Slots |
| --- | --- | --- | --- |
| ??? | ??? / ??? / ??? | ??? | ??? |
| ??? | ??? / ??? / ??? / ??? | ??? | ??? |
Anjanath Tree
Weapons
Materials Required
Base Attack
Jewel Slots
Blazing Horn I
Anjanath Fang x 2 / Anjanath Scale x 3 / Flame Sac
546
0

Blazing Horn II
Rathalos Marrow / Anjanath Fang x 4 / Anjanath Nosebone / Anjanath Tail
630
0
Anja Barone I
Anjanath Fang+ x 4 / Anjanath Scale+ x 5 / Inferno Sac x 3 / Anjanath Plate
672
0
Anja Barone II
Firecell Stone / Anjanath Fang+ x 5 / Anjanath Pelt+ x 4 / Rathalos Medulla x 2
798
0
Anja Barone III
Anjanath Gem / Anjanath Fang+ x 6 / Anjanath Nosebone+ x 2 / Teostra Mane x 2
882
0
Pukei-Pukei Tree
Weapons
Materials Required
Base Attack
Jewel Slots
Blooming Horn I
Pukei-Pukei Quill x 2 / Pukei-Pukei Scale x 3 / Poison Sac
504
0
Blooming Horn II
Coral Crystal x 3 / Pukei-Pukei Sac x 2 / Pukei-Pukei Shell x 3 / Pukei-Pukei Tail
546
0

Blooming Horn III
Monster Bone+ x 2 / Pukei-Pukei Quill x 4 / Pukei-Pukei Sac x 2 / Poison Sac x 2
588
0
Datura Horn I
Pukei-Pukei Scale+ x 3 / Pukei-Pukei Wing x 2 / Toxin Sac x 2 / Quality Bone x 3
630
2
Datura Horn II
Monster Hardbone x 3 / Pukei-Pukei Wing x 3 / Pukei-Pukei Carapace x 5 / Toxin Sac x 2
672
2
Datura Horn III
Bird Wyvern Gem / Pukei-Pukei Sac+ x 4 / Pukei-Pukei Wing x 6 / Vaal Hazak Wing x 2
714
2
Paolumu Tree
Weapons
Materials Required
Base Attack
Jewel Slots
Lumu Horn I
Paolumu Shell / Paolumu Scale x 3 / Paolumu Pelt x 2
546
0
Lumu Horn II
Diablos Shell x 3 / Paolumu Shell x 3 / Paolumu Webbing x 2 / Shamos Scale x 5
588
0

Lumu Barone I
Paolumu Carapace+ x 4 / Paolumu Pelt+ x 6 / Paolumu Webbing x 6 / Wyvern Gem
630
2
Lumu Barone II
Blos Medulla x 2 / Paolumu Carapace+ x 4 / Paolumu Wing x 3 / Novacrystal
672
2
Lumu Barone III
Elder Dragon Bone x 3 / Paolumu Carapace+ x 5 / Paolumu Scale+ x 7 / Wyvern Gem
714
2
Bazelgeuse Tree
| Weapons | Materials Required | Base Attack | Jewel Slots |
| --- | --- | --- | --- |
| Rookslayer Drum | Bazelgeuse Fuse x 4 / Bazelgeuse Scale+ x 5 / Bazelgeuse Talon x 3 / Firecell Stone | 756 | 2 |
| Bazelreid Rookslayer | Bazelgeuse Gem / Bazelgeuse Talon x 4 / Bazelgeuse Wing x 4 / Xeno'jiiva Wing x 3 | 840 | 2 |
Vespoid Tree
| Weapons | Materials Required | Base Attack | Jewel Slots |
| --- | --- | --- | --- |
| Sonic Horn I | Vespoid Shell x 2 / Vespoid Wing / Ancient Bone | 462 | 0 |
| Sonic Horn II | Vespoid Shell x 2 / Vespoid Wing x 2 / Monster Fluid x 2 / Paralysis Sac | 504 | 0 |
| Sonic Horn III | Vespoid Wing x 3 / Hornetaur Wing x 3 / Girros Fang x 6 / Paralysis Sac x 2 | 546 | 0 |
| Glass Royale | Vespoid Carapace x 6 / Vespoid Innerwing x 3 / Monster Broth x 5 / Omniplegia Sac x 2 | 588 | 3 |
| Glass Royale+ | Brutal Bone x 2 / Great Girros Fang+ x 5 / Hornetaur Innerwing x 6 / Vespoid Innerwing x 6 | 630 | 2 |
| Queen Vespoid Horn | Daora Webbing x 3 / Vespoid Innerwing x 3 / Hornetaur Head / Novacrystal x 2 | 672 | 2 |
Radobaan Tree
| Weapons | Materials Required | Base Attack | Jewel Slots |
| --- | --- | --- | --- |
| Spiked Horn I | Wyvern Bonemass x 2 / Radobaan Scale x 4 / Sleep Sac x 2 | 546 | 0 |
| Spiked Horn II | Monster Bone+ x 3 / Wyvern Bonemass x 3 / Radobaan Oilshell x 2 / Radobaan Marrow | 588 | 0 |
| Baan Horn I | Coma Sac x 2 / Radobaan Oilshell x 3 / Radobaan Carapace x 4 / Monster Keenbone x 3 | 672 | 0 |
| Baan Horn II | Coma Sac x 3 / Monster Hardbone x 5 / Radobaan Medulla / Radobaan Scale+ x 8 | 756 | 0 |
| Baan Horn III | Coma Sac x 4 / Elder Dragon Bone x 5 / Radobaan Carapace x 6 / Wyvern Gem | 798 | 0 |
Dragonbone Tree
Weapons
Materials Required
Base Attack
Jewel Slots

Dragonbone Auldhorn I
Ancient Bone x 5 / Boulder Bone x 5 / Coral Bone x 5 / Warped Bone x 5
420
0
Dragonbone Auldhorn II
Monster Bone+ x 6 / Monster Bone L x 8 / Sturdy Bone x 8
462
0
Dragonbone Auldhorn III
Brutal Bone x 4 / Elder Dragon Bone x 10 / Dragonbone Relic x 2 / Wyvern Gem
672
2
Kirin Tree
Weapons
Materials Required
Base Attack
Jewel Slots
Thundercry Horn
Kirin Thunderhorn x 3 / Kirin Hide x 3 / Kirin Tail / Lightcrystal
504
0
Thunderbolt Horn I
Kirin Azure Horn x 4 / Kirin Hide+ x 5 / Kirin Mane x 4 / Dragonvein Crystal x 5
588
0
Thunderbolt Horn II
Kirin Azure Horn x 6 / Kirin Thundertail x 3 / Novacrystal x 2 / Xeno'jiiva Shell x 4
672
0
Blacksteel Tree
| Weapons | Materials Required | Base Attack | Jewel Slots |
| --- | --- | --- | --- |
| Blacksteel Dragonhorn I | Coral Crystal x 10 / Dragonvein Crystal x 10 / Earth Crystal x 10 / Lightcrystal | 420 | 0 |
| Blacksteel Dragonhorn II | Firecell Stone / Fucium Ore x 5 / Carbalite Ore x 10 / Wyvern Gem | 462 | 0 |
| Teostra's Tiple | Teostra Carapace x 5 / Teostra Claw+ x 2 / Teostra Mane x 2 / Teostra Powder x 4 | 756 | 0 |
| Teostra's Orphée | Teostra Claw+ x 2 / Teostra Gem / Teostra Horn+ x 5 / Xeno'jiiva Soulscale x 5 | 798 | 0 |
Xeno'jiiva Tree
Weapons
Materials Required
Base Attack
Jewel Slots

Xeno Manasheena
Xeno'jiiva Claw x 4 / Xeno'jiiva Gem / Xeno'jiiva Shell x 6 / Xeno'jiiva Tail x 2
714
2