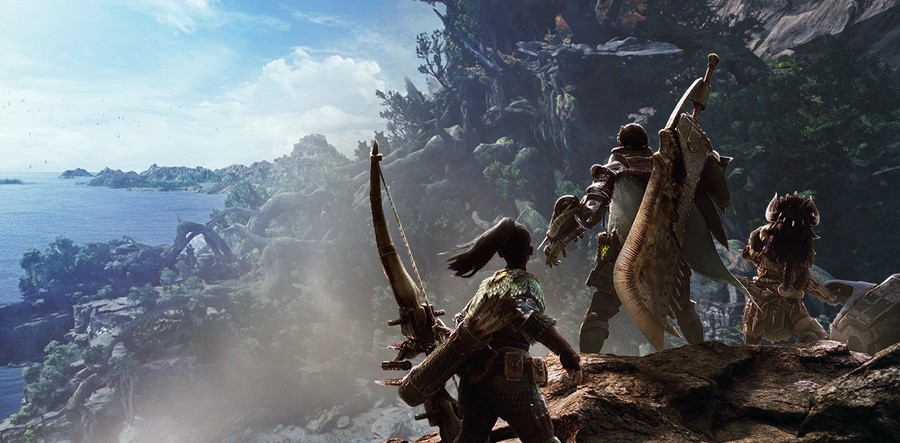 Welcome to the latest instalment in our Monster Hunter: World weapons crafting guide. This one focuses on the Charge Blade, an intriguing blend of the Sword & Shield and Switch Axe.
If you like playing it safe while you wait for an opportunity to stun the monster, then unleash a multitude of deadly attacks when it goes down, this is the weapon for you.
If that sounds like you, read on for our complete list of Charge Blades in the game, including all upgrade trees, and how to craft each one of them.
Charge Blades
Ore Tree
Weapons
Materials Required
Base Attack
Jewel Slots
Proto Commission Axe I
Iron Ore
288
0
Proto Commission Axe II
Iron Ore x 2
324
0
Proto Commission Axe III
Earth Crystal x 2 / Machalite Ore x 2 / Iron Ore x 5
360
0
Elite Commission Axe I
Dragonite Ore x 2 / Machalite Ore x 5 / Monster Bone M x 2
396
0
Elite Commission Axe II
Monster Bone+ x 2 / Dragonite Ore x 5 / Coral Crystal x 2 / Machalite Ore x 10
468
0
Elite Commission Axe III
Carbalite Ore x 8 / Dragonite Ore x 5 / Dragonvein Crystal x 2
504
3

Chrome Guardian I
Fucium Ore x 8 / Carbalite Ore x 5 / Dragonite Ore x 10 / Dragonvein Crystal x 3
576
1
Chrome Guardian II
Elder Dragon Blood x 2 / Firecell Stone / Carbalite Ore x 20 / Fucium Ore x 13
648
2
Nergigante Tree
| Weapons | Materials Required | Base Attack | Jewel Slots |
| --- | --- | --- | --- |
| Nergal Lacerator | Nergigante Carapace x 2 / Nergigante Regrowth Plate x 4 / Nergigante Tail x 2 / Nergigante Talon x 3 | 720 | 1 |
| Devastation's Thorns | Nergigante Gem / Nergigante Horn+ x 5 / Nergigante Talon x 5 / Xeno'jiiva Horn x 2 | 756 | 1 |
Rathalos Tree
| Weapons | Materials Required | Base Attack | Jewel Slots |
| --- | --- | --- | --- |
| Rathsblade I | Rathalos Scale / Rathalos Webbing x 2 / Flame Sac x 2 / Rathalos Marrow | 432 | 0 |
| Rathsblade II | Rathalos Scale x 6 / Rathalos Tail x 2 / Rathalos Plate / Inferno Sac x 3 | 576 | 3 |
| Axelion Blade | Rathalos Carapace x 4 / Rathalos Medulla / Rathalos Scale+ x 6 / Rathalos Wing x 2 | 612 | 1 |
| Halberion Blade | Azure Rathalos Carapace x 4 / Azure Rathalos Scale+ x 6 / Azure Rathalos Wing x 3 / Rathalos Ruby | 684 | 1 |
Jyuratodus Tree
Weapons
Materials Required
Base Attack
Jewel Slots
Mudslide Blade I
Jyuratodus Fin / Jyuratodus Shell / Jyuratodus Scale x 3 / Aqua Sac
396
0

Mudslide Blade II
Great Girros Hide x 2 / Jyuratodus Fin x 3 / Jyuratodus Shell x 3 / Gajau Skin x 3
432
0
Mudslide Blade III
Monster Bone+ x 2 / Jyuratodus Fang x 4 / Jyuratodus Shell x 3 / Gajau Whisker x 3
504
0
Jyura Depth I
Gajau Scale x 5 / Jyuratodus Carapace x 2 / Jyuratodus Fin+ x 2 / Jyuratodus Scale+ x 3
576
1
Jyura Depth II
Grand Gajau Whisker x 3 / Jyuratodus Fin+ x 4 / Monster Hardbone x 3 / Torrent Sac x 3
648
1
Jyura Depth III
Elder Dragon Bone x 2 / Jyuratodus Fang+ x 5 / Jyuratodus Fin+ x 6 / Wyvern Gem
684
1
Ice Element Tree
Weapons
Materials Required
Base Attack
Jewel Slots

Everfrost Blade I
Legiana Claw x 3 / Legiana Scale x 4 / Frost Sac x 2 / Coral Crystal x 3
504
0
Everfrost Blade II
Carbalite Ore x 5 / Legiana Tail Webbing x 2 / Legiana Webbing x 3 / Shamos Scale+ x 5
540
3
Gigafrost I
Freezer Sac x 3 / Fucium Ore x 5 / Legiana Scale+ x 5 / Legiana Wing x 3
576
2
Gigafrost II
Elder Dragon Blood x 3 / Legiana Claw+ x 5 / Legiana Hide+ x 3 / Wyvern Gem
612
2
Rathian Tree
Weapons
Materials Required
Base Attack
Jewel Slots
Dear Lutemis
Rathian Spike x 3 / Rathian Scale x 5 / Rathian Shell x 4
468
0
Dear Lutemia
Rathian Plate / Rathian Scale+ x 5 / Rathian Carapace x 4 / Rathian Spike+ x 3
540
2

Dear Hecatel
Pink Rathian Carapace x 4 / Pink Rathian Scale+ x 5 / Rathian Spike+ x 4 / Wyvern Gem
612
2
Dear Hecatelia
Elder Dragon Blood x 3 / Pink Rathian Scale+ x 6 / Rathian Ruby / Rathian Spike+ x 5
684
2
Bone Tree
Weapons
Materials Required
Base Attack
Jewel Slots
Bone Strongarm I
Monster Bone S
324
0
Bone Strongarm II
Monster Bone S x 2
360
0
Bone Strongarm III
Monster Bone M x 2 / Ancient Bone
396
0
Hard Bone Strongarm I
Monster Bone L / Monster Bone M x 5 / Boulder Bone x 2
432
0
Hard Bone Strongarm II
Monster Bone+ x 2 / Monster Bone L / Sturdy Bone x 4
504
0

Hard Bone Strongarm III
Monster Keenbone x 2 / Monster Bone+ x 2 / Quality Bone x 2
576
3
Mighty Strongarm I
Monster Hardbone x 4 / Monster Keenbone x 6 / Quality Bone x 10
612
1
Mighty Strongarm II
Elder Dragon Bone x 4 / Monster Hardbone x 6 / Quality Bone x 20 / Dragonbone Relic
684
1
Diablos Tree
Weapons
Materials Required
Base Attack
Jewel Slots
Diablos Wall I
Twisted Horn / Diablos Fang x 2 / Diablos Shell x 4 / Monster Bone+ x 3
612
0
Diablos Wall II
Monster Keenbone x 4 / Diablos Ridge x 4 / Diablos Tailcase x 2 / Diablos Marrow
684
3
Diablos Tyrannis I
Blos Medulla / Diablos Carapace x 6 / Diablos Ridge+ x 5 / Majestic Horn x 3
756
0

Diablos Tyrannis II
Black Diablos Carapace x 4 / Black Spiral Horn+ x 3 / Nergigante Horn+ x 2 / Wyvern Gem
828
0
Great Jagras Tree
Weapons
Materials Required
Base Attack
Jewel Slots
Jagras Strongarm I
Great Jagras Claw / Great Jagras Hide / Great Jagras Scale x 3 / Sharp Claw
396
0
Jagras Strongarm II
Great Jagras Claw x 2 / Great Jagras Mane x 2 / Coral Bone x 2 / Tzitzi-Ya-Ku Claw x 3
432
0
Jagras Strongarm III
Monster Bone+ x 3 / Great Jagras Scale x 5 / Great Jagras Claw x 3 / Great Jagras Mane x 3
468
0
Jagras Escudo I
Great Jagras Scale+ x 6 / Great Jagras Claw+ x 4 / Great Jagras Mane x 6 / Piercing Claw x 5
540
3

Jagras Escudo II
Monster Hardbone x 4 / Great Jagras Claw+ x 6 / Jagras Hide+ x 6 / Tzitzi-Ya-Ku Claw+ x 5
648
2
Jagras Escudo III
Vaal Hazak Talon x 2 / Great Jagras Claw+ x 8 / Great Jagras Hide+ x 6 / Novacrystal
684
2
Dodogama Tree
| Weapons | Materials Required | Base Attack | Jewel Slots |
| --- | --- | --- | --- |
| Gama Silt I | Dodogama Hide+ x 4 / Dodogama Scale+ x 6 / Dodogama Talon x 4 | 576 | 2 |
| Gama Silt II | Dodogama Jaw x 4 / Dodogama Tail x 3 / Fire Dragon Scale+ x 4 / Wyvern Gem | 612 | 2 |
Great Girros Tree
| Weapons | Materials Required | Base Attack | Jewel Slots |
| --- | --- | --- | --- |
| Girros Strongarm I | Great Girros Fang / Great Girros Scale x 3 / Girros Fang x 3 | 432 | 0 |
| Girros Strongarm II | Diablos Fang x 2 / Great Girros Fang x 3 / Great Girros Hood x 2 / Paralysis Sac x 2 | 468 | 0 |
| Girros Nadja I | Great Girros Fang+ x 3 / Great Girros Scale+ x 5 / Great Girros Tail x 2 / Girros Scale+ x 6 | 504 | 0 |
| Girros Nadja II | Blos Medulla / Great Girros Fang+ x 4 / Great Girros Hood+ x 2 / Omniplegia Sac x 4 | 540 | 0 |
| Girros Nadja III | Bird Wyvern Gem / Great Girros Fang+ x 5 / Great Girros Hood+ x 3 / Vaal Hazak Fang+ x 2 | 576 | 0 |
Hazak Tree
| Weapons | Materials Required | Base Attack | Jewel Slots |
| --- | --- | --- | --- |
| Hazak Aspida I | Deceased Scale x 6 / Vaal Hazak Fang+ x 5 / Vaal Hazak Membrane x 4 / Vaal Hazak Talon x 4 | 648 | 1 |
| Hazak Aspida II | Vaal Hazak Gem / Vaal Hazak Tail x 2 / Vaal Hazak Talon x 6 / Xeno'jiiva Veil x 3 | 684 | 1 |
Tobi-Kadachi Tree
| Weapons | Materials Required | Base Attack | Jewel Slots |
| --- | --- | --- | --- |
| Pulsar Strongarm I | Tobi-Kadachi Claw / Tobi-Kadachi Scale x 3 / Tobi-Kadachi Pelt x 2 | 396 | 0 |
| Pulsar Strongarm II | Tobi-Kadachi Electrode x 2 / Tobi-Kadachi Claw x 3 | 432 | 0 |
| Pulsar Strongarm III | Monster Bone+ x 2 / Tobi-Kadachi Electrode x 2 / Tobi-Kadachi Membrane x 2 / Warped Bone x 2 | 468 | 0 |
| Kadachi Kaina I | Tobi-Kadachi Claw+ / Tobi-Kadachi Pelt+ x 3 / Tobi-Kadachi Scale+ x 4 / Dragonvein Crystal x 3 | 504 | 1 |
| Kadachi Kaina II | Majestic Horn x 2 / Thunder Sac x 3 / Tobi-Kadachi Claw+ x 4 / Tobi-Kadachi Electrode+ x 2 | 576 | 1 |
| Kadachi Kaina III | Nergigante Talon x 2 / Tobi-Kadachi Claw+ x 6 / Tobi-Kadachi Electrode x 4 / Wyvern Gem | 648 | 1 |
Odogaron Tree
| Weapons | Materials Required | Base Attack | Jewel Slots |
| --- | --- | --- | --- |
| Garon Strongarm I | Odogaron Claw x 2 / Odogaron Scale x 4 / Odogaron Fang x 2 | 468 | 0 |
| Garon Strongarm II | Quality Bone x 5 / Odogaron Claw x 2 / Odogaron Tail x 2 / Odogaron Plate | 504 | 0 |
| Hate's Undying Flame | Odogaron Claw+ x 4 / Odogaron Fang+ x 3 / Odogaron Scale+ x 8 / Dragonbone Relic | 540 | 0 |
| Odium | Odogaron Claw+ x 6 / Odogaron Fang+ x 5 / Odogaron Gem / Teostra Claw+ x 2 | 576 | 0 |
Dragonbone Tree
Weapons
Materials Required
Base Attack
Jewel Slots
Dragonbone Cutter I
Ancient Bone x 5 / Boulder Bone x 5 / Coral Bone x 5 / Warped Bone x 5
360
0

Dragonbone Cutter II
Monster Bone+ x 6 / Monster Bone L x 8 / Sturdy Bone x 8
396
0
Dragonbone Cutter III
Brutal Bone x 4 / Elder Dragon Bone x 10 / Dragonbone Relic x 2 / Wyvern Gem
576
2
Zorah Magdaros Tree
| Weapons | Materials Required | Base Attack | Jewel Slots |
| --- | --- | --- | --- |
| Magda Manus | Zorah Magdaros Heat Scale x 4 / Zorah Magdaros Carapace x 8 / Zorah Magdaros Magma x 4 / Zorah Magdaros Gem | 576 | 0 |
| Avenging Magda Manus | Xeno'jiiva Shell x 4 / Zorah Magdaros Ridge x 2 / Zorah Magdaros Pleura x 2 / Firecell Stone x 3 | 756 | 0 |
Blacksteel Tree
| Weapons | Materials Required | Base Attack | Jewel Slots |
| --- | --- | --- | --- |
| Blacksteel Charger I | Coral Crystal x 10 / Dragonvein Crystal x 10 / Earth Crystal x 10 / Lightcrystal | 360 | 0 |
| Blacksteel Charger II | Firecell Stone / Fucium Ore x 5 / Carbalite Ore x 10 / Wyvern Gem | 396 | 0 |
| Daora's Casca | Daora Claw+ x 3 / Doara Tail x 2 / Daora Webbing x 4 / Nergigante Carapace x 5 | 612 | 1 |
| Daora's Thwartoise | Daora Claw+ x 4 / Daora Gem / Daora Horn+ x 5 / Xeno'jiiva Wing x 2 | 648 | 2 |
Xeno'jiiva Tree
| Weapons | Materials Required | Base Attack | Jewel Slots |
| --- | --- | --- | --- |
| Xeno Ra'atz | Xeno'jiiva Claw x 4 / Xeno'jiiva Gem / Xeno'jiiva Shell x 6 / Xeno'jiiva Tail x 2 | 648 | 2 |