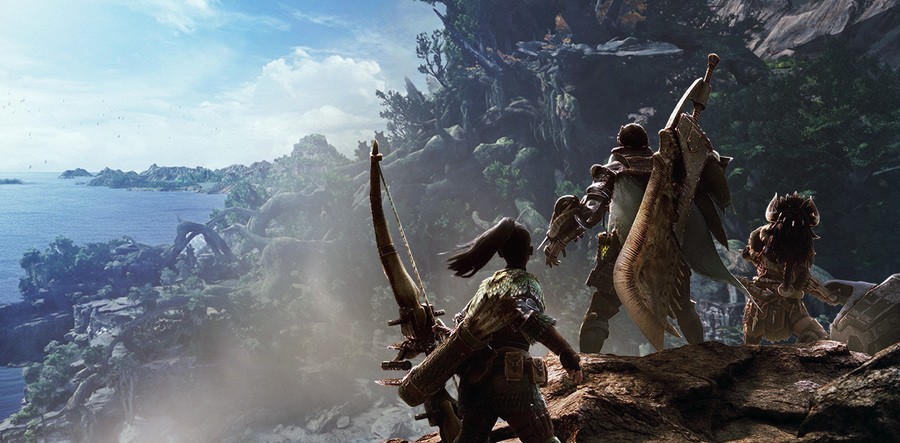 Welcome to the latest instalment in our Monster Hunter: World weapons crafting guide. This one focuses on the Bow, the weapon of choice for those that like to fight from range while keeping on the move.
The Bow may not do an awful lot of damage with each arrow, but the sheer number of them you can fire off at once more than makes up for it. You can pepper your enemy with shots then unleash Dragon Piercer to deal insane damage when they go down.
If that sounds like you, read on for our complete list of Bows in the game, including all upgrade trees, and how to craft each one of them.
Bows
Ore Tree
Weapons
Materials Required
Base Attack
Jewel Slots
Iron Bow I
Iron Ore
96
0
Iron Bow II
Iron Ore x 2
108
0
Iron Bow III
Earth Crystal x 2 / Machalite Ore x 2 / Iron Ore x 5
120
0
Steel Bow I
Dragonite Ore x 2 / Machalite Ore x 5 / Monster Bone M x 2
132
0
Steel Bow II
Monster Bone+ x 2 / Dragonite Ore x 5 / Coral Crystal x 2 / Machalite Ore x 10
156
0
Steel Bow III
Carbalite Ore x 8 / Dragonite Ore x 5 / Dragonvein Crystal x 2
168
3
Alloy Bow I
Fucium Ore x 8 / Carbalite Ore x 5 / Dragonite Ore x 10 / Dragonvein Crystal x 3
180
1

Alloy Bow II
Elder Dragon Blood x 2 / Fucium Ore x 13 / Carbalite Ore x 20 / Firecell Stone
204
2
Nergigante Tree
| Weapons | Materials Required | Base Attack | Jewel Slots |
| --- | --- | --- | --- |
| Nergal Whisper | Nergigante Carapace x 2 / Nergigante Regrowth Plate x 4 / Nergigante Tail x 2 / Nergigante Talon x 3 | 228 | 1 |
| Doom's Shaft | Nergigante Gem / Nergigante Horn+ x 2 / Nergigante Talon x 5 / Xeno'jiiva Horn x 2 | 240 | 1 |
Kulu-Ya-Ku Tree
Weapons
Materials Required
Base Attack
Jewel Slots
Kulu Arrow I
Kulu-Ya-Ku Beak / Kulu-Ya-Ku Hide x 2 / Kulu-Ya-Ku Scale x 3
120
0

Kulu Arrow II
Radobaan Scale x 3 / Kulu-Ya-Ku Beak x 2 / Kulu-Ya-Ku Plume x 2 / Boulder Bone x 3
132
0
Kulu Arrow III
Odogaron Claw x 2 / Kulu-Ya-Ku Beak x 2 / Kulu-Ya-Ku Plume x 4 / Warped Bone x 3
156
0
Archer's Dance I
Kulu-Ya-Ku Beak+ x 3 / Kulu-Ya-Ku Hide+ x 4 / Kulu-Ya-Ku Scale+ x 6
180
0
Archer's Dance II
Brutal Bone x 3 / Kulu-Ya-Ku Beak+ x 4 / Kulu-Ya-Ku Plume x 3 / Odogaron Claw+ x 2
192
0
Archer's Dance III
Bird Wyvern Gem / Kulu-Ya-Ku Beak+ x 5 / Kulu-Ya-Ku Plume x 4 / Nergigante Talon x 2
204
0
Uragaan Tree
| Weapons | Materials Required | Base Attack | Jewel Slots |
| --- | --- | --- | --- |
| Brazencord | Uragaan Carapace x 4 / Uragaan Jaw / Uragaan Marrow / Uragaan Scale+ x 6 | 204 | 1 |
| Gigacles | Teostra Carapace x 4 / Uragaan Jaw x 2 / Uragaan Ruby / Uragaan Scute x 4 | 228 | 1 |
Rathian Tree
| Weapons | Materials Required | Base Attack | Jewel Slots |
| --- | --- | --- | --- |
| Princess Arrow I | Rathian Spike x 3 / Rathian Scale x 5 / Rathian Shell x 4 | 132 | 0 |
| Princess Arrow II | Rathian Plate / Rathian Scale+ x 5 / Rathian Carapace x 4 / Rathian Spike+ x 3 | 192 | 2 |
| Princess Arrow III | Elder Dragon Blood x 3 / Pink Rathian Scale+ x 6 / Rathian Ruby / Rathian Spike+ x 5 | 216 | 2 |
Rathalos Tree
Weapons
Materials Required
Base Attack
Jewel Slots
Rathslinger I
Rath Wingtalon x 3 / Rathalos Shell x 2 / Flame Sac x 2 / Rathalos Marrow
144
0
Rathslinger II
Rathalos Carapace x 4 / Rathalos Medulla / Rathalos Scale+ x 6 / Rathalos Wing x 2
204
1

Rathslinger III
Azure Rathalos Carapace x 4 / Azure Rathalos Scale+ x 6 / Azure Rathalos Wing x 3 / Rathalos Ruby
216
1
Water Element Tree
Weapons
Materials Required
Base Attack
Jewel Slots
Aqua Arrow I
Earth Crystal x 3 / Jyuratodus Shell / Jyuratodus Scale x 3 / Aqua Sac
120
0
Aqua Arrow II
Dragonite Ore x 5 / Jyuratodus Fin x 3 / Jyuratodus Fang x 2 / Gajau Skin x 3
132
0
Aqua Arrow III
Monster Bone+ x 2 / Jyuratodus Fang x 4 / Coral Bone x 3 / Gajau Whisker x 3
144
0
Water Shot I
Carbalite Ore x 5 / Gajau Scale x 5 / Jyuratodus Carapace x 2 / Jyuratodus Scale+ x 3
168
1

Water Shot II
Fucium Ore x 5 / Grand Gajau Whisker x 3 / Jyuratodus Fin+ x 4 / Torrent Sac x 3
180
1
Water Shot III
Elder Dragon Blood x 3 / Jyuratodus Fang+ x 5 / Jyuratodus Fin+ x 6 / Wyvern Gem
204
1
Legiana Tree
Weapons
Materials Required
Base Attack
Jewel Slots
Glacial Arrow I
Legiana Claw x 3 / Legiana Scale x 4 / Frost Sac x 2
144
0
Glacial Arrow II

Legiana Plate / Legiana Claw x 4 / Legiana Tail Webbing x 3 / Paolumu Wing x 4
156
0
Snowfletcher
Freezer Sac x 2 / Legiana Claw+ x 3 / Legiana Scale+ x 5 / Legiana Wing x 3
168
0
Legia Snowfletcher
Daora Claw+ x 2 / Legiana Claw+ x 5 / Legiana Gem / Legiana Hide+ x 3
180
0
Bone Tree
Weapons
Materials Required
Base Attack
Jewel Slots
Hunter's Bow I
Monster Bone S
120
0
Hunter's Bow II
Monster Bone S x 2
132
0
Hunter's Bow III
Monster Bone M x 2 / Ancient Bone
144
0
Hunter's Stoutbow I
Monster Bone L / Monster Bone M x 5 / Boulder Bone x 2
156
0
Hunter's Stoutbow II
Monster Bone+ x 2 / Monster Bone L / Sturdy Bone x 4
168
0
Hunter's Stoutbow III
Monster Keenbone x 2 / Monster Bone+ x 2 / Quality Bone x 2
180
3
Hunter's Proudbow I
Monster Hardbone x 4 / Monster Keenbone x 6 / Quality Bone x 10
192
1
Hunter's Proudbow II

Elder Dragon Bone x 4 / Quality Bone x 20 / Dragonbone Relic / Monster Hardbone x 6
216
1
Vaal Hazak Tree
| Weapons | Materials Required | Base Attack | Jewel Slots |
| --- | --- | --- | --- |
| Hazak Velos I | Deceased Scale x 6 / Vaal Hazak Fang+ x 5 / Vaal Hazak Membrane x 4 / Vaal Hazak Talon x 4 | 216 | 1 |
| Hazak Velos II | Vaal Hazak Gem / Vaal Hazak Tail x 2 / Vaal Hazak Talon x 6 / Xeno'jiiva Veil x 3 | 228 | 1 |
Diablos Tree
Weapons
Materials Required
Base Attack
Jewel Slots
Diablos Blow I
Twisted Horn / Diablos Fang x 2 / Diablos Shell x 4 / Monster Bone+ x 3
192
0
Diablos Blow II
Monster Keenbone x 4 / Diablos Ridge x 4 / Diablos Tailcase x 2 / Diablos Marrow
216
3

Diablos Coilbender
Blos Medulla / Diablos Ridge+ x 5 / Diablos Carapace x 6 / Majestic Horn x 3
240
2
Galebender
Black Diablos Carapace x 4 / Black Diablos Ridge+ x 2 / Black Spiral Horn+ / Wyvern Gem
252
2
Cera Coilbender
Black Diablos Carapace x 6 / Black Spiral Horn+ x 3 / Xeno'jiiva Tail x 2 / Dragonbone Relic x 2
264
2
Pukei-Pukei Tree
Weapons
Materials Required
Base Attack
Jewel Slots
Blooming Arch I
Pukei-Pukei Quill x 2 / Pukei-Pukei Scale x 3 / Poison Sac
144
0
Blooming Arch II
Coral Crystal x 3 / Pukei-Pukei Sac x 2 / Pukei-Pukei Shell x 3 / Pukei-Pukei Tail
156
0

Blooming Arch III
Monster Bone+ x 2 / Pukei-Pukei Quill x 4 / Pukei-Pukei Sac x 2 / Poison Sac x 2
168
0
Datura String I
Pukei-Pukei Scale+ x 3 / Pukei-Pukei Wing x 2 / Toxin Sac x 2 / Quality Bone x 3
180
3
Datura String II
Monster Hardbone x 3 / Pukei-Pukei Wing x 3 / Pukei-Pukei Carapace x 5 / Toxin Sac x 2
192
2
Datura String III
Bird Wyvern Gem / Pukei-Pukei Sac+ x 4 / Pukei-Pukei Wing x 6 / Vaal Hazak Wing x 2
204
2
Anjanath Tree
Weapons
Materials Required
Base Attack
Jewel Slots
Blazing Bow I
Anjanath Fang x 2 / Anjanath Scale x 3 / Flame Sac
156
0
Blazing Bow II
Rathalos Marrow / Anjanath Fang x 4 / Anjanath Nosebone / Anjanath Tail
168
0

Anja Arch I
Anjanath Fang+ x 4 / Anjanath Scale+ x 5 / Inferno Sac x 3 / Anjanath Plate
192
0
Anja Arch II
Rathalos Medulla x 2 / Anjanath Fang+ x 5 / Anjanath Pelt+ x 4 / Firecell Stone
216
0
Anja Arch III
Teostra Mane x 2 / Anjanath Fang+ x 6 / Anjanath Nosebone+ x 2 / Anjanath Gem
240
0
Tobi-Kadachi Tree
Weapons
Materials Required
Base Attack
Jewel Slots
Pulsar Bow I
Tobi-Kadachi Claw / Tobi-Kadachi Scale x 3 / Tobi-Kadachi Pelt x 2
144
0
Pulsar Bow II
Tobi-Kadachi Electrode x 2 / Tobi-Kadachi Claw x 3 / Electro Sac x 2 / Coral Crystal x 3
156
0
Pulsar Bow III
Monster Bone+ x 2 / Tobi-Kadachi Electrode x 2 / Tobi-Kadachi Membrane x 2 / Warped Bone x 2
168
0

Kadachi Strikebow
Tobi-Kadachi Claw+ x 3 / Tobi-Kadachi Pelt+ x 3 / Tobi-Kadachi Scale+ x 4 / Dragonvein Crystal x 3
180
1
Flying Kadachi Strikebow
Nergigante Talon x 2 / Tobi-Kadachi Claw+ x 6 / Tobi-Kadachi Electrode x 4 / Wyvern Gem
204
1
Dragonbone Tree
Weapons
Materials Required
Base Attack
Jewel Slots
Dragonbone Bow I
Ancient Bow x 5 / Boulder Bone x 5 / Coral Bone x 5 / Warped Bone x 5
120
0
Dragonbone Bow II
Monster Bone+ x 6 / Monster Bone L x 8 / Sturdy Bone x 8
132
0
Dragonbone Bow III
Brutal Bone x 4 / Elder Dragon Bone x 10 / Dragonbone Relic x 2 / Wyvern Gem
180
2
Blacksteel Tree
| Weapons | Materials Required | Base Attack | Jewel Slots |
| --- | --- | --- | --- |
| Blacksteel Bow I | Coral Crystal x 10 / Dragonvein Crystal x 10 / Earth Crystal x 10 / Lightcrystal | 120 | 0 |
| Blacksteel Bow II | Fucium Ore x 5 / Wyvern Gem / Carbalite Ore x 10 / Firecell Stone | 132 | 0 |
| Icesteel Bow | Daora Claw+ x 3 / Daora Tail x 2 / Daora Webbing x 4 / Nergigante Carapace x 5 | 192 | 2 |
| Daora's Sagittari | Daora Claw+ x 4 / Daora Gem / Daora Horn+ x 5 / Xeno'jiiva Wing x 2 | 204 | 2 |
Xeno'jiiva Tree
Weapons
Materials Required
Base Attack
Jewel Slots

Xeno Metora
Xeno'jiiva Claw x 4 / Xeno'jiiva Gem / Xeno'jiiva Shell x 6 / Xeno'jiiva Tail x 2
204
2
Cross Hunter's Set
| Weapons | Materials Required | Base Attack | Jewel Slots |
| --- | --- | --- | --- |
| Cross Hunter's Bow | Barroth Coin x 4 / Hunter King Coin x 5 / Novacrystal / Rathalos Coin x 4 | 216 | 1 |
| Great Hunter's Bow | Ace Hunter Coin x 5 / Brute Coin x 4 / Flying Coin x 4 / Wyvern Gem x 2 | 228 | 1 |