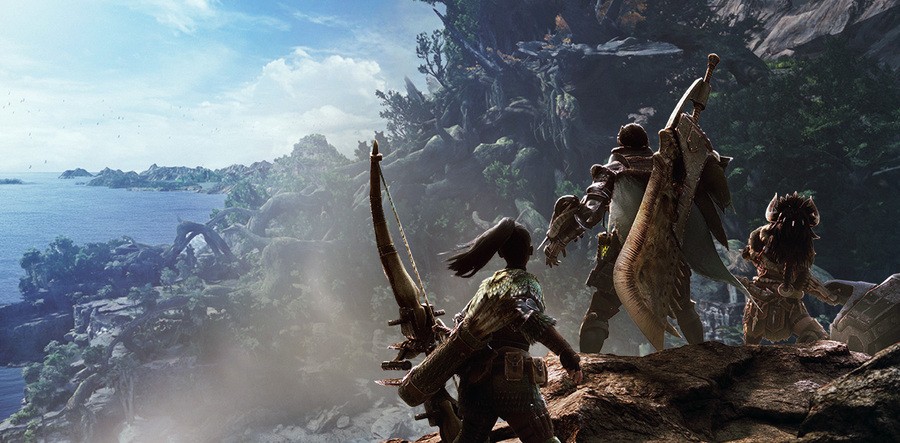 Welcome to the latest instalment in our Monster Hunter: World weapons crafting guide. This one focuses on the Heavy Bowguns, the weapon of choice for those that think a machine gun is the way to go.
Well, that's the special ability of the Heavy Bowgun. Once a monster is stunned, you can rain down havoc on it by turning your Bowgun into a glorified machinegun. It has a long cooldown though, so be careful.
If that sounds like you, read on for our complete list of Heavy Bowguns in the game, including all upgrade trees, and how to craft each one of them.
Heavy Bowgun
Ore Tree
Weapons
Materials Required
Base Attack
Jewel Slots
Iron Assault I
Iron Ore
150
0
Iron Assault II
Iron Ore x 2
165
0
Iron Assault III
Earth Crystal x 2 / Machalite Ore x 2 / Iron Ore x 5
180
0
Steel Assault I
Dragonite Ore x 2 / Machalite Ore x 5 / Monster Bone M x 2
195
0
Steel Assault II
Monster Bone+ x 2 / Dragonite Ore x 5 / Coral Crystal x 2 / Machalite Ore x 10
210
0
Steel Assault III
Carbalite Ore x 8 / Dragonite Ore x 5 / Dragonvein Crystal x 2
225
1

Chrome Assault I
Fucium Ore x 8 / Carbalite Ore x 5 / Dragonite Ore x 10 / Dragonvein Crystal x 3
240
1
Chrome Assault II
Elder Dragon Blood x 2 / Firecell Stone / Carbalite Ore x 20 / Fucium Ore x 13
255
2
Nergigante Tree
| Weapons | Materials Required | Base Attack | Jewel Slots |
| --- | --- | --- | --- |
| Nergal Roar | Nergigante Carapace x 2 / Nergigante Regrowth Plate x 4 / Nergigante Tail x 2 / Nergigante Talon x 3 | 270 | 1 |
| Destruction's Fusillade | Nergigante Gem / Nergigante Horn+ x 5 / Nergigante Talon x 5 / Xeno'jiiva Horn x 2 | 285 | 1 |
Water Element Tree
| Weapons | Materials Required | Base Attack | Jewel Slots |
| --- | --- | --- | --- |
| Aqua Assault I | Boulder Bone x 2 / Jyuratodus Shell / Jyuratodus Scale x 3 / Aqua Sac | 180 | 0 |
| Aqua Assault II | Sturdy Bone x 5 / Jyuratodus Fin x 3 / Jyuratodus Fang x 2 / Gajau Skin x 3 | 195 | 0 |
| Aqua Assault III | Monster Bone+ x 2 / Jyuratodus Fang x 4 / Coral Bone x 2 / Gajau Whisker x 3 | 210 | 0 |
| Water Cannon I | Jyuratodus Carapace x 2 / Carbalite Ore x 5 / Gajau Scale x 5 / Jyuratodus Scale+ x 3 | 225 | 0 |
| Water Cannon II | Fucium Ore x 5 / Grand Gajau Whisker x 3 / Jyuratodus Fin+ x 4 / Torrent Sac x 3 | 240 | 0 |
| Water Cannon III | Elder Dragon Blood x 3 / Jyuratodus Fang+ x 5 / Jyuratodus Fin+ x 6 / Wyvern Gem | 255 | 0 |
Tzitzi-Ya-Ku Tree
| Weapons | Materials Required | Base Attack | Jewel Slots |
| --- | --- | --- | --- |
| Luminous Assault I | Tzitzi-Ya-Ku Claw x 2 / Tzitzi-Ya-Ku Photophore / Tzitzi-Ya-Ku Scale x 3 | 195 | 0 |
| Luminous Assault II | Legiana Tail Webbing x 2 / Tzitzi-Ya-Ku Claw x 3 / Tzitzi-Ya-Ku Photophore x 2 / Sharp Claw x 3 | 210 | 0 |
| Arma Destroyer I | Tzitzi-Ya-Ku Claw+ x 3 / Tzitzi-Ya-Ku Photophore+ / Tzitzi-Ya-Ku Scale+ x 5 / Lightcrystal | 225 | 1 |
| Arma Destroyer II | Legiana Wing x 2 / Tzitzi-Ya-Ku Claw+ x 4 / Tzitzi-Ya-Ku Photophore+ x 2 / Piercing Claw x 5 | 240 | 1 |
| Arma Destroyer III | Bird Wyvern Gem / Daora Webbing x 2 / Tzitzi-Ya-Ku Claw+ x 5 / Tzitzi-Ya-Ku Photophore+ x 3 | 255 | 1 |
Legiana Tree
| Weapons | Materials Required | Base Attack | Jewel Slots |
| --- | --- | --- | --- |
| Shattercryst | Legiana Claw x 3 / Legiana Scale x 4 / Frost Sac x 2 | 210 | 0 |
| Shattercryst+ | Freezer Sac x 2 / Legiana Claw+ x 3 / Legiana Scale+ x 5 / Legiana Wing x 3 | 240 | 1 |
| Legia Shattercryst | Daora Claw+ x 2 / Legiana Claw+ x 5 / Legiana Gem / Legiana Hide+ x 3 | 255 | 1 |
Great Jagras Tree
Weapons
Materials Required
Base Attack
Jewel Slots
Jagras Assault I
Great Jagras Claw / Great Jagras Hide / Great Jagras Scale x 3 / Sharp Claw
180
0
Jagras Assault II
Great Jagras Claw x 2 / Great Jagras Mane x 2 / Coral Bone x 2 / Tzitzi-Ya-Ku Claw x 3
195
0

Jagras Assault III
Monster Bone+ x 3 / Great Jagras Scale x 5 / Great Jagras Claw x 3 / Great Jagras Mane x 3
210
0
Jagras Cannon I
Great Jagras Scale+ x 6 / Great Jagras Claw+ x 4 / Great Jagras Mane x 6 / Piercing Claw x 5
240
1
Jagras Cannon II
Monster Hardbone x 4 / Great Jagras Claw+ x 6 / Jagras Hide+ x 6 / Tzitzi-Ya-Ku Claw+ x 5
255
1
Jagras Cannon III
Vaal Hazak Talon x 2 / Great Jagras Claw+ x 8 / Great Jagras Hide+ x 6 / Novacrystal
270
1
Anjanath Tree
Weapons
Materials Required
Base Attack
Jewel Slots
Blazing Assault I
Anjanath Fang x 2 / Anjanath Scale x 3 / Flame Sac
210
0

Blazing Assault II
Rathalos Marrow / Anjanath Fang x 4 / Anjanath Nosebone / Anjanath Tail
225
0
Flammenkanone
Anjanath Fang+ x 4 / Anjanath Scale+ x 5 / Inferno Sac x 3 / Anjanath Plate
255
1
Gnashing Flammenkanone
Anjanath Gem / Anjanath Fang+ x 6 / Anjanath Nosebone+ x 2 / Teostra Mane x 2
300
0
Bone Tree
Weapons
Materials Required
Base Attack
Jewel Slots
Bone Shooter I
Monster Bone S
150
0
Bone Shooter II
Monster Bone S x 2
165
0
Bone Shooter III
Monster Bone M x 2 / Ancient Bone
195
0
Heavy Shooter I
Monster Bone L / Monster Bone M x 5 / Boulder Bone x 2
210
0
Heavy Shooter II
Monster Bone+ x 2 / Monster Bone L / Sturdy Bone x 4
225
0

Heavy Shooter III
Monster Keenbone x 2 / Monster Bone+ x 2 / Quality Bone x 2
240
1
Power Shooter I
Monster Hardbone x 4 / Monster Keenbone x 6 / Quality Bone x 10
255
1
Power Shooter II
Elder Dragon Bone x 4 / Monster Hardbone x 6 / Quality Bone x 20 / Dragonbone Relic
270
1
Diablos Tree
Weapons
Materials Required
Base Attack
Jewel Slots
Diablos Shooter I
Twisted Horn / Diablos Fang x 2 / Diablos Shell x 4 / Monster Bone+ x 3
240
0
Diablos Shooter II
Monster Keenbone x 4 / Diablos Ridge x 4 / Diablos Tailcase x 2 / Diablos Marrow
270
1
Dual Threat
Blos Medulla / Diablos Carapace x 6 / Diablos Ridge+ x 5 / Majestic Horn x 3
300
1

Nero's Blazooka
Black Diablos Carapace x 4 / Black Diablos Ridge+ x 2 / Black Spiral Horn+ / Wyvern Gem
315
1
Griffin Blazooka
Black Diablos Carapace x 6 / Black Spiral Horn+ x 3 / Xeno'jiiva Tail x 2 / Dragonbone Relic x 2
330
1
Pukei-Pukei Tree
Weapons
Materials Required
Base Attack
Jewel Slots
Blooming Shooter I
Pukei-Pukei Quill x 2 / Pukei-Pukei Scale x 3 / Poison Sac
180
0
Blooming Shooter II
Coral Crystal x 3 / Pukei-Pukei Sac x 2 / Pukei-Pukei Shell x 3 / Pukei-Pukei Tail
195
0
Blooming Shooter III
Monster Bone+ x 2 / Pukei-Pukei Quill x 4 / Pukei-Pukei Sac x 2 / Poison Sac x 2
210
0

Datura Pike I
Pukei-Pukei Scale+ x 3 / Pukei-Pukei Wing x 2 / Toxin Sac x 2 / Quality Bone x 3
225
2
Datura Pike II
Monster Hardbone x 3 / Pukei-Pukei Wing x 3 / Pukei-Pukei Carapace x 5 / Toxin Sac x 2
240
2
Datura Pike III
Bird Wyvern Gem / Pukei-Pukei Sac+ x 4 / Pukei-Pukei Wing x 6 / Vaal Hazak Wing x 2
255
2
Radobaan Tree
Weapons
Materials Required
Base Attack
Jewel Slots
Spiked Shooter I
Wyvern Bonemass x 2 / Radobaan Scale x 4 / Sleep Sac x 2
195
0
Spiked Shooter II
Monster Bone+ x 3 / Wyvern Bonemass x 3 / Radobaan Oilshell x 2 / Radobaan Marrow
210
0
Baan Roar I
Radobaan Carapace x 4 / Radobaan Oilshell x 3 / Coma Sac x 2 / Monster Keenbone x 3
225
0

Baan Roar II
Coma Sac x 3 / Monster Hardbone x 5 / Radobaan Medulla / Radobaan Scale+ x 8
255
0
Baan Roar III
Coma Sac x 4 / Elder Dragon Bone x 5 / Radobaan Carapace x 6 / Wyvern Gem
270
0
Dodogama Tree
| Weapons | Materials Required | Base Attack | Jewel Slots |
| --- | --- | --- | --- |
| Gama Cannon I | Dodogama Hide+ x 4 / Dodogama Scale+ x 6 / Dodogama Talon x 4 | 240 | 1 |
| Gama Cannon II | Dodogama Jaw x 4 / Dodogama Tail x 3 / Fire Dragon Scale+ x 4 / Wyvern Gem | 255 | 1 |
Tobi-Kadachi Tree
Weapons
Materials Required
Base Attack
Jewel Slots

Pulsar Shooter I
Tobi-Kadachi Claw / Tobi-Kadachi Scale x 3 / Tobi-Kadachi Pelt x 2
180
0
Pulsar Shooter II
Tobi-Kadachi Electrode x 2 / Tobi-Kadachi Claw x 3 / Electro Sac x 2 / Coral Crystal x 3
195
0
Pulsar Shooter III
Monster Bone+ x 2 / Tobi-Kadachi Electrode x 2 / Tobi-Kadachi Membrane x 2 / Warped Bone x 2
210
0
Kadachi Lion I
Tobi-Kadachi Claw+ x 3 / Tobi-Kadachi Pelt+ x 3 / Tobi-Kadachi Scale+ x 4 / Dragonvein Crystal x 3
225
1
Kadachi Lion II
Majestic Horn x 2 / Thunder Sac x 3 / Tobi-Kadachi Claw+ x 4 / Tobi-Kadachi Electrode+ x 2
240
1
Kadachi Lion III
Nergigante Talon x 2 / Tobi-Kadachi Claw+ x 6 / Tobi-Kadachi Electrode+ x 4 / Wyvern Gem
255
1
Dragonbone Tree
| Weapons | Materials Required | Base Attack | Jewel Slots |
| --- | --- | --- | --- |
| Dragonbone Cannon I | | 150 | 0 |
| Dragonbone Cannon II | Monster Bone+ x 6 / Monster Bone L x 8 / Sturdy Bone x 8 | 210 | 0 |
| Dragonbone Cannon III | Brutal Bone x 4 / Elder Dragon Bone x 10 / Dragonbone Relic x 2 / Wyvern Gem | 255 | 1 |
Kirin Tree
Weapons
Materials Required
Base Attack
Jewel Slots
Quickcaster
Kirin Thunderhorn x 3 / Kirin Hide x 3 / Kirin Tail / Lightcrystal
195
0
Quickcaster+
Kirin Azure Horn x 4 / Kirin Hide+ x 5 / Kirin Mane x 4 / Dragonvein Crystal x 5
240
1
Quickquiver
Kirin Azure Horn x 6 / Kirin Thundertail x 3 / Xeno'jiiva Shell x 4 / Novacrystal x 2
255
1
Zorah Magdaros Tree
| Weapons | Materials Required | Base Attack | Jewel Slots |
| --- | --- | --- | --- |
| Magda Gemitus I | Zorah Magdaros Heat Scale x 4 / Zorah Magdaros Carapace x 8 / Zorah Magdaros Magma x 4 / Zorah Magdaros Gem | 240 | 1 |
| Magda Gemitus II | Firecell Stone x 3 / Zorah Magdaros Ridge x 2 / Zorah Magdaros Pleura x 2 / Xeno'jiiva Shell x 4 | 315 | 1 |
Blacksteel Tree
| Weapons | Materials Required | Base Attack | Jewel Slots |
| --- | --- | --- | --- |
| Blacksteel Cannon I | Coral Crystal x 10 / Dragonvein Crystal x 10 / Earth Crystal x 10 / Lightcrystal | 150 | 0 |
| Blacksteel Cannon II | Firecell Stone / Fucium Ore x 5 / Carbalite Ore x 10 / Wyvern Gem | 165 | 0 |
| Teostra's Artillery | Teostra Carapace x 5 / Teostra Claw+ x 2 / Teostra Mane x 2 / Teostra Powder x 4 | 255 | 0 |
| Teostra's Flames | Teostra Claw+ x 2 / Teostra Gem / Teostra Horn+ x 5 / Xeno'jiiva Soulscale x 5 | 270 | 0 |
Xeno'jiiva Tree
| Weapons | Materials Required | Base Attack | Jewel Slots |
| --- | --- | --- | --- |
| Xeno Jiqa | Xeno'jiiva Claw x 4 / Xeno'jiiva Gem / Xeno'jiiva Shell x 6 / Xeno'jiiva Tail x 2 | 255 | 2 |