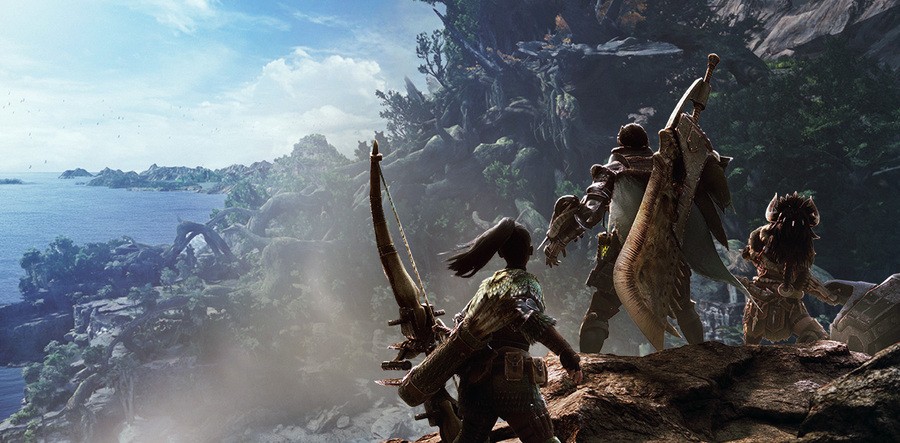 Welcome to the latest instalment in our Monster Hunter: World weapons crafting guide. This one focuses on the Gunlance, the weapon of choice for those that fancy having a little bit of everything.
The Gunlance has decent damage, a ranged option, and yet still plenty of the same defensive options as the Lance. If you like that weapon, but just want a bit more of an offensive option, this is the one for you.
If that sounds like you, read on for our complete list of Gunlances in the game, including all upgrade trees, and how to craft each one of them.
Gunlance
Ore Tree
Weapons
Materials Required
Base Attack
Jewel Slots
Iron Gunlance I
Iron Ore
184
0
Iron Gunlance II
Iron Ore x 2
207
0
Iron Gunlance III
Earth Crystal x 2 / Machalite Ore x 2 / Iron Ore x 5
230
0
Steel Gunlance I
Dragonite Ore x 2 / Machalite Ore x 5 / Monster Bone M x 2
253
0
Steel Gunlance II
Monster Bone+ x 2 / Dragonite Ore x 5 / Coral Crystal x 2 / Machalite Ore x 10
299
0
Steel Gunlance III
Carbalite Ore x 8 / Dragonite Ore x 5 / Dragonvein Crystal x 2
322
3

Chrome Gunlance I
Fucium Ore x 8 / Carbalite Ore x 5 / Dragonite Ore x 10 / Dragonvein Crystal x 3
368
1
Chrome Gunlance II
Elder Dragon Blood x 2 / Firecell Stone / Carbalite Ore x 20 / Fucium Ore x 13
414
2
Nergigante Tree
| Weapons | Materials Required | Base Attack | Jewel Slots |
| --- | --- | --- | --- |
| Nergal Ram | Nergigante Carapace x 2 / Nergigante Regrowth Plate x 4 / Nergigante Tail x 2 / Nergigante Talon x 3 | 460 | 1 |
| Eradication Flame | Nergigante Gem / Nergigante Horn+ x 5 / Nergigante Talon x 5 / Xeno'jiiva Horn x 2 | 483 | 1 |
Tobi-Kadachi Tree
| Weapons | Materials Required | Base Attack | Jewel Slots |
| --- | --- | --- | --- |
| Pulsar Gunlance I | Tobi-Kadachi Claw / Tobi-Kadachi Scale x 3 / Tobi-Kadachi Pelt x 2 | 230 | 0 |
| Pulsar Gunlance II | Tobi-Kadachi Electrode x 2 / Tobi-Kadachi Claw x 3 | 253 | 0 |
| Pulsar Gunlance III | Monster Bone+ x 2 / Tobi-Kadachi Electrode x 2 / Tobi-Kadachi Membrane x 2 / Warped Bone x 2 | 299 | 0 |
| Kadachi Striker | Tobi-Kadachi Claw+ x 3 / Tobi-Kadachi Pelt+ x 3 / Tobi-Kadachi Scale+ x 4 / Dragonvein Crystal x 3 | 345 | 1 |
| Kadachi Striker+ | Majestic Horn x 2 / Thunder Sac x 3 / Tobi-Kadachi Claw+ x 4 / Tobi-Kadachi Electrode+ x 2 | 391 | 1 |
| Mythic Kadachi Striker | Nergigante Talon x 2 / Tobi-Kadachi Claw+ x 6 / Tobi-Kadachi Electrode+ x 4 / Wyvern Gem | 414 | 1 |
Rathalos Tree
| Weapons | Materials Required | Base Attack | Jewel Slots |
| --- | --- | --- | --- |
| Rath Gunlance I | Rathalos Scale / Rathalos Webbing x 2 / Flame Sac x 2 / Rathalos Marrow x 2 | 276 | 0 |
| Rath Gunlance II | Rathalos Scale x 6 / Rathalos Tail x 2 / Rathalos Plate / Inferno Sac x 3 | 322 | 3 |
| Red Rook | Rathalos Carapace x 4 / Rathalos Medulla / Rathalos Scale+ x 6 / Rathalos Wing x 2 | 345 | 1 |
| Blue Rook | Azure Rathalos Carapace x 4 / Azure Rathalos Scale+ x 6 / Azure Rathalos Wing x 3 / Rathalos Ruby | 414 | 1 |
| Blue Chariot | Azure Rathalos Scale+ x 8 / Azure Rathalos Tail x 3 / Rathalos Ruby / Teostra Horn+ x 2 | 437 | 1 |
Rathian Tree
| Weapons | Materials Required | Base Attack | Jewel Slots |
| --- | --- | --- | --- |
| Princess Panoply | Rathian Spike x 3 / Rathian Scale x 5 / Rathian Shell x 4 | 276 | 0 |
| Princess Panoply+ | Rathian Plate / Rathian Scale+ x 5 / Rathian Carapace x 4 / Rathian Spike+ x 3 | 345 | 1 |
| Rose Burst | Pink Rathian Carapace x 4 / Pink Rathian Scale+ x 5 / Rathian Spike+ x 4 / Wyvern Gem | 391 | 1 |
| Royal Burst | Elder Dragon Blood x 3 / Pink Rathian Scale+ x 6 / Rathian Ruby / Rathian Spike+ x 5 | 437 | 1 |
Jyuratodus Tree
Weapons
Materials Required
Base Attack
Jewel Slots
Madness Gunlance I
Jyuratodus Fin / Jyuratodus Shell / Jyuratodus Scale x 3 / Aqua Sac
253
0

Madness Gunlance II
Great Girros Hide x 2 / Jyuratodus Fin x 3 / Jyuratodus Shell x 3 / Gajau Skin x 3
276
0
Madness Gunlance III
Monster Bone+ x 2 / Jyuratodus Fang x 4 / Jyuratodus Shell x 3 / Gajau Whisker x 3
299
0
Jyura Blaster I
Gajau Scale x 5 / Jyuratodus Carapace x 2 / Jyuratodus Fin+ x 2 / Jyuratodus Scale+ x 3
345
0
Jyura Blaster II

Grand Gajau Whisker x 3 / Jyuratodus Fin+ x 4 / Monster Hardbone x 3 / Torrent Sac x 3
368
0
Jyura Blaster III

Elder Dragon Bone x 2 / Jyuratodus Fang+ x 5 / Jyuratodus Fin+ x 6 / Wyvern Gem
437
0
Legiana Tree
Weapons
Materials Required
Base Attack
Jewel Slots

Glacial Gunlance I
Legiana Claw x 3 / Legiana Scale x 4 / Frost Sac x 2
299
0
Glacial Gunlance II
Legiana Plate / Legiana Claw x 4 / Legiana Tail Webbing x 3 / Paolumu Wing x 4
322
0
Legiana Cannon I
Freezer Sac x 2 / Legiana Claw+ x 3 / Legiana Scale+ x 5 / Legiana Wing x 3
345
0
Legiana Cannon II
Daora Claw+ x 2 / Legiana Claw+ x 5 / Legiana Gem / Legiana Hide+ x 3
368
0
Bone Tree
Weapons
Materials Required
Base Attack
Jewel Slots
Bone Gunlance I
Monster Bone S
207
0
Bone Gunlance II
Monster Bone S x 2
230
0
Bone Gunlance III
Monster Bone M x 2 / Ancient Bone
253
0
Bone Cannon I
Monster Bone L / Monster Bone M x 5 / Boulder Bone x 2
276
0

Bone Cannon II
Monster Bone+ x 2 / Monster Bone L / Sturdy Bone x 4
322
0
Bone Cannon III
Monster Keenbone x 2 / Monster Bone+ x 2 / Quality Bone x 2
368
3
Great Bone Gunlance I
Monster Hardbone x 4 / Monster Keenbone x 6 / Quality Bone x 10
391
1
Great Bone Gunlance II
Monster Hardbone x 6 / Elder Dragon Bone x 4 / Quality Bone x 20 / Dragonbone Relic
437
1
Bazelgeuse Tree
| Weapons | Materials Required | Base Attack | Jewel Slots |
| --- | --- | --- | --- |
| Bazel Buster I | Bazelgeuse Fuse x 4 / Bazelgeuse Scale+ x 5 / Bazelgeuse Talon x 3 / Firecell Stone | 437 | 1 |
| Bazel Buster II | Bazelgeuse Gem / Bazelgeuse Talon x 4 / Bazelgeuse Wing x 4 / Xeno'jiiva Wing x 3 | 460 | 1 |
Great Jagras Tree
| Weapons | Materials Required | Base Attack | Jewel Slots |
| --- | --- | --- | --- |
| Jagras Gunlance I | Great Jagras Claw / Great Jagras Hide / Great Jagras Scale x 3 / Sharp Claw | 253 | 0 |
| Jagras Gunlance II | Great Jagras Claw x 2 / Great Jagras Mane x 2 / Coral Bone x 2 / Tzitzi-Ya-Ku Claw x 3 | 276 | 0 |
| Jagras Gunlance III | Monster Bone+ x 3 / Great Jagras Scale x 5 / Great Jagras Claw x 3 / Great Jagras Mane x 3 | 322 | 0 |
| Glutton Gunlance I | Great Jagras Scale+ x 6 / Great Jagras Claw+ x 4 / Great Jagras Mane x 6 / Piercing Claw x 5 | 345 | 3 |
| Glutton Gunlance II | Monster Hardbone x 4 / Great Jagras Claw+ x 6 / Jagras Hide+ x 6 / Tzitzi-Ya-Ku Claw+ x 5 | 437 | 2 |
| Glutton Gunlance III | Vaal Hazak Talon x 2 / Great Jagras Claw+ x 8 / Great Jagras Hide+ x 6 / Novacrystal | 437 | 2 |
Great Girros Tree
| Weapons | Materials Required | Base Attack | Jewel Slots |
| --- | --- | --- | --- |
| Girros Gunlance I | Great Girros Fang / Great Girros Scale x 3 / Girros Fang x 3 | 276 | 0 |
| Girros Gunlance II | Diablos Fang x 2 / Great Girros Fang x 3 / Great Girros Hood x 2 / Paralysis Sac x 2 | 299 | 0 |
| Deathfang Gunlance I | Great Girros Fang+ x 3 / Great Girros Scale+ x 5 / Great Girros Tail x 2 / Girros Scale+ x 6 | 322 | 0 |
| Deathfang Gunlance II | Blos Medulla / Great Girros Fang+ x 4 / Great Girros Hood+ x 2 / Omniplegia Sac x 4 | 345 | 0 |
| Deathfang Gunlance III | Bird Wyvern Gem / Great Girros Fang+ x 5 / Great Girros Hood+ x 3 / Vaal Hazak Fang+ x 2 | 368 | 0 |
Vaal Hazak Tree
Weapons
Materials Required
Base Attack
Jewel Slots
Hazak Spysa I
Deceased Scale x 6 / Vaal Hazak Fang+ x 5 / Vaal Hazak Membrane x 4 / Vaal Hazak Talon x 4
437
1
Hazak Spysa II
Vaal Hazak Gem / Vaal Hazak Tail x 2 / Vaal Hazak Talon x 6 / Xeno'jiiva Veil x 3
460
1
Barroth Tree
Weapons
Materials Required
Base Attack
Jewel Slots
Carapace Cannon I
Barroth Claw / Barroth Shell x 3 / Barroth Ridge x 2
276
0
Carapace Cannon II
Dragonite Ore x 3 / Barroth Claw x 2 / Barroth Tail / Kestodon Shell x 3
299
0
Carapace Cannon III
Diablos Shell x 3 / Barroth Claw x 4 / Barroth Scalp x 2 / Monster Bone+ x 3
345
0
Barroth Blaster I
Barroth Carapace x 3 / Barroth Claw+ x 2 / Barroth Ridge+ x 2 / Kestodon Carapace x 5
391
0
Barroth Blaster II
Barroth Carapace x 3 / Barroth Claw+ x 4 / Diablos Carapace x 3 / Gastodon Carapace x 5
437
0
Barroth Blaster III
Barroth Claw+ x 5 / Barroth Ridge+ x 5 / Nergigante Horn+ / Wyvern Gem
460
0
Anjanath Tree
| Weapons | Materials Required | Base Attack | Jewel Slots |
| --- | --- | --- | --- |
| Blazing Gunlance I | Anjanath Fang x 2 / Anjanath Scale x 3 / Flame Sac | 299 | 0 |
| Blazing Gunlance II | Rathalos Marrow / Anjanath Fang x 4 / Anjanath Nosebone / Anjanath Tail | 322 | 0 |
| Anja Cannon I | Anjanath Fang+ x 4 / Anjanath Scale+ x 5 / Inferno Sac x 3 / Anjanath Plate | 368 | 0 |
| Anja Cannon II | Firecell Stone / Anjanath Fang+ x 5 / Anjanath Pelt+ x 4 / Rathalos Medulla x 2 | 414 | 0 |
| Anja Cannon III | Anjanath Gem / Anjanath Fang+ x 6 / Anjanath Nosebone+ x 2 / Teostra Mane x 2 | 483 | 0 |
Dragonbone Tree
| Weapons | Materials Required | Base Attack | Jewel Slots |
| --- | --- | --- | --- |
| Dragonbone Gunlance I | Ancient Bone x 5 / Boulder Bone x 5 / Coral Bone x 5 / Warped Bone x 5 | 230 | 0 |
| Dragonbone Gunlance II | Monster Bone+ x 6 / Monster Bone L x 8 / Sturdy Bone x 8 | 253 | 0 |
| Dragonbone Gunlance III | Brutal Bone x 4 / Elder Dragon Bone x 10 / Dragonbone Relic x 2 / Wyvern Gem | 368 | 2 |
Zorah Magdaros Tree
Weapons
Materials Required
Base Attack
Jewel Slots
Magda Lahat
Zorah Magdaros Heat Scale x 4 / Zorah Magdaros Carapace x 8 / Zorah Magdaros Magma x 4 / Zorah Magdaros Gem
368
3
Earthshaker Magda Lahat
Firecell Stone x 3 / Zorah Magdaros Ridge x 2 / Zorah Magdaros Pleura x 2 / Xeno'jiiva Shell x 4
460
0
Blacksteel Tree
| Weapons | Materials Required | Base Attack | Jewel Slots |
| --- | --- | --- | --- |
| Blacksteel Gunlance I | Coral Crystal x 10 / Dragonvein Crystal x 10 / Earth Crystal x 10 / Lightcrystal | 230 | 0 |
| Blacksteel Gunlance II | Firecell Stone / Fucium Ore x 5 / Carbalite Ore x 10 / Wyvern Gem | 253 | 0 |
| Icesteel Gunlance | Daora Claw+ x 3 / Daora Tail x 2 / Daora Webbing x 4 / Nergigante Carapace x 5 | 391 | 1 |
| Daora's Brigia | Daora Claw+ x 4 / Daora Gem / Daora Horn+ x 5 / Xeno'jiiva Wing x 2 | 414 | 1 |
Xeno'jiiva Tree
Weapons
Materials Required
Base Attack
Jewel Slots

Xeno Hemta
Xeno'jiiva Claw x 4 / Xeno'jiiva Gem / Xeno'jiiva Shell x 6 / Xeno'jiiva Tail x 2
391
2