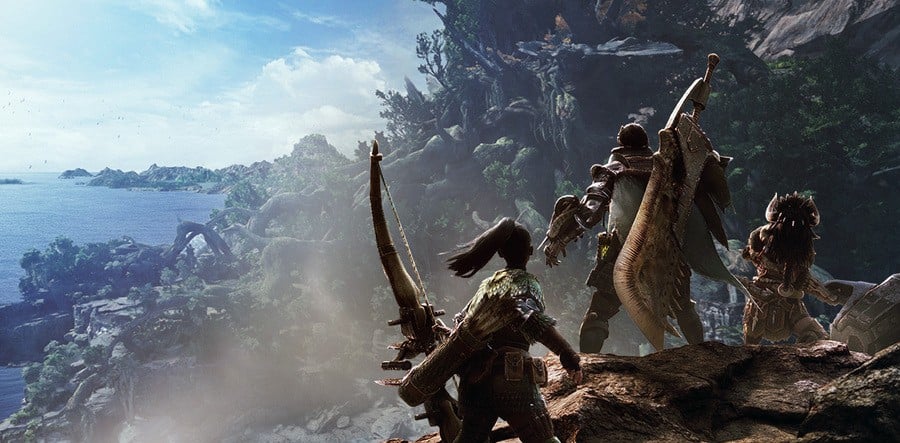 So you like swords big enough to break someone's back when they try to lift them? Fair enough. Monster Hunter: World's monsters are pretty big themselves, so you're going to need a weapon that can put them down for good. How about a Great Sword?
But there are an absolute ton of great swords in the game, all with different stats, elements, and appearances. Choosing just one is going to be a tad difficult.
That's where we come in though. Read on to learn all about each of them so you can decide which you want to aim for.
Great Swords
Ore Tree
Weapons
Materials Required
Base Attack
Jewel Slots
Buster Sword I
Iron Ore
384
0
Buster Sword II
Iron Ore x 2
432
0
Buster Sword III
Earth Crystal x 2 / Machalite Ore x 2 / Iron Ore x 5
480
0
Buster Blade I
Dragonite Ore x 2 / Machalite Ore x 5 / Monster Bone M x 2
576
0
Buster Blade II
Monster Bone+ x 2 / Dragonite Ore x 5 / Coral Crystal x 2 / Machalite Ore x 10
624
0
Buster Blade III
Carbalite Ore x 8 / Dragonite Ore x 5 / Dragonvein Crystal x 2
672
3

Chrome Razor I
Fucium Ore x 8 / Carbalite Ore x 5 / Dragonite Ore x 10 / Dragonvein Crystal x 3
720
1
Chrome Razor II
Elder Dragon Blood x 2 / Firecell Stone / Carbalite Ore x 20 / Fucium Ore x 13
864
2
Nergigante Tree
| Weapons | Materials Required | Base Attack | Jewel Slots |
| --- | --- | --- | --- |
| Nergal Judicator | Nergigante Carapace x 2 / Nergigante Regrowth Plate x 4 / Nergigante Tail x 2 / Nergigante Talon x 3 | 912 | 1 |
| Purgation's Atrocity | Nergigante Gem / Nergigante Horn+ x 5 / Nergigante Talon x 5 / Xeno'jiiva Horn x 2 | 1,008 | 1 |
Thunder Element Tree
| Weapons | Materials Required | Base Attack | Jewel Slots |
| --- | --- | --- | --- |
| Thunder Blade I | Dragonite Ore x 5 / Tobi-Kadachi Electrode / Tobi-Kadachi Claw x 2 / Electro Sac | 528 | 0 |
| Thunder Blade II | Monster Bone+ x 2 / Tobi-Kadachi Electrode x 2 / Tobi-Kadachi Membrane x 2 / Coral Crystal x 3 | 624 | 0 |
| Lightning Punisher I | Carbalite Ore x 5 / Tobi-Kadachi Pelt+ x 3 / Tobi-Kadachi Scale+ x 4 / Vespoid Innerwing x 3 | 672 | 1 |
| Lightning Punisher II | Fucium Ore x 5 / Thunder Sac x 3 / Tobi-Kadachi Membrane x 4 / Tobi-Kadachi Electrode+ x 2 | 816 | 1 |
| Lightning Punisher III | Elder Dragon Blood x 3 / Tobi-Kadachi Claw+ x 6 / Tobi-Kadachi Electrode+ x 4 / Wyvern Gem | 912 | 1 |
Ice Element Tree
| Weapons | Materials Required | Base Attack | Jewel Slots |
| --- | --- | --- | --- |
| Freeze Blade I | Legiana Claw x 3 / Legiana Scale x 4 / Frost Sac x 2 / Coral Crystal x 3 | 576 | 0 |
| Freeze Blade II | Carbalite Ore x 5 / Legiana Tail Webbing x 2 / Legiana Webbing x 3 / Shamos Scale+ x 5 | 624 | 3 |
| Frost Blaze I | Freezer Sac x 3 / Fucium Ore x 5 / Legiana Scale+ x 5 / Legiana Wing x 3 | 720 | 1 |
| Frost Blaze II | Elder Dragon Blood x 3 / Legiana Claw+ x 5 / Legiana Hide+ x 3 / Wyvern Gem | 768 | 1 |
Great Jagras Tree
Weapons
Materials Required
Base Attack
Jewel Slots
Jagras Blade I
Great Jagras Claw / Great Jagras Hide / Great Jagras Scale x 3 / Sharp Claw
528
0

Jagras Blade II
Great Jagras Claw x 2 / Great Jagras Mane x 2 / Coral Bone x 2 / Tzitzi-Ya-Ku Claw x 3
576
0
Jagras Blade III
Monster Bone+ x 3 / Great Jagras Scale x 5 / Great Jagras Claw x 3 / Great Jagras Mane x 3
672
0
Jagras Hacker I
Great Jagras Scale+ x 6 / Great Jagras Claw+ x 4 / Great Jagras Mane x 6 / Piercing Claw x 5
816
3
Jagras Hacker II
Monster Hardbone x 4 / Great Jagras Claw+ x 6 / Jagras Hide+ x 6 / Tzitzi-Ya-Ku Claw+ x 5
864
2
Jagras Hacker III
Vaal Hazak Talon x 2 / Great Jagras Claw+ x 8 / Great Jagras Hide+ x 6 / Novacrystal
912
2
Great Girros Tree
Weapons
Materials Required
Base Attack
Jewel Slots

Girros Blade I
Great Girros Fang / Great Girros Scale x 3 / Girros Fang x 3
528
0
Girros Blade II
Diablos Fang x 2 / Great Girros Fang x 3 / Great Girros Hood x 2 / Paralysis Sac x 2
624
0
Malady's Kiss I
Great Girros Fang+ x 3 / Great Girros Scale+ x 5 / Great Girros Tail x 2 / Girros Scale+ x 6
672
0
Malady's Kiss II
Blos Medulla / Great Girros Fang+ x 4 / Great Girros Hood+ x 2 / Omniplegia Sac x 4
720
0
Malady's Kiss III
Bird Wyvern Gem / Great Girros Fang+ x 5 / Great Girros Hood+ x 3 / Vaal Hazak Fang+ x 2
768
0
Lavasioth Tree
| Weapons | Materials Required | Base Attack | Jewel Slots |
| --- | --- | --- | --- |
| Lava Blaze I | Lavasioth Fang+ x 2 / Lavasioth Fin+ x 2 / Lavasioth Scale+ x 4 | 768 | 2 |
| Lava Blaze II | Lavasioth Fang+ x 3 / Lavasioth Fin+ x 3 / Teostra Mane x 2 / Wyvern Gem | 864 | 2 |
Pukei-Pukei Tree
| Weapons | Materials Required | Base Attack | Jewel Slots |
| --- | --- | --- | --- |
| Blooming Blade I | Pukei-Pukei Quill x 2 / Pukei-Pukei Scale x 3 / Poison Sac | 528 | 0 |
| Blooming Blade II | Coral Crystal x 3 / Pukei-Pukei Sac x 2 / Pukei-Pukei Shell x 3 / Pukei-Pukei Tail | 576 | 0 |
| Blooming Blade III | Monster Bone+ x 2 / Pukei-Pukei Quill x 4 / Pukei-Pukei Sac x 2 / Poison Sac x 2 | 624 | 0 |
| Datura Blaze I | Pukei-Pukei Scale+ x 3 / Pukei-Pukei Wing x 2 / Toxin Sac / Quality Bone x 3 | 720 | 3 |
| Datura Blaze II | Monster Hardbone x 3 / Pukei-Pukei Wing x 3 / Pukei-Pukei Carapace x 5 / Toxin Sac x 2 | 768 | 2 |
| Datura Blaze III | Bird Wyvern Gem / Pukei-Pukei Sac+ x 4 / Pukei-Pukei Wing x 6 / Vaal Hazak Wing x 2 | 816 | 2 |
Rathalos Tree
| Weapons | Materials Required | Base Attack | Jewel Slots |
| --- | --- | --- | --- |
| Flame Blade I | Rathalos Scale / Rathalos Webbing x 2 / Flame Sac x 2 / Rathalos Marrow | 672 | 0 |
| Flame Blade II | Rathalos Scale x 6 / Rathalos Tail x 2 / Rathalos Plate / Inferno Sac x 3 | 720 | 0 |
| Red Wing | Rathalos Carapace x 4 / Rathalos Medulla / Rathalos Scale+ x 6 / Rathalos Wing x 2 | 768 | 1 |
| Blue Wing | Azure Rathalos Carapace x 4 / Azure Rathalos Scale+ x 6 / Azure Rathalos Wing x 3 / Wyvern Gem | 816 | 1 |
| Rathalos Glinsword | Azure Rathalos Scale+ x 8 / Azure Rathalos Tail x 3 / Rathalos Ruby / Teostra Horn+ x 2 | 912 | 1 |
Bone Tree
Weapons
Materials Required
Base Attack
Jewel Slots

Bone Blade I
Monster Bone S
480
0
Bone Blade II
Monster Bone S x 2
528
0
Bone Blade III
Monster Bone M x 2 / Ancient Bone
576
0
Bone Slasher I
Monster Bone L / Monster Bone M x 5 / Boulder Bone x 2
672
0
Bone Slasher II
Monster Bone+ x 2 / Monster Bone L / Sturdy Bone x 4
720
0
Bone Slasher III
Monster Keenbone x 2 / Monster Bone+ x2 / Quality Bone x 2
768
3
Giant Jawblade I
Brutal Bone x 4 / Monster Keenbone x 6 / Quality Bone x 10 / Monster Hardbone x 4
816
1
Giant Jawblade II
Elder Dragon Bone x 4 / Monster Hardbone x 6 / Quality Bone x 20 / Dragonbone Relic
912
1
Vaal Hazak Tree
| Weapons | Materials Required | Base Attack | Jewel Slots |
| --- | --- | --- | --- |
| Hazak Kys | Deceased Scale x 6 / Vaal Hazak Fang+ x 5 / Vaal Hazak Membrane x 4 / Vaal Hazak Talon x 4 | 912 | 1 |
| Leviathan's Fury | Vaal Hazak Gem / Vaal Hazak Tail x 2 / Vaal Hazak Talon x 6 / Xeno'jiiva Veil x 3 | 960 | 1 |
Anjanath Tree
| Weapons | Materials Required | Base Attack | Jewel Slots |
| --- | --- | --- | --- |
| Flammenzahn | Anjanath Fang x 3 / Anjanath Scale x 3 / Anjanath Pelt x 2 / Flame Sac x 2 | 720 | 0 |
| Flammenzahn+ | Anjanath Fang+ x 4 / Anjanath Scale+ x 5 / Inferno Sac x 3 / Anjanath Plate | 864 | 0 |
| Gnashing Flammenzahn | Anjanath Gem / Anjanath Pelt+ x 4 / Anjanath Nosebone+ x 2 / Vaal Hazak Fang+ x 5 | 1,008 | 0 |
Water Element Tree
Weapons
Materials Required
Base Attack
Jewel Slots
Aqua Slasher I
Boulder Bone x 2 / Jyuratodus Shell / Jyuratodus Scale x 3 / Aqua Sac
576
0
Aqua Slasher II
Sturdy Bone x 5 / Jyuratodus Fin x 3 / Jyuratodus Fang x 2 / Gajau Skin x 3
624
0

Aqua Slasher III
Monster Bone+ x 2 / Jyuratodus Fang x 4 / Coral Bone x 2 / Gajau Whisker x 3
672
0
Water Golum I
Quality Bone x 5 / Gajau Scale x 5 / Jyuratodus Carapace x 2 / Jyuratodus Scale+ x 3
768
1
Water Golum II
Grand Gajau Whisker x 3 / Jyuratodus Fin+ x 4 / Monster Hardbone x 3 / Torrent Sac x 3
816
1
Water Golum III
Elder Dragon Bone x 4 / Jyuratodus Fang+ x 5 / Jyuratodus Fin+ x 6 / Wyvern Gem
912
1
Barroth Tree
Weapons
Materials Required
Base Attack
Jewel Slots
Carapace Buster I
Barroth Claw / Barroth Shell x 3 / Barroth Ridge x 2
624
0
Carapace Buster II
Dragonite Ore x 3 / Barroth Claw x 2 / Barroth Tail / Kestodon Shell x 3
672
0

Carapace Buster III
Diablos Shell x 3 / Barroth Claw x 4 / Barroth Scalp x 2 / Monster Bone+ x 3
720
0
Barroth Shredder I
Barroth Carapace x 3 / Barroth Claw+ x 2 / Barroth Ridge+ x 2 / Kestodon Carapace x 5
816
1
Barroth Shredder II
Barroth Carapace x 3 / Barroth Claw+ x 4 / Diablos Carapace x 3 / Gastodon Carapace x 5
864
2
Barroth Shredder III
Barroth Claw+ x 5 / Barroth Ridge+ x 5 / Nergigante Horn+ / Wyvern Gem
960
2
Radobaan Tree
Weapons
Materials Required
Base Attack
Jewel Slots
Spiked Blade I
Wyvern Bonemass x 2 / Radobaan Scale x 4 / Sleep Sac x 2
624
0
Spiked Blade II
Monster Bone+ x 3 / Wyvern Bonemass x 3 / Radobaan Oilshell x 2 / Radobaan Marrow
672
0

Radobaan Slab I
Coma Sac x 2 / Radobaan Oilshell x 3 / Radobaan Carapace x 4 / Monster Keenbone x 3
768
0
Radobaan Slab II
Coma Sac x 3 / Monster Hardbone x 5 / Radobaan Medulla / Radobaan Scale+ x 8
816
0
Radobaan Slab III
Coma Sac x 4 / Elder Dragon Bone x 5 / Radobaan Carapace x 6 / Wyvern Gem
912
0
Dragonbone Tree
Weapons
Materials Required
Base Attack
Jewel Slots
Dragonbone Cleaver I
Warped Bone x 5 / Coral Bone x 5 / Boulder Bone x 5 / Ancient Bone x 5
480
0
Dragonbone Cleaver II
Monster Bone+ x 6 / Monster Bone L x 8 / Sturdy Bone x 8
576
0
Dragonbone Cleaver III
Brutal Bone x 4 / Elder Dragon Bone x 10 / Dragonbone Relic x 2 / Wyvern Gem
768
2
Kirin Tree
| Weapons | Materials Required | Base Attack | Jewel Slots |
| --- | --- | --- | --- |
| Thundersword | Kirin Thunderhorn x 3 / Kirin Hide x 3 / Kirin Tail / Lightcrystal | 528 | 0 |
| Kirin Thundersword | Kirin Azure Horn x 4 / Kirin Hide+ x 5 / Kirin Mane x 4 / Dragonvein Crystal x 5 | 720 | 0 |
| King Thundersword | Kirin Azure Horn x 6 / Kirin Thundertail x 3 / Xeno'jiia Shell x 4 / Novacrystal x 2 | 768 | 0 |
Zorah Magdaros
| Weapons | Materials Required | Base Attack | Jewel Slots |
| --- | --- | --- | --- |
| Magda Potestas I | Zorah Magdaros Heat Scale x 4 / Zorah Magdaros Carapace x 8 / Zorah Magdaros Magma x 4 / Zorah Magdaros Gem | 768 | 3 |
| Magda Potestas II | Firecell Stone x 3 / Zorah Magdaros Ridge x 2 / Zorah Magdaros Pleura x 2 / Xeno'jiiva Shell x 4 | 1,056 | 1 |
Blacksteel Tree
| Weapons | Materials Required | Base Attack | Jewel Slots |
| --- | --- | --- | --- |
| Blacksteel Chopper I | Dragonvein Crystal x 10 / Earth Crystal x 10 / Coral Crystal x 10 / Lightcrystal | 480 | 0 |
| Blacksteel Chopper II | Firecell Stone / Fucium Ore x 5 / Carbalite Ore x 10 / Wyvern Gem | 576 | 0 |
| Icesteel Edge | Daora Claw+ x 3 / Daora Tail x 2 / Daora Webbing x 4 / Nergigante Carapace x 5 | 816 | 1 |
| Daora's Decimator | Daora Claw+ x 4 / Daora Gem / Daora Horn+ x 5 / Xeno'jiiva Wing x 2 | 864 | 1 |
Xeno'jiiva Tree
Weapons
Materials Required
Base Attack
Jewel Slots

Xeno Maliq
Xeno'jiiva Claw x 4 / Xeno'jiiva Gem / Xeno'jiiva Shell x 6 / Xeno'jiiva Tail x 2
816
2