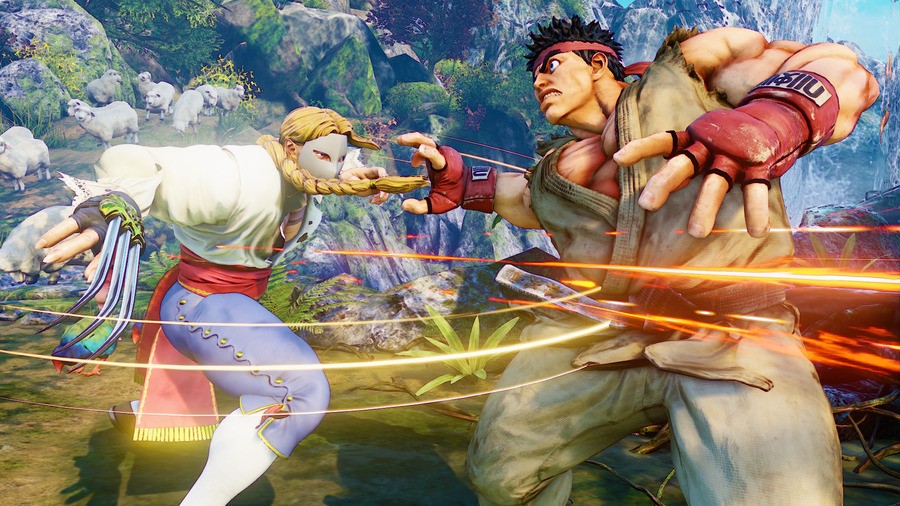 Last month we reported on a potential retail leak of Street Fighter V: Arcade Edition, and now the package has appeared on Amazon. At this point it's pretty safe to say that this thing is real.
The product page lists multiple features:
Arcade mode - choose from six different paths themed after classic Street Fighter games

Gallery - unlock hundreds of illustrations as you play through arcade mode

Extra battle - complete timed challenges to obtain exclusive costumes throughout 2018

New v-triggers - each character will have two v-triggers, adding even more depth to the combat system

New visuals - the user interface is being redesigned with new Color schemes, revised menus and exciting pre-and-post-fight effects
Yep, Street Fighter V is getting an arcade mode. What's more, it sounds like the game in general is being refurbished with new visuals. Elsewhere, an extra v-trigger attack for each character sounds quite ambitious.
Word on the street is that all of these new additions will be brought over to the existing game free of charge, and the Amazon description kind of backs this up: "Current players of Street Fighter V and future owners of Street Fighter V: arcade Edition will be placed into the same player pool, with PS4 and PC Cross-Platform play continuing to unite fans into a unified player base. The initial Street Fighter V purchase is still the only One that consumers need to make to ensure they always have the most up-to-date version of the title." It's just a shame that it's taken the company over a year to pull its finger out.
Street Fighter V: Arcade Edition is supposedly due to launch for PlayStation 4 on the 16th January, 2018. We expect an official announcement in the near future.
Update: Street Fighter V: Arcade Edition has now been announced.
[source amazon.com]